All our best evidence, all in one place
Ailbhe McNabola, Head of Research and Policy, Power to Change
When Power to Change came into being, the initial plan saw a generous five per cent of the endowment going to support the work of the Power to Change Research Institute – a real commitment to be 'more than a funder', generating evidence and raising awareness about community business that will leave a lasting legacy.
Quality and quantity
This healthy budget has resulted in a large programme of research commissioning and grant-funding, evaluation and impact measurement. We prioritised quality, but have also managed to deliver quantity!
Between 2015 and 2019, the Power to Change Research Institute published more than 70 publications – peer-reviewed research reports, evaluation reports, and working papers – all focused on building our understanding of the community business market – its growth and potential, and the barriers and issues that hold community businesses back. In addition we have published a long list of case studies, and popular success guides aimed at community businesses.
Our ambition was to put community business on a solid footing alongside 'regular' business and other social sector organisations, by providing a robust evidence base. We're very proud of this huge body of work, but recognise that reading all of it is too tall an order for most.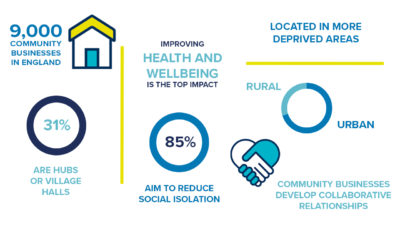 Boiling it down
In 2018, we published our first 'compendium', which summarised the evidence we had generated over the first two-and-a-bit years of the Research Institute's life. Now, we've added significantly to that and published Community business in England: Learning from the Power to Change Research Institute 2015 – 2019. This iteration synthesises all of our research findings since the inception of Power to Change. We'll publish another summary in two years' time.
Our evidence base has more than doubled since the first compendium report. In some areas, for example, on community asset ownership, we now have a really deep understanding and solid evidence – in this case, on the current picture, and the role and value of community assets. We also know a lot more now about the community business workforce than we did in 2018. Pulling this summary together has also highlighted to us the areas where we still have gaps – such as the geographical distribution of community businesses, where we still have a partial picture.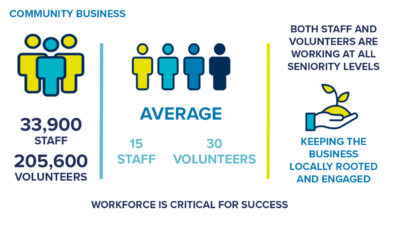 The latest compendium explores the breadth of our research across key themes including the community business model, geographical distribution, impacts, finance and growth, assets, workforce and relationships.
The evidence collated in this report tells a detailed story of the community business market:
There are 9,000 community businesses in England, the biggest group of which are hubs and village halls. Across the market, community businesses are more likely to be located in more deprived and urban areas.
Most community businesses aim to improve their local areas in a range of ways, but for a significant majority, reducing social isolation is key.
Owning land or a building (an asset) can really support sustainability and, in fact, there are over 6,000 community-owned assets in England, 80% of which are hubs or village halls. These assets are worth nearly £1 billion in value. However, just 18% of them are in the most deprived 30% of areas in England.
There are an estimated 33,900 staff and 205,600 volunteers within the community business market in England. There are on average 15 staff and 30 volunteers per community business – this workforce is critical to success. Staff and volunteers are at all levels of seniority, take on all types of tasks, and keep the business rooted in and engaged with and accountable to the local community.
Across the market there is an estimated £0.89 billion income generated. The median income for a community business is £140,500, which typically comes from both trading and grants. For 62% the majority of their income is from trading and for 33% the majority of their income is from grants.
Community businesses work well with others, and often focus on developing collaborative relationships with other community businesses, traditional businesses and local authorities in order to enhance their social aims.
If you haven't the time to read our many publications, let me commend this 'compendium' report to you. It packs a lot in, and will give you a good overview of community business in England as well as signposting you to sources of further information.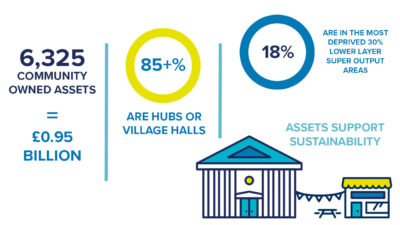 What else would you like to see?
With such a rich evidence base now at our fingertips, we want to invest more time in producing short guides, top tips, evidence summaries and so on – we'd like to hear from those who use our evidence: what other summaries, guides or other digested reads would be useful to you? Drop us a line on institute@powertochange.org.uk