'Once places take the power for themselves, all kinds of interesting things start to happen…' Mark Pepper, resident and founder.
Ambition Lawrence Weston is a resident-driven organisation striving to make Lawrence Weston a better place to live and work.
Lawrence Weston is a post-war housing estate on the outskirts of Bristol. Like many other communities living on the fringes of a bustling city, it felt left behind, unheard of and forgotten about.
That was until a group of 40 residents came together to form a community group and explore how they could claw back some power for their community. Established in 2012, Ambition Lawrence Weston has played a significant role in regenerating Lawrence Weston. This includes saving green spaces from development, supporting residents to write a Neighbourhood Development Plan to give community a voice on plan issues, and supporting residents to find full time employment.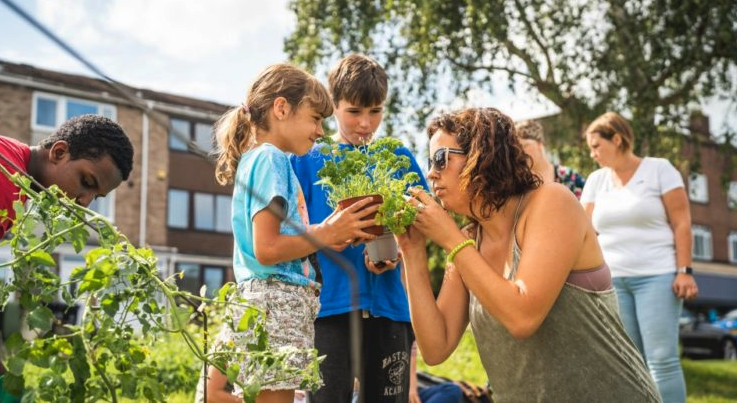 Over a few beers in the local pub, they had the idea of installing a community owned wind turbine to provide more affordable energy for local people. They had seen a number erected in the area, but felt it was another example of something done 'to them' and 'not with them'.
As the community group explored this seemingly outlandish idea, they quickly uncovered that whilst they couldn't directly supply local homes with affordable power, they could use the profits from selling the energy they would generate back to the National Grid to support the community.
In 2018, Ambition Lawrence Weston created Ambition Community Energy (ACE), an asset-locked Community Interest Company and subsidiary, to develop a community-owned wind turbine. And in June 2023, their 100% community-led and owned wind turbine – the biggest onshore wind turbine in England – begin turning. It now generates enough clean electricity to power every home on the estate. This extraordinary feat in one of the most deprived areas of the country took over £4.8 million to build, and is projected to power 3,000 homes and save around over 120,000 tonnes of CO2e over its lifetime. Ambition Community Energy estimates that the turbine could generate around £100,000 a year, which would be invested back into the local community.
Mark Pepper, a resident and founder of Ambition Lawrence Weston, recently told the Guardian that Ambition Community Energy was the local community's response to more than a decade of disinvestment: "In 2012, they closed our college. By that time, all the assets were getting stripped: the swimming pool, the leisure centre … loads of stuff was haemorrhaging, services especially. So a group of us got together and said: 'No one's going to help us. We need to get off our backsides and do it ourselves.'"
Lacking central government support, substantial investment was needed to develop the wind turbine. Ambition Community Energy were also unable to claim social investment tax relief, as energy generation and exports are excluded. "This project has been developed in spite of government policy, rather than because of it" says Mark Pepper. Instead, ACE secured over £6 million in capital from many funding from many streams, including: Urban Community Energy Fund, Bristol Community Energy Fund, grants from Bristol City Council, Power to Change and West of England Combined Authority through the European Bank for Reconstruction and Development, and loans from Thrive Renewables, Bristol & Bath Regional Capital (BBRC) and from local lenders.