Heeley Trust has been building community resilience and taking climate action in Helley and Meersbrook, Sheffield, for over 21 years. A locally led charity, employing over 30 staff. the Trust owns and manages multiple community-owned spaces and a community bike shop, A Different Gear.
Heeley People's Park
In 1996, Heeley Trust secured a 125-year lease on 3.5 hectares of derelict land left after land clearances for a bypass that was never constructed. This land is now Heeley People's Park – a community-owned, developed and managed park. Old Victorian heritage buildings, including an old school located on Gleadless Road, have since been transformed into vibrant workplaces for local businesses and community services. The Trust was able to refurbish these buildings through a mixture of capital grants (including Power to Change's Community Business Fund in 2016) and earned income from letting workspaces. Heeley Trust has won four Royal Institute of British Architects (RIBA) Sustainability Awards for their thoughtful refurbishment of these buildings.
In the future, Heeley Trust plans to develop a tree canopy and diversify its vegetation to ensure long-term resilience to the effects of climate change.
A Different Gear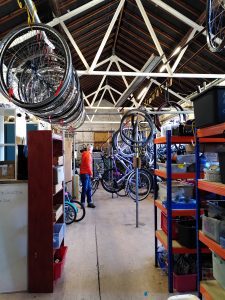 Andy Jackson, CEO of Heeley Trust, commonly known as the 'cycling CEO' by his colleagues, frequently uses his bike to get to meetings. Andy's passion for cycling led him to start A Different Gear, which started after acquiring ReCycle Bikes in Attercliffe, a neighbouring community bike project at risk of closure. A Different Gear employs local Sheffield residents, 80% of who use active travel, such as a cycling or walking to get work.
A Different Gear is just a small part of the cycling initiatives run by Heeley Trust, which now account for over half of their total income of around £1.4 million. The Trust support Local Authority Bike loan schemes in South Yorkshire, have a cycle hub at Barnsley station, run Pedal Ready cycle training, a training programme to encourage safe cycling, and much more. One of A Different Gear's bike hubs had to close two weeks after opening, due to the Covid-19 pandemic-related lockdowns, but the Trust pivoted its business model to provide e-bikes to key workers instead.