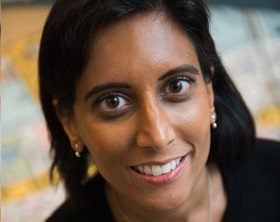 Vidhya Alakeson – Chief Executive, Power to Change
Stood outside the door of Number 10 as she took office, Theresa May declared that her government would not be one driven by the interests of elites but one which would work for everyone. Her focus on the JAMs – those 'just about managing' – was writ through the Chancellor's Autumn Statement today, from freezing fuel duties to confirming doubled hours of free childcare available to families. Planned cuts to Universal Credit for workers were not as deep as originally expected.
One announcement, which has received relatively little attention, is the government's promise to exempt Community Land Trusts (CLTs) and co-operatives from policy to reduce social sector rents by 1% a year from next year. The fact that this is getting attention at all at the Treasury is welcome, and there is reason to believe that in the long-term CLTs could be good news for communities throughout the country, JAMs included.
Once perceived as a solution to the challenges of rural housing, community-led housing is now growing in urban areas from East London to Liverpool and Leeds, as younger people find themselves spending a growing percentage of their income to rent what can be poor quality accommodation with little prospect ever of owning a home.
The chronic undersupply of housing over the last couple of decades will not be unwound solely through community-led housing, but the government's attention to the issue is a good sign. Community-led housing, particularly when delivered through a community land trust, provides local people with access to high quality, permanently affordable housing owned and controlled by the community itself.
As the stock of social housing has dwindled, so community-led housing is creating an alternative route to genuine affordability. The promised green and white papers on housing, which should appear from government either side of new year, will be important reading.
However, the government's efforts to support struggling working families risk being thwarted by the gloomy economic backdrop set out by the Office for Budget Responsibility. The OBR's forecast that national debt will continue to rise leaves a hole in the public finances which will mean further pressure on many of the local services on which JAMs rely. Children's centres, libraries and leisure facilities will be threatened with closure as local authority budgets are squeezed ever tighter.
In many areas, the only option for keeping these vital services open will be for communities to work closely with their local authorities to take them over and run them as community businesses – businesses run by and for the benefit of local people, just as community land trusts are. Over the last 12 months, the community business market has grown by 5 per cent, with more growth expected in the coming year through the transfer of assets from the public sector.
Shifting control of services to local people is not just about preservation: it can also be a way to improve services by bringing them closer to those they are intended to benefit. As such, the growth of community business can help beleaguered local authorities improve what they offer their citizens, while meeting the now almost impossible financial challenge of another parliament of cuts.