By Nick Plumb, policy and public affairs manager, Power to Change.
A very wild and windy early morning walk along Brighton's seafront kicked-off my second day at the Labour Party conference. It was the perfect start to what was to be a busy day starting with Power to Change's second conference fringe – this time on community-led high street regeneration.
Standing room only at a 9am event on a day when lots of conference goers are nursing hangovers is quite the achievement. I'm confident that seeing the inspiring community business leader, Hannah Sloggett, on the bill was a big draw. It might also have been that former minister and current Mayor of Greater Manchester Andy Burnham – who has been making headlines with his comments over the past few days – was also on the panel.
As well as hearing from Andy and Hannah, there were contributions from Asima Shaikh, Executive Member for Inclusive Economy and Jobs at Islington Council and Miriam Brett, Director of Research and Advocacy at Common Wealth.
Discussion focused on how we reorient our high streets around economic activity which works for local people and communities. There was agreement across the panel that we need to move away from the extractive model that underpins our town centres at the moment.
Regular readers of the Power to Change blog will be familiar with Hannah and Nudge Community Builders' story, but it was new to many in the Conference audience and on the panel. Hannah powerfully talked about the challenges they've faced turning Plymouth's Union Street around. Everything from the opaque, fragmented ownership of the high street to a lack of access to finance that can move at the pace of private capital. She also spoke about the huge progress they have made in recent years – taking ownership of three assets on the high street, creating space from which local entrepeneurs operate and kickstarting wider regeneration.
There was agreement in the room and across the panel as Andy Burnham made the point that debates about how to 'fix' the high street – and reviews on what to do next – have been around for as long as he's been in politics, but that none of these have made much difference. And that the retail-heavy model is most certainly dead. Where people diverged, was on what comes next.
Will town centres have much more residential property in future, as Andy suggests? Or would that mean we risk losing the distinct nature of our town centres, as more space is closed off for private use?
For me, the most powerful summary of the themes came from Asima in her closing remarks.
Retail is on the decline, but high streets are the hearts of our communities. Experiential High Streets are the future – it's about getting your hair or nails done, going to libraries, visiting food hubs and community centres. It's not just about consumerism. It's about community use.
Look out for a follow-up briefing from our friends at CLES and Common Wealth in the coming weeks, which will provide a much fuller summary of the event – including the range of exciting policy recommendations made by Miriam, and more on what Andy and Asima had to say.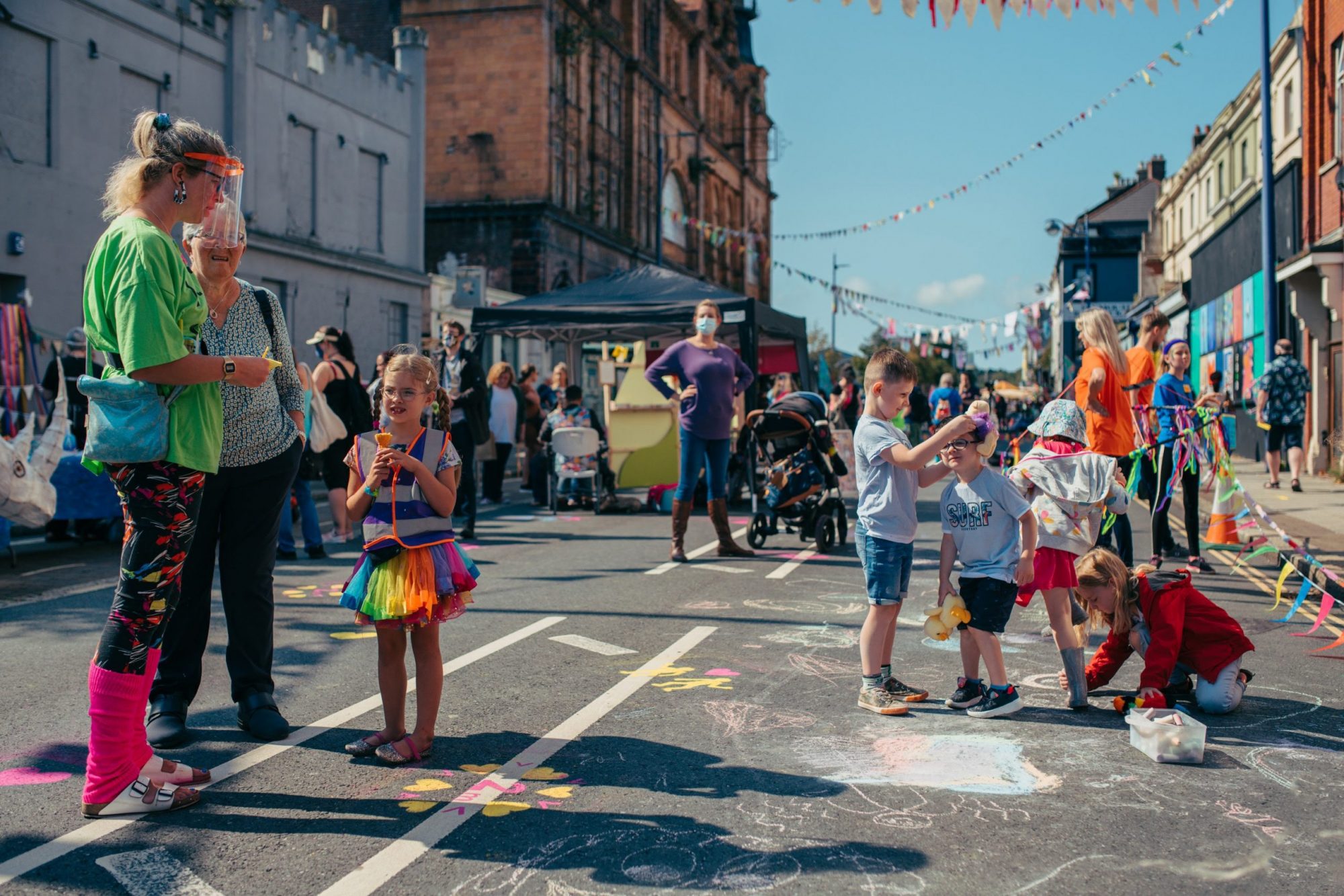 Beyond the fringe
Beyond our event, two speeches caught my attention at Conference. Rachel Reeves' first speech as Shadow Chancellor hit the headlines because of its bold spending pledges on greening the economy. But for me the more interesting thread running through her speech was its focus on the 'everyday economy'.
Rachel conceives of this economy as the things that matter to people daily – from the high streets we visit to the care we give and receive. The keyworkers in our supermarkets and those who facilitate our daily commute. This definition of the economy will ring true to lots of community businesses, which were set up to improve the everyday lot of their neighbourhood.
Steve Reed, Shadow Communities Secretary, made the case in his conference speech that 'the answers to the problems we face lie in our communities'. He ended by saying "we will trust people up and down our country with the power they need to shape the communities they want to live in and the lives they want to lead." He talks a good game. But we're yet to see this translate into concrete policy proposals from the Labour Party.
While we're now waving goodbye to Brighton and on trains back home, I'll be watching Keir Starmer's speech tomorrow to see how he picks up the everyday economy and community power themes that ran through Rachel and Steve's contributions.
I've seen the beginnings of a distinct community empowerment offer from Labour over the past few days. But also get the sense that there's work to be done to bring coherence to this and lay out how this works in practice. We'll be on hand with ideas, when Labour are ready.