Talk to people. Don't keep it in your head. Whatever it is, a worry, an idea, tell someone. Once you've said the words out loud, you are inviting something to happen and hopefully that will form the first step of your journey towards creating a community business

– Rebecca Luff Co-founder, Friends of Westdene Green
Rebecca Luff is a co-founder of the Friends of Westdene Green, who saved and now run a community space called The Barn in Brighton. She also works for UnLtd, the Foundation for Social Entrepreneurs and has been on the Power to Change Community Business Panel since summer 2019.
What gets you up in the morning? What motivates you?
I'm really motivated by the work I do so I tend to wake up thinking about it, as well as family commitments of the day ahead. I have two teenage daughters, a partner, two dogs and some hens as well as a full-time, fulfilling job at UnLtd. I'm also involved in the RSA. I'm motivated to help people develop their potential and use coaching and facilitative approach to my work to do so. I think it's important to support community and social entrepreneurs to find their own way.
How did you get involved in community business?
At the age of eight I was pony mad but lived in London, so I found it difficult to get near one until I visited Kentish Town City Farm not far from home. This was my first experience of a community business. It exposed me to people from all walks of life, people of all ages, people with disabilities (and of course ponies) that I wouldn't have met if I'd gone to a usual riding school or farm. It was so inclusive and helped me understand the importance of people gathering around a place to create community.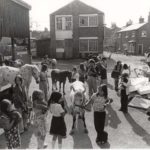 By my late thirties, I was working for Spitalfields City Farm and spent nearly ten years there, building a sustainable organisation and increasing turnover from £30,000 to nearly £400,000. There I mastered how to plan, create income from grants and from trading, manage people and encourage them to take the lead. I also learnt the secret to not losing your mind when running a business – collaborate, slow down and be patient! Whilst doing something now is important, its equally useful to spend time building relationships and finding the best solutions, whatever community you are working with.
After a successful freelance career, I missed the connection and shared goals that being part of an organisation brings and found a job with UnLtd, helping place-based social entrepreneurs make change happen locally through UnLtd's Resilient Communities work. At the moment I'm spending a portion my work life in Brighton where I live, supporting a shared vision for a strong and inclusive Social Economy in the city by facilitating an Enterprise with Meaning conversation and scanning less affluent neighbourhoods for potential.
What impact has it had on your life?
When we moved to Westdene, a quiet suburb on the edge of Brighton, I decided not to get involved in community stuff as I spend my working life supporting people to run social and community businesses. However, when a neighbour and I noticed that The Barn on The Green outside our front door had been listed on Gumtree by the council for commercial let, I had to do something. We got local people together and decided to form the Friends of Westdene Green. We found a barrister who'd worked on the Localism Act, and a planning professional from another local authority who were really helpful in getting people to take us seriously and helped us register The Barn and The Green as Assets of Community Value.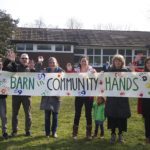 We then campaigned for the council to give us a lease. They turned us down at first, but we made such a hoo-ha about The Barn being a valuable community resource – we had banners outside the town hall – that they eventually gave in and gave us a five-year lease. Because the lease is so short, we weren't able to get funding easily to refurbish the space so instead we crowdfunded and local people volunteered their time to help make it fit for purpose. By this time, the council were on side and willing to support us financially. We've now had The Barn for three years and it's making enough of a surplus as a community space for us to run four community events a year, including a community fete and music festival showcasing local talent.
In terms of impact on my life, it's been huge! The first 18 months were exhausting. Working full time and trying to save The Barn was full on but I gave it everything. It's easier to be passionate about something on your doorstep. It's just a hut really, but it means a lot. Now the local councillors run their surgery there once a month, we host a community meal which is quietly targeted at older isolated people, there are numerous fitness and wellbeing classes, as well as astronomy and board-gaming… it's buzzing.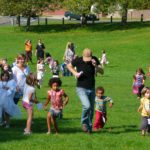 Community businesses are led by local people. How have you dealt with differing opinions and relenting control?
There's about six of us who take part in quarterly steering group meetings. We're all good listeners so it's usually easy to come to a consensus. We also have just under 100 members as we are a Community Benefit Society and they are quite vocal! They get to formally give us feedback during our Annual Gathering. I also help facilitate conversations between different groups who want to use The Barn or The Green. I don't mind a bit of argy-bargy as it means people care. Everyone's opinion is valid and listening to each other helps them understand each other better.
What has been your proudest moment?
Saving, restoring and opening The Barn! We worked so hard for it to remain in community use. lots of local people helped refurbish it, turned up at campaigning and fundraising events and showed us that The Barn is important by making use of it. I'm proud we stuck with it and made it work. It's success today is proof of the pudding! It's proved financially viable, inclusive and used by lots of people.
Describe your community business in three words:
Heart of Westdene
Do you have a tip for someone wanting to start a community business?
Talk to people. Don't keep it in your head. Whatever it is, a worry, an idea, tell someone. Once you've said the words out loud, you are inviting something to happen and hopefully that will form the first step of your journey towards creating a community business.
Find out more about The Barn in Westdene. Rebecca and her team would love to welcome you to one of their events such as their Musical Midsummer Festival in June or their Village Fair in September.