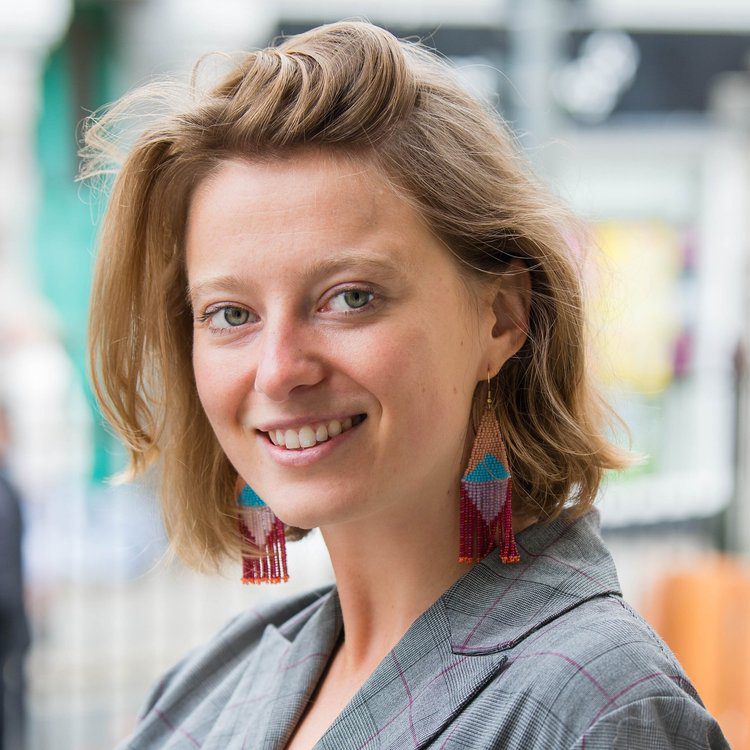 Rebecca Trevalyan
Co founder, Platform Places and Library of Things
What would your town centre look like if every third building was used, managed or owned for local benefit? If it was easy for local people with amazing ideas to easily find a home for them – whether arts and music venues, reuse and repair hubs, urban farms, community kitchens, youth and sports clubs, local markets, co-working spaces, or genuinely affordable housing?
Currently, this isn't the norm. Nearly 4 out of 5 community enterprises say they struggle, or have struggled, with access to property to start or grow their businesses. Meanwhile, in 2022, UK high street shops closed at a rate of 47 per day.
It's clear: we need a new way of doing high street property. One that overcomes the historical sense of 'us vs them' between asset owners and occupiers. One that centres, not excludes, local needs and ideas. One that plugs the data gaps about property ownership and vacancies, through dialogue, mapping and collaboration.
Ultimately, we need to shift ownership patterns to a healthier balance between private, public and community-owned buildings. By doing so, the way people make decisions about town centre assets – and the wealth those assets produce – can become more local and democratic.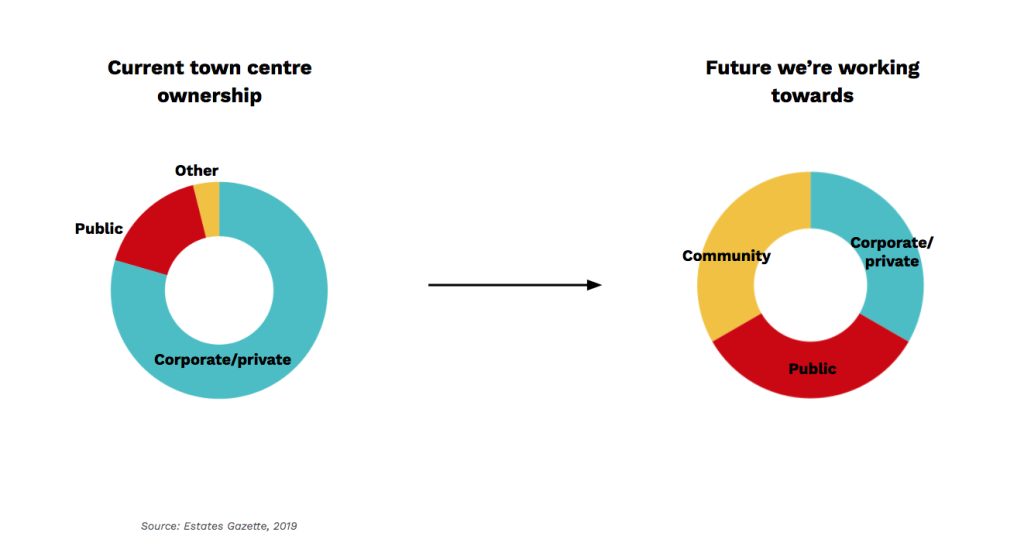 A Platform For Places
Back in 2020, 25 diverse leaders from communities, councils, asset owners and law firms around the country came together around the question: How do we make it easier for community businesses to access town centre property?
Initially we chatted over video calls, and then in-person, together visiting and learning from thriving high streets where a significant portion of buildings were under community use or ownership.
We were all motivated by a shared challenge, from diverse, but overlapping experiences.
These were some of the perspectives we heard in our conversations with dozens of other commercial assets owners, community leaders and local authorities:
Councils want high streets thriving for local benefit. One local authority CEO shared, "We wanted to buy a shopping centre for use by local social enterprises, but we really struggled to find out who owned it – my Regen team had to become a detective unit overnight".
Asset owners need exciting, impact-driven ideas for the "vacant units we don't know what to do with."
Communities have amazing ideas for their neighbourhoods, but struggle to access buildings to make them happen. "For every £1000 I pay on rent, that's £1000 I can't pay towards local jobs, apprenticeships, training programmes, provision of affordable services, and free spaces for people to hang out and form relationships," said one community entrepreneur. Another, in the lease agreement stage for the first time, said "Signing a standard commercial lease is like buying a house…I'm crying by page 25!"
We all also knew that solutions already existed, rooted in collaboration and imagination, waiting to be unlocked at scale.

A new social enterprise, Platform Places, was born out of these dialogues, to catalyse long-term property culture change.
Power to Change is a founding member, alongside High Streets Task Force, British Property Federation, New Local, Radix and Shoosmiths
We're scaling a movement that's already begun: building on the amazing successes and examples of transformative partnerships between communities, property owners and local authorities from Oxfordshire to Poole, from Coventry to Hastings.
We're helping more towns and cities do the same on their high streets and town centres: unlocking buildings for amazing ideas that help us live affordably, sustainably and together. Not just one building here and there, but at scale: 5, then 25, then hundreds of buildings brought into community use or ownership — for local benefit.
How?
A programme of Local Property Partnerships
Platform Places convenes and supports councils, communities and asset owners, to create Local Property Partnerships in their town centre. This is a tried-and-tested process to unlock buildings for amazing local ideas. We support these Partnerships with access to funding, technical expertise and networks.
Inspiration and resources
Platform Places also offers guidance, webinars and inspiration, with stories of innovators already doing property differently, and templates for others to do the same.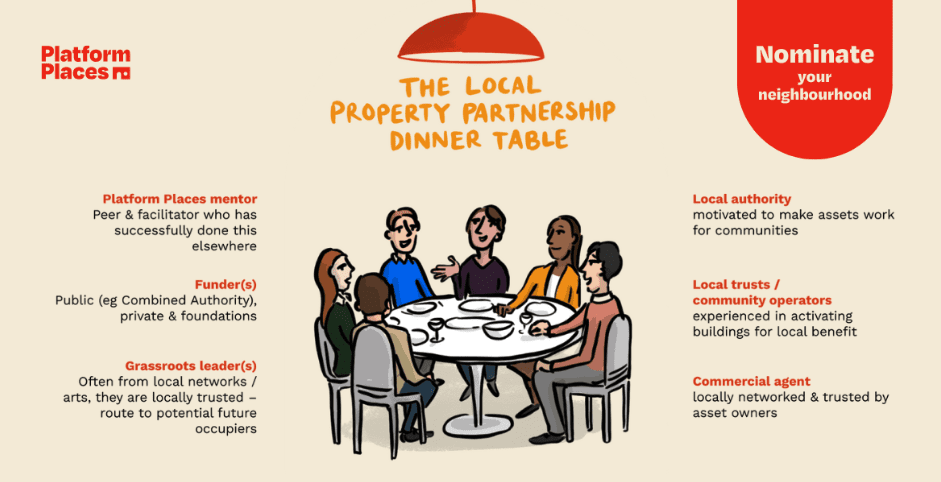 Help Scale The Movement
Along with critical policies like Power to Change's High Street Buyout Fund, we need to use the tools we already have in our box. By forming creative, collaborative partnerships on the ground, we can make it easier for community-based businesses to revive buildings for local benefit.
Join the movement to unlock thousands of town centre buildings for amazing ideas.