Work in progress : Levelling up perspectives from the community to the national level, reviews the progress of the levelling up agenda from the perspective of communities and community businesses, and nationally. It includes insight from new interviews with community business leaders and new public polling. The report concludes by making recommendations for policymakers, based on our analysis of progress in four key areas: levelling up funding; devolution and community power; high streets and pride in place; and community ownership.​
What's inside the report?
Since the phrase 'levelling up' appeared in the Conservative Party's general election manifesto in 2019, it has been an agenda that has attracted significant interest from the community sector. In previous reports, Backing Our Neighbourhoods and Building Our Social Infrastructure, in partnership with The Cares Family, Power to Change examined the role that community organisations can play in levelling up and the role of community spaces in building connection and resilience. Since then, the Levelling Up White Paper has been published, the Levelling Up and Regeneration Bill has begun to move through Parliament, and there have been several rounds of different levelling up funds awarded by central government.
This report is a fresh assessment of levelling up that evaluates the current impact of the agenda on communities and looks at progress that can be made into the future. It combines the national and community level perspective to give a rounded picture, drawing on public attitudes research, interviews with community business leaders, and our own perspective at Power to Change.
We find that there has been progress in some areas but despite this, new polling by Opinium for Power to Change shows that this is not having an impact in the minds of the public nor in those of community business leaders. There are risks to both major parties in not making further progress on levelling up and we recommend steps forward that should be taken.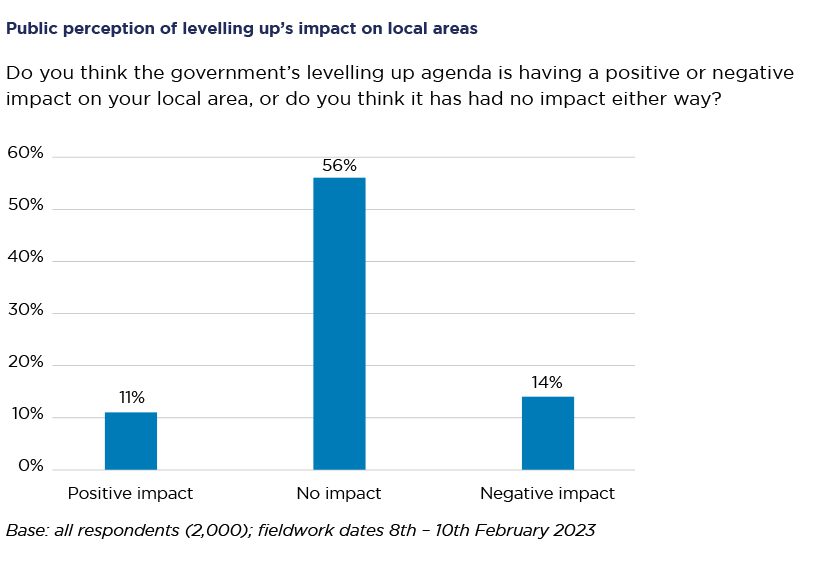 The good news
Our review of the progress made on levelling up shows that progress has been made, if not to the extent that we need for it to deliver for communities.
Levelling up is an agenda that is here to stay, though whether the moniker survives is another question. But the incremental progress that has been made has not been felt by the wider public nor by communities, both of whom are profoundly negative about levelling up. The public do not see it having an impact locally or nationally. It is not felt to be tackling relevant local issues, and there is a strong sense that local high streets are declining. Looking ahead to 2030, the public remains pessimistic that there will be any impact.
Community business leaders share much of this negativity from their firsthand experience of levelling up policy, particularly in relation to the way levelling up funding has been administered and what its focus has been. The risk to the Conservative Party, if they do not make further progress on levelling up,is clear. Levelling up was a key component of the electoral coalition forged at the last election. It will be hard to build a similar coalition again if levelling up is not delivering in a way that is tangible for communities. That being said, we have identified areas, particularly on high streets, where we think the government can make demonstrable and impactful progress. The pace needs to pick up. This is not to say that the Labour Party has captured the public imagination on levelling up either.
Though, over the last year, the party has made significant progress and its emerging answer to levelling up is a strong one. We hope that the Labour Party will listen to the voices of communities and community businesses in continuing to develop the detail of its ambitions. Bringing together the national and community-level perspective.
We have found that levelling up has not been all that we hoped for thus far.
Some progress has been made on the communities aspects of the agenda, but there is little impact being made currently and there is pessimism from the public looking to the future. With an election coming into view, there is a short-term need to demonstrate impact. Longer term changes will also be needed for the agenda to deliver by 2030. Continued pressure must be put on both parties to convince them to stay the course so that levelling up delivers today and in the future, for communities and for the country.