Leeds Community Homes is an innovative people powered revolution looking to change Leeds' dysfunctional housing market, which is currently struggling to meet demands in Leeds for affordable homes to rent or buy.
With its regal buildings, flourishing nightlife scene and growing number of big business headquarters, Leeds has put itself firmly on the map as one of the most desirable UK cities to live in. This popularity, however, has not come without cost. Rising house prices, a shortage of affordable social housing and a highly competitive private rental sector has led to many local people being priced out.
Leeds City Council plans to build 66,000 more homes by 2028, but it is widely expected that most of these homes will remain unaffordable to many people in Leeds. The most recent Strategic Housing Market Assessment (2011) identified an annual need of 1158 affordable housing dwellings, a target not currently being met
As a Community Land Trust, Leeds Community Homes plan to build 1,000 people powered homes in Leeds by 2028. These new homes plan to be affordable to local people both now and for future generations. The homes will also be sustainably build and environmentally sound. To do so, Leeds Community Homes are thinking creatively about ways to raise finance and using innovative techniques to build homes which last, including opening a community shares offer, which successfully raised £360,000 from people all over Leeds and the UK.
How did they do it?
The first step towards achieving their ambitions, relied on raising money through community shares. Leeds Community Homes set a goal to raise £360,000, and successfully achieved that. This money will fund the purchase of 16 permanently affordable flats on an eco-development in the centre of Leeds and develop proposals for future projects to build more affordable homes
Power to Change invested £9,307 to help them get the share offer ready to go live and then match funded the first £100,000 raised in community shares.
The share offer was a catalyst, as it raised awareness in Leeds of a community-led approach to housing. Leeds Community Homes anticipate opening more share offers in order to raise the finance to deliver fantastic community homes.
Environmental Impact
Over time, LCH has developed into an enabler hub for other community housing groups, and is currently providing consultancy support to over 30 of them.
LCH now provides support to community led housing projects of all shapes and sizes, using their expertise to give them every chance of success. Within this, LCH promotes good environmental practices by encouraging the use of brownfield sites to reduce pressure on greenspace, and by only supporting projects that share LCH's values of sustainably built housing.
The establishment of an enabler hub has had the additional advantage of forming a collective movement of likeminded organisations in Leeds. Leeds has a long history of community led housing projects, with organisations such as LILAC and Canopy established before the arrival of LCH. These groups, however, were previously quite disparate. Now, this unified voice of over 30 groups has helped give the community housing movement more influence over policy and decision making with local authorities.
Alongside project management support, advice and financial support to housing initiatives, LCH is working with local residents and local projects (such as Shangrileeds and Otley CLT) to develop the community led housing movement in Leeds. Member forums, an enabler resource co-produced with community groups, and an annual AGM all provide an opportunity for local people to improve and develop the community led housing offer.
LCH turned to local sustainable urban developer Citu to build its first homes- 16 flats in Leeds's Climate Innovation District. Nine will be made available for discounted rent, while seven will be sold at 60% of market prices, a figure agreed by members to be genuinely affordable. Citu, who are also planning to build 520 homes in the district which will be rent or sold on the open market, aims to take a pioneering approach to housebuilding in the UK. The developer is part of a growing house building movement that wants to accelerate the UK's transition to low carbon cities.
Citu's homes use innovative methods to drastically reduce their environmental impact, whilst also reducing costs for residents and creating a more positive living environment. Features of each property include:
Triple glazing
Built with wood. Wood is a carbon negative material, storing one tonne of CO2 per cubic metre. Each house stores 23 tonnes of carbon and prevents the emissions of 88 tonnes of C02, compared to building an equivalent masonry house. That's roughly the same as taking 19 cars off the road for one year.
Wall insulation made from recycled glass wool, which is three times better at retaining heat than a modern house, and as much as fifteen times better than an older house.
Solar panels, with any excess being sold back to the grid and profits being used to reduce energy costs for residents
Wrapping homes in a membrane which allows moisture to escape, but keeps warm air locked in. This method of heat retention is so effective that a gas boiler is no longer required. Its heating needs are so low that they can be met with 100% renewable energy, preventing 2 tonnes of CO2 each yearA Mechanical Ventilation Heat Recovery System brings a constant flow of fresh air into the home, and warms it using the heat from exiting warm stale air.
Green roofs provide an ideal habitat for pollinating insects. A Green roof also helps to reduce the urban heat island effect, reducing summer temperatures.
The development also includes the planting of trees, a wildflower meadow and plenty of green space to attract wildlife and improve the natural environment. This, alongside pedestrian paths and communal space, will help create a more welcoming living environment for residents. Both LCH and Citu don't offer buy to let or sell homes to investors, helping to nurture the development of a sense of community that can often be lost with a transient population.
As residents will also be members of LCH, it is expected that this will foster a greater sense of belonging to both the community housing movement and their local community. There is growing interest in the role community led housing projects can play in tackling loneliness and supporting social connections, with the Ministry of Housing, Communities and Local Government funding research into this.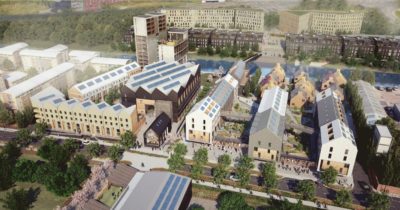 "When people are involved in creating houses they become more than bricks and mortar – they become homes and communities that people love to live in"
Leeds as a city is a leading figure in nurturing the growth of community led housing programmes, and the collective movement is gaining interest from the local council and beyond. In 2018, LCH was approached by Leeds City Council to see if they would be interested in building homes on a plot of land in west Leeds, and they are currently at the consultation stage with the local community about this. This highlights the reputation LCH has established, and how seriously the council are seeing community housing projects as a viable alternative to current building practices.
At present, collectively the 30 groups that LCH supports have a portfolio of 700 homes across Yorkshire, with this number expected to grow. LCH is also part of the national network Community Led Homes, a Power to Change funded project that is supporting locally driven housebuilding schemes.
The community housing sector is of increasing influence in both Leeds and beyond, and with many of these homes being built using far more sustainable practices than most current newbuilds, it is clear to see that community led housing projects will be playing an important role in the battle against climate change in the 21st century and beyond.