What are we learning so far from the COVID-19 response?
Power to Change has changed the way it works in response to COVID-19. Annabel Litchfield, Senior Project Manager at Renaisi, discusses what they have learnt so far through their evaluation of three grant programmes, providing insight on the role of sectors, peer support and partnership working.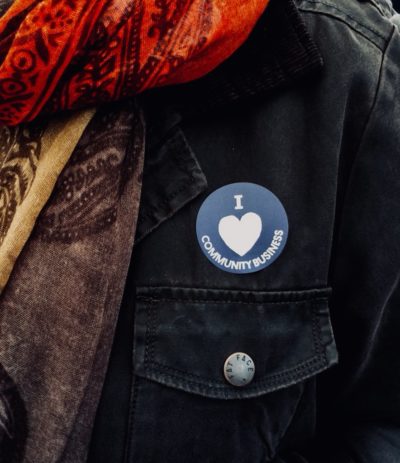 At the beginning of lockdown, the evaluation of Bright Ideas, Trade Up and Community Business Fund (CBF) shifted from a focus on evaluating impact, to a focus on rapid learning. The primary aim of this shift is to help Power to Change learn from the impact and respond to the COVID-19 crisis. Our first phase of analysis has highlighted learning relating to the role of sectors, partners and peers in defining the community business sector response to/experience of the crisis.
The role of sectors
Each of the three programmes focusses on a particular stage in a community businesses life cycle. However, they all support community businesses from a wide range of sectors. One thing that has become pertinent since the COVID-19 crisis hit England is that sector has become a key factor as to how community businesses are impacted, and how they have subsequently responded.
Many sectors could not operate during lockdown because of government restrictions, such as those in the leisure industry, or community pubs, whilst some have been busier than usual (food production and delivery, community shops) or have pivoted their business model to continue operating (community hubs acting as spaces for food banks, takeaway food / drink from cafes).
Now more than ever it is important for Power to Change to provide sector specific support to community businesses and support targeted to particular programmes. This could be by providing sector-specific resources and advice, or through facilitating conversations between community businesses in the same sector both within the same programme and across different programmes, to facilitate and encourage peer learning.
The importance of peer support
All three programmes have some element of peer support – in Bright Ideas it is providing opportunities to learn from other community businesses, including visits to other community businesses, access to online resources, webinars and grantee networking events, in CBF it is business development support from community business peers through Peer Brokerage, but Trade Up is the most comprehensive with the peer learning element, where community businesses are brought together as a cohort to learn from one another while participating in a structured learning programme.
Our evaluation found that this aspect of Trade Up is particularly valued because it enabled grantees to learn directly from others' experiences, helped them to better understand their position and support needs and provided pastoral support when managing a business, which can sometimes be an isolating experience.
Since the COVID-19 crisis, we have found that the element of peer support is even more important as community businesses, and their leaders, navigate through this difficult and unprecedented situation.
Whilst there is some element of peer networking within Bright Ideas and CBF, there is an opportunity for peer learning to become more embedded in these programmes by creating smaller groups within each cohort that could meet and connect regularly.
On top of this, and mentioned above, whilst it is important for peers to learn from organisations at a similar life cycle stage, now more than ever it is also important for peers to learn from organisations in similar sectors.Ourr findings suggest that Power to Change could think about how to facilitate more peer learning both within programmes, and across programmes.
The role of Delivery Partners
Both Bright Ideas and Trade Up are delivered by delivery partners, the School for Social Entrepreneurs (SSE) and Locality respectively. These relationships have helped to inform Power to Change's response to the crisis, with SSE and Locality playing a key role in providing expert advice and learning.
Both the strength of these relationships, and the expert knowledge of the delivery partners, have enabled a shift from just a contractual partnership towards becoming a more equal relationship between delivery partners and Power to Change. Delivery partners have truly contributed to Power to Change's response to the crisis, in a knowledgeable, constructive and viable way.  For example, Trade Back for Trade Up Cohort 4 grantees is a concept which came out of the need to deliver the programme sustainably.
This has provoked thought on whether it would be interesting to explore a different type of partnership in the future, one that creates more opportunity for Power to Change and delivery partners to work together as equals, enabling organisations like SSE and Locality to act as strategic partners as well as/instead of delivery partners. It opens the door to asking if partnerships could be run differently with the spread of responsibility adjusted to make even more of the partnerships that already exist.
This is interesting for the Community Business Fund, where SIB have recently become the new delivery partner. This creates an opportunity for this newly formed partnership to learn from what is happening in the other two programmes and help shape what the partnership looks like.
–
Overall, we see these findings as an opportunity for Power to Change, its programmes,  and delivery partners to become more agile and explore new ways of supporting the community business sector.
Whilst these are our top findings from our initial piece of analysis since the COVID-19 crisis began, we are looking forward to sharing more insights over the coming months as community businesses recover and rebuild.