How can we support deprived communities? Start with data
Charitable resources do not always go to where they are most needed. How do we fix this? Stephen Miller examines one way in which Power to Change is using data to address this imbalance.
Deprivation is a complex issue. It is persistent too, and requires a lot of time, money, effort and community spirit to budge. That's why Dan Corry's recent paper for New Philanthropy Capital (NPC) hit a nerve. It found affluent areas have more charitable wealth and resources than the most deprived. As a large place-based foundation, Power to Change has a responsibility to address this imbalance. But the question is, does it? And if so, how?
The challenge of measuring deprivation
As NPC highlight, the English Indices of Multiple Deprivation (IMD) is one way to measure area-based deprivation. The IMD has seven 'dimensions' of disadvantage. These range from worklessness to housing affordability, from health to distance from the nearest post office. In this sense it is a useful tool. At Power to Change we use IMD as a top-line indicator of where its grants are going. Yet we also know it is a crude measure.
As research conducted for us by the University of West England shows, many use the IMD in its top-line indicator format. This means it is easy to overlook nuances, such as the reduced access to services experienced in many rural communities. We also know that the IMD is a relative measure — with each area ranked against each other. It also doesn't get updated frequently. All of which makes tracking changes in IMD position difficult.
These nuances are important to us. Our grants support individual community businesses, to  improve surrounding neighbourhoods. The challenge is finding metrics that capture change at the local level. So we are exploring using more targeted tools, like financial transaction data, to get under the skin of local areas.
What support do deprived communities need?
NPC argue for funders and government to better target their money to deprived areas. We agree. But an important point to reiterate is that no two areas are the same. That means the funding and support they need will also differ.
Take, for instance, Grimsby and Luton. Both towns contain neighbourhoods within the most deprived decile in the country, according to the IMD. Yet they are very different. One is a coastal town in the north, the other is a satellite town in the south. Deprivation looks different in both places.
In Grimsby we work with a community hub, Centre4, to provide tailored support to the local community. We have also been using credit and debit card transaction data as another way to better understand these communities. We are using this to help us target our funding and support, to ensure it matches what these communities need. The data below shows the local community close to Centre4 comprises hard up families with little disposable income.
Demographics, using cameo codes (DN33 (Grimsby) on the left, and LU3 (Luton) postcode, on the right).
The table shows a large slice of the local population near Centre4 falls into two groups.
Paying the mortgage: people in this group are of mixed age and only one in four have been in higher education. They have above-average incomes and above average credit risk rating. They are most likely to work in administrative and secretarial roles.
Family values: people in this group are younger (18-39), have lower qualification levels, have low incomes, are most likely to work in service occupations, have poor access to credit and have low car ownership.
We can also see there is not much spare cash in this community. Only 15% of the transactions we analysed are for items associated with disposable income (as opposed to cost of living essentials). Conversely Luton has a more varied population and higher levels of disposable income (24%).
Local business sales by type–percentage (DN33 and LU3 postcodes only)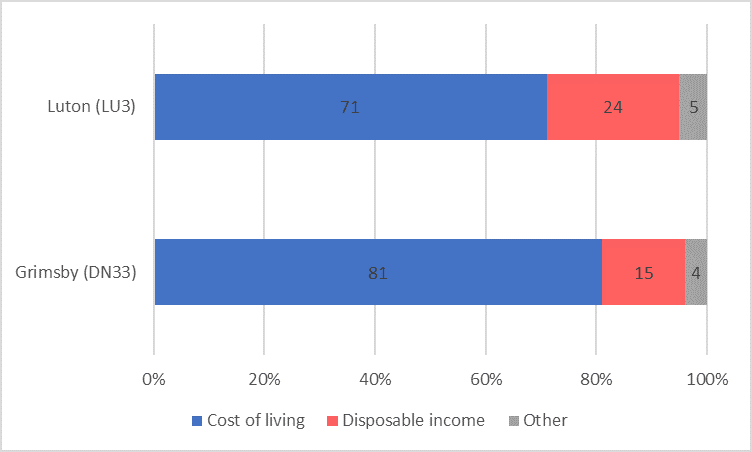 So while both communities are in the most deprived decile nationally, this data tells us is that the support required by community businesses in Luton is different to those in Grimsby. It suggests community shares and repayable finance might be more suitable for community businesses in Luton. In Grimsby, funders such as Power to Change should crowd in institutional investment instead.
Where does the money go?
During its first five years, Power to Change provided £64m to community businesses. This includes grants but also blended finance–which has an element of repayable investment alongside a grant, and community shares. Because of this multi-faceted approach, 68% percent of funds went to the 30% most deprived areas. This is not just a symptom of the selection process either. Most applications also come from more deprived areas, as the chart below shows for the Bright Ideas programme.
Applications to Bright Ideas–by IMD decile and funding status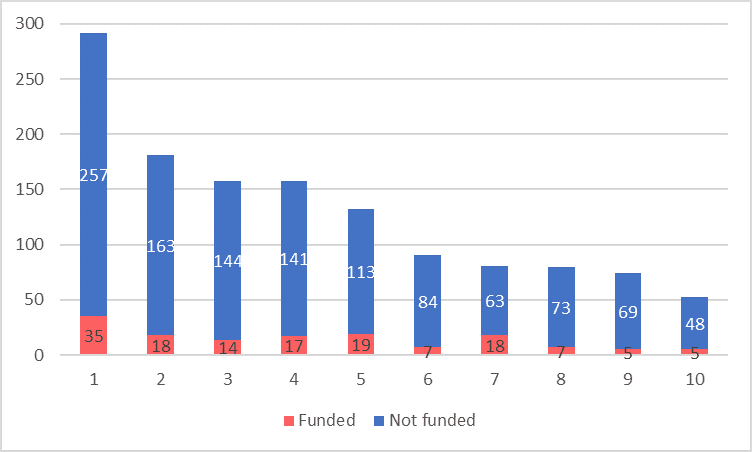 NPC's research suggests this is unusual. Deprived areas have a lower concentration of charities. NPC also note there is a "certain randomness about where the funding goes". Even comparisons with social enterprises suggest this is a high concentration. Social Enterprise UK find 48% of social enterprises are in the most deprived 40% of areas, while only 35% of UnLtd grantees are based in the 20% most deprived areas. As such, community businesses are often located where there is greatest need.
So what now?
Providing money to deprived communities is only one way to support them. And on its own, it does not guarantee change. But, it is a start, and over the course of the year we will explore Power to Change's impact in more depth.
We hope others take up the gauntlet laid down by Dan and NPC. Funders need to use data to be more strategic with the resources they manage. Part of this more strategic approach must also include recognition of the differing skills, resources and knowledge communities have access to, and the differing mix of support and funding they need. Hopefully, then we will see an even bigger impact and a reduction in the current imbalance.