Earlier this week, the policy and communications team spent a day at Witton Lodge Community Association, getting to know the inspirational story behind their community.
When the residents of Perry Common were faced with the demolition of their homes, they decided to turn that anger into action. A passionate group of locals formed a community association, acquired the land from the council and set about building quality "homes, not houses", for the people of Perry Common.
The community business now owns and manages over 200 homes for social and market rent, as well as 40 independent living apartments. "While buildings are important, it's about people," said Linda Hines, the tenacious Chair of the Association, as she and the Chief Officer, Afzal Hussain, took us on a tour of the Perry Common estate. She reinforced the important distinction between redevelopment and regeneration; redevelopment is bricks and property. Witton Lodge goes further and focuses on regeneration, which is about people. "There's nothing done for the community without the community," and this is absolutely fundamental to their success.
The community association has overseen the regeneration of this North Birmingham estate, working with partners and housing associations to bring over 900 family homes into the area. Linda reminisced how they fought hard to ensure that other housing associations in the area standardised the rent. The community changed the road layout as the estate was rebuilt to create more cul-de-sacs and soften the traffic. She took great pride in asking if we could tell which homes were privately owned and which were social housing (we couldn't, until Afzal pointed out that their homes were the ones with solar panels fitted).
This care and human-centred approach shines through everywhere. From the curved shaped building of the community hall (much friendlier and inviting, Linda noted) to the language and words that are thoughtfully chosen. They are not a community centre ("too cold and formal," chimed Linda) but a community hall. Their venues don't have receptionists, but "welcome officers".
Afzal Hussain is not a chief executive; he is simply a chief officer. And whilst Linda, a resident and activist throughout Witton Lodge's development, provides the community power (in buckets, I might add), it's clear Afzal has a great steer on the other element key to their success — the business. It struck me how willing they have been to take calculated risks to achieve their ambitious goals. At one point in their evolution, the community business took out a mortgage with Nationwide to secure additional housing and grow to meet the needs of the community. They have developed a successful strategy of buying up the houses "nobody wants" from estate agents and councils and transforming them into homes.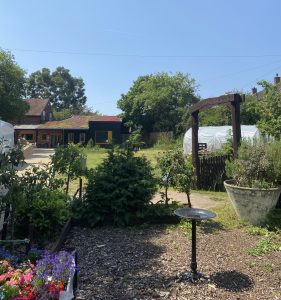 As well as homes, they have transformed former wasteland (literally wasteland, with piles and piles of rubbish discarded) into beautiful parkland, with the culmination of our tour being a visit to the almost idyllic Witton Lakes Eco Hub. (It was bathed in 30 degree sunlight, nestled amongst trees and fronted by flower and vegetable beds) at the edge of this newly developed park, complete with lakes and trails.
Celebrating its first birthday, ("birthday, not anniversary", noted Linda) the building has seen the transformation of the former park-keepers cottage into a multi-functional eco-friendly community facility. It offers local people an array of services and activities providing support with health and wellbeing. The hub showcases and promotes energy efficiency, and provides advice on how to tackle fuel poverty, cultivate home-produce and pursue outdoor activities. It retains its 'homely' characteristics, with the preservation of the kitchen and the lounge to create a warm and safe environment for counselling sessions with residents.
"Give people the power to do the things and they can get the things done," were the words that echoed from this compeliing duo as we took our leave. But let's be clear, Afzal, Linda and their team don't just get things done. They do things in a way that supports and nurtures a thriving and proud community, that protects the environment, creates jobs, supports healthcare, and fuels a vibrant social economy. They operate with the community at the centre, and it's incredibly powerful.
Witton Lodge CA celebrates 30 years next year, and we can't wait to see what they do next!
Power to Change awarded Witton Lodge a Homes in Community Hands grant in 2018 and also supported the organisation as part of its recovery response to Covid-19.