Ailbhe McNabola is the Head of Research and Policy at Power to Change. She has 15 years' experience in research and analysis in policy-relevant fields, having started her career in management consultancy at Accenture. Ailbhe went on to join the team evaluating policy implementation at the UK National Audit Office, and has held a number of consultancy roles in central government departments.

Last year, Power to Change awarded almost £9 million of grant funding through our Initial Grants Programme. As the name suggests, this was our first grant programme following our establishment in January 2015. To better understand who applied and why, and what determined success, we commissioned Regeneris Consulting to analyse the applications and produce a summary report .
Who applied, and why?
Over 750 organisations applied for funding during the application period of May to October 2015. The largest number of applications came from organisations operating a multi-use community facility, and those working in the health and social care sector, with the remainder of applications covering a wide range of sectors. Over half of applicants employed fewer than 10 employees, with most (95%) reporting that volunteers were involved in their community business. Most funding applications (81%) included some planned capital spend. The most common intended purposes for the funding were the purchase, expansion, development or refurbishment of premises or land (66%) or the expansion of services or activities (63%).
Who and what did we fund?
Of the 750 applications received, 40 were successful, receiving grants ranging from £50-150k (33%), £150-250k (22%) and £250-500k (45%). Successful applications were mainly submitted by organisations that are operating multi-use community facilities. The main reason that applications were unsuccessful was that they did not fit our definition of a community business. In particular, evidence of community control was lacking in many of the unsuccessful applications. You can see what we funded through the Initial Grants Programme on our community business map.
For a full overview, download the report to read more about
The kinds of organisations that applied for grant funding
The sectors they work in and where they are located
What they requested funding for and how much funding they requested
The kinds of organisations that were successful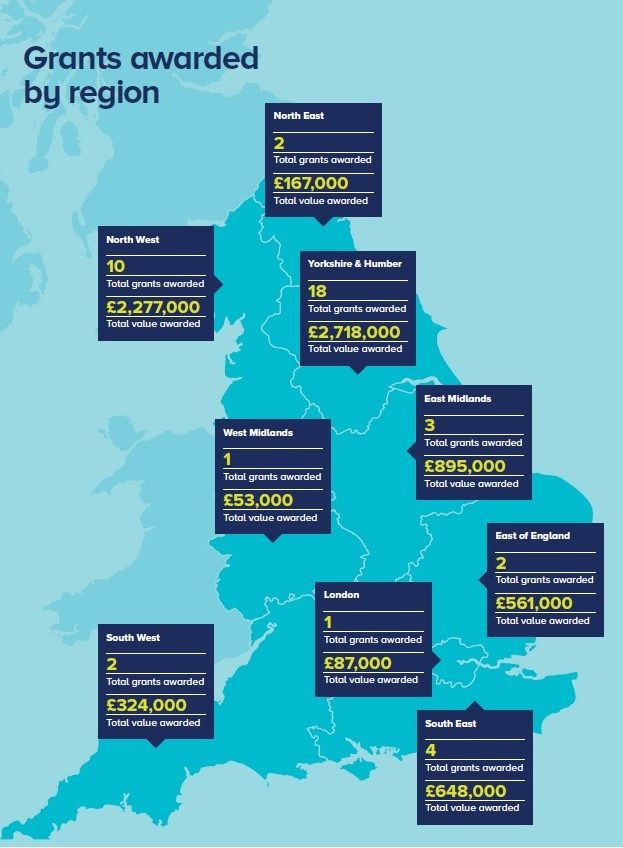 Lessons for the future
As part of the application process, we asked applicants what business development support would be most helpful to their organisation, and we found that support with social impact measurement was particularly important. This is something we intend to address as a priority through the work of our Research Institute.
We also discovered that a substantial number of applicants were operating in sectors that fell outside of our previous analysis of community business sectors. This means we will look again at how we categorise community businesses and the sectors in which they are operating, in our upcoming report on the community business market in 2016. (Click here to read the 2015 report.)
At Power to Change, we aim to glean insight from everything that we do and our new Community Business Fund builds on many of the lessons we learned from last year. Please do get in touch if you would like to find out more about our plans.