Homebaked CLT is a volunteer-run community business working to deliver housing and other community facilities that are affordable for local people. It was initiated by a group of local residents and stakeholders in response to stalled regeneration schemes in the area.
Based in terraced buildings opposite Liverpool Football Club, Homebaked began by preventing its first tenant – an iconic neighbourhood bakery – from being demolished. It is now working to develop the adjacent terrace into a row of environmentally sustainable, reasonably priced homes.
Cutting rent costs by constructing with sustainability in mind
Grant money was put towards developing Homebaked's bakery building, transforming it into an affordable shared flat with four bedrooms. Young people were offered the chance to participate in a traineeship and get involved in the development of this space, building construction skills and increasing their employability. One such individual went on to study architecture at university, and recently became a member of the Homebaked CLT board.
"It's a nice example of where somebody first connects to Homebaked CLT as a beneficiary, and then ends up helping steer it to the next place," says Tom Murphy, secretary of Homebaked CLT.
Fuel poverty is a big issue for a lot of people in the Anfield area, so Homebaked is making sure any new housing is built with this in mind. Working with a local architect, over 20 members learnt about various elements of the building process, including how to build sustainable homes by implementing things like alternative heating solutions.
The properties Homebaked is developing will utilise a fabric-first approach. Good insulation, mechanical ventilation and alternative heating solutions all ensure these homes will fulfil Homebaked's promise to build places that are genuinely affordable to rent. The rent income now generated from the flat finished with the Power to Change grant means that Homebaked CLT is on the right track to becoming financially self-sustaining.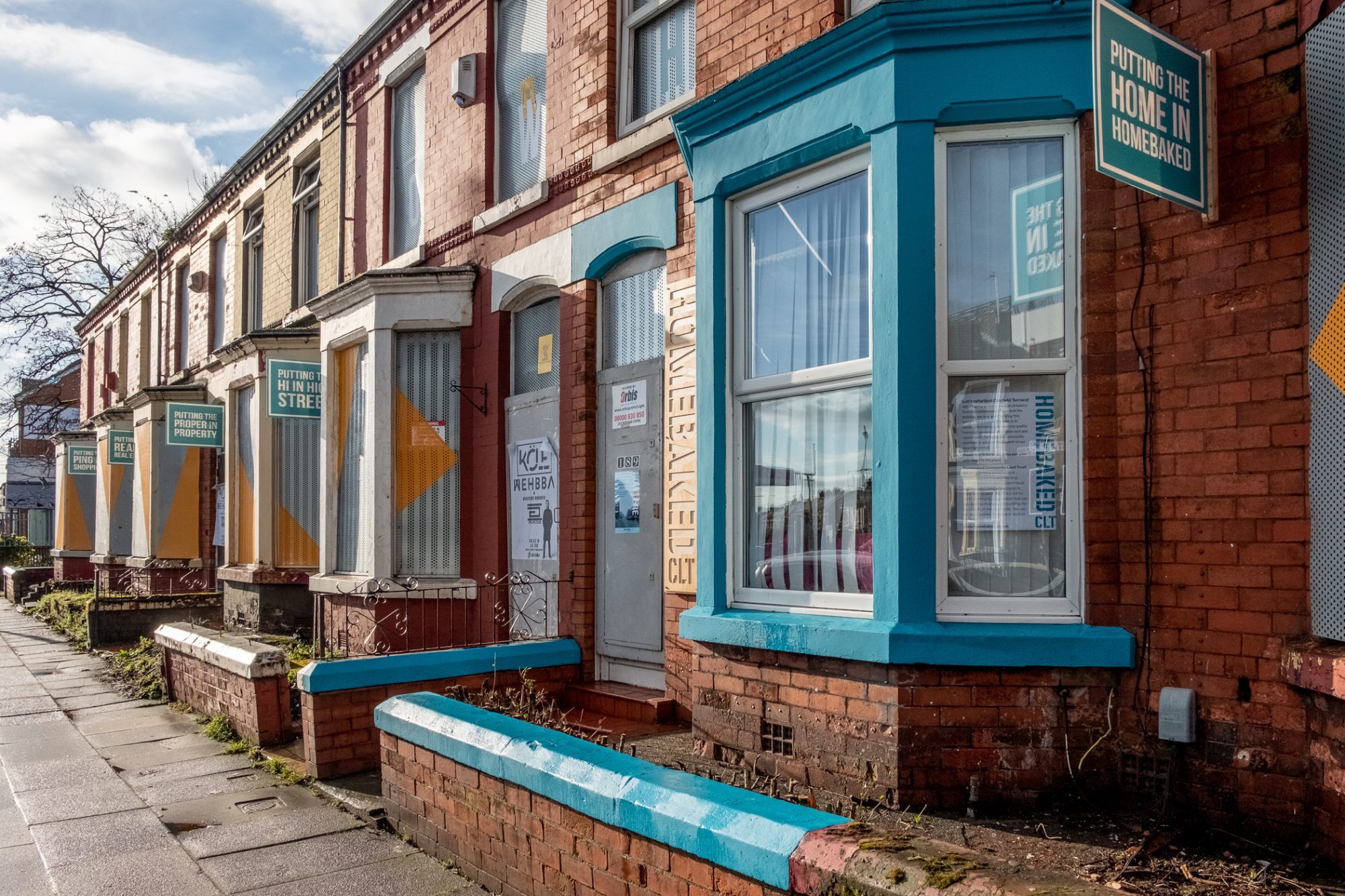 Engaging with the community every step of the way
The design of the terrace development was adjusted along the way. Homebaked put out a public consultation and engaged with over 900 local residents, getting their approval on what the finished project should look like. Homebaked has partnered with a local housing association, which will act as the development partner, allowing Homebaked access to important development skills. Work is due to start in April 2022.
Whilst waiting for this exciting part of the project to kick off, Homebaked has been busy in the background doing its usual community engagement projects. One of these was working with the Red Ladder Theatre Company to set up a community choir, who went on to star in Homebaked: The Musical, a production that took to the stage at Liverpool Royal Court. The musical ran for an entire month, and its happy-go-lucky telling of the tale of Homebaked through song and dance was incredibly popular.
Coping with Covid
The design of the terrace renovations was approved in December 2019 but, sadly, the Covid-19 pandemic was looming on the horizon. Homebaked provided a rent-free period for a commercial tenant whilst the business was unable to admit customers during the lockdown, giving it chance to adjust and adapt its trading model. Homebaked also ensured that its vulnerable tenants were connected to all the necessary support services they needed.
"At the time there was a vacancy in the flat, but we made the decision – to protect the vulnerable tenants – not to re-let it until we all felt safe enough to do so," says Tom. "It had financial implications, but it felt like the right thing to do."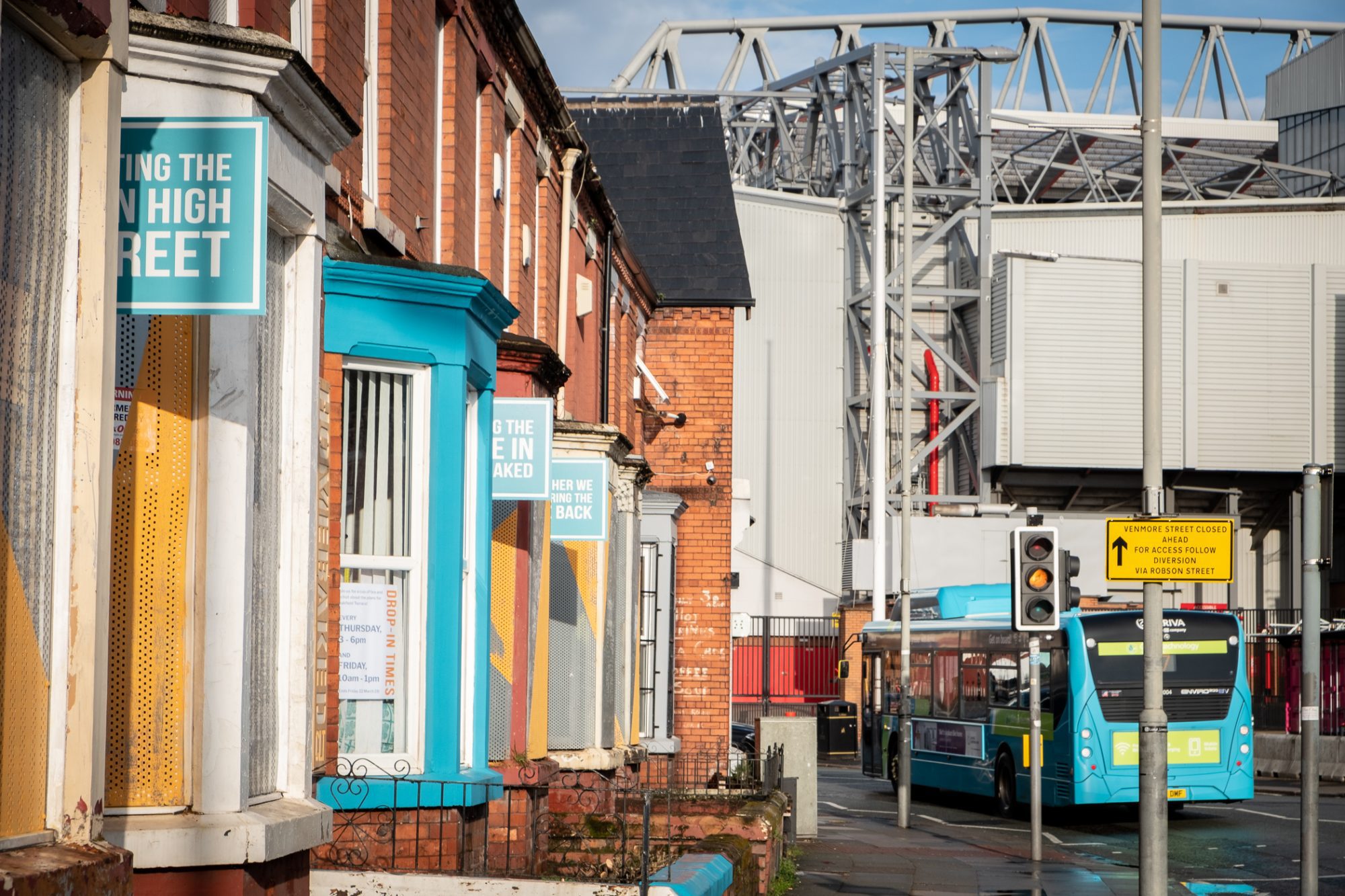 Any face-to-face projects, such as community choir meetings, sadly had to stop, but Homebaked hosted regular online sessions to keep them running. Working with other community organisations in the area, Homebaked also secured a grant enabling it to provide tablets and laptops to any residents who needed them, ensuring they remained connected to friends, family and support networks.
When it was safe for people to meet in outdoor spaces once more, Homebaked opened up the pop-up park at the end of its terrace as a meeting area. Here it hosted small events and groups such as the community choir practised here.
The future of Homebaked CLT
Promoting the project on social media with #gettheterracedone, Homebaked is prioritising doing exactly that. It is exploring tenant-management co-operative options with their eight residential homes, adding an extra level of ownership for those living there. It is also always working to develop those occupying their commercial spaces, two of which – Homegrown Collective and Homebaked Bakery – have become fully independent businesses in their own right.
Homebaked recently converted from a community interest company to a community benefit society, enabling it to offer a community share element. People will be able to invest directly into the organisation, helping ensure Homebaked remains financially stable. It is also launching a sponsorship campaign in January 2022, hoping to utilise Homebaked's wide network of associated organisations to secure further funding.
Once neighbouring Liverpool Football Club has completed work on its new stands, Homebaked hopes to utilise footfall on match days by setting up a market in the local pop-up garden.