Our Communications Intern, Molly Pendlebury shares her reflections on the People's Powerhouse Conference in Bradford last week.
On the 20th November 2018, community activists and innovators from all over Northern England gathered at Bradford City Football Stadium for a day of talks, workshops, panel discussions and networking, to celebrate the power of the North.
There is a strong need to redress the North-South economic imbalance, shifting the power dynamics away from perceptions of London as the financial capital and the North as the industrial scape of England. These notions were ripe within the People's Powerhouse Conference; the level of ambition and excitement surrounding the movement, undeniable.
Throughout the day we heard from visionary speakers, leading business experts, community organisations and people from across the sector promoting the influential powers of the whole Northern region, making clear the Powerhouse vision extends to further than just Manchester.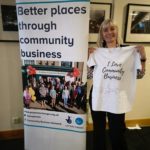 Our CEO, Vidhya Alakeson, spoke of the need to support community businesses across the region in accounting for local people's needs, allowing them to deliver the services necessary for the demands of that community. Devolution is a crucial step toward allowing local people to address what is important to them and creating inclusive local economies. Through reshaping the debate around the Northern Powerhouse, people and communities can be put at the heart of the conversation, creating a diverse and rich cultural North with a wealth of financial opportunities key to developing a prosperous landscape.
The workshops of the day covered topics from the influence of art on policy making to the increasing need to put the environment at the heart of the discussion and were a great success, manifest in the abundance of eager attendees. This extends to the event as a whole. Responses to the panellists, speakers and organisation attendees were hugely positive. A brighter future for the North is well on its way. As long as the power of local people is unlocked!