Léonie Austin, Dai Powell and Jessica Prendergrast have all joined the board of Power to Change, the independent trust supporting community businesses in England. The three appointments bring a wealth of expertise to the board at a time when cuts to public services are putting communities at ever-increasing pressure.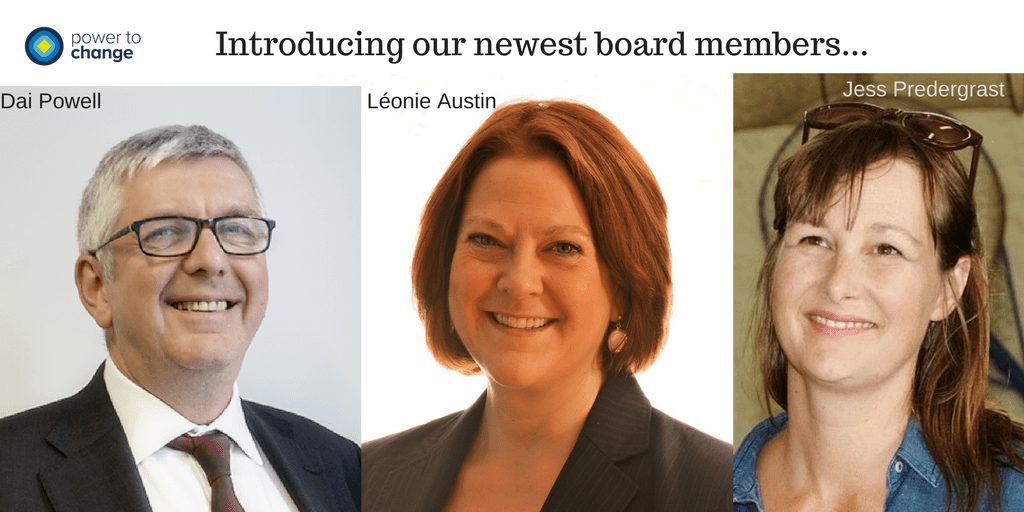 Léonie Austin is Director of Marketing and Communications and a board member at NHS Blood and Transplant where she has led the development of behaviour change strategies working across a complex, national health environment with multiple stakeholders and targeting hard to reach groups.
"As a Power to Change trustee I'm looking forward to making a difference by promoting and supporting the development and growth of community businesses. They have a significant role to play in stimulating local regeneration and providing opportunities for individuals to develop which will benefit our wider society and economy."
Dai Powell is Chief Executive of HCT Group, a large-scale, award-winning social enterprise in the transport industry, operating transport and training services from more than a dozen depots across London, Yorkshire, the northwest, the southwest and the Channel Islands.
"I believe in the power of community businesses to transform the places where they work – providing services, creating opportunities and, most importantly, bringing people together. Power to Change has a real opportunity to put community business at the heart of regeneration and an inclusive society and I am delighted to be a part of that."
Jessica Prendergrast who grew up in a zoo in West Somerset, has established, run and supported many social enterprises and community businesses and is Director of Onion Collective, an ambitious mission-led community regeneration company that
Notes to editors
About Power to Change
• Power to Change is an independent trust, whose funding is used to strengthen community businesses across England. At a time when many parts of the UK face cuts, neglect and social problems, we are helping local people come together to take control, and make sure their local areas survive and stay vibrant.
About community businesses
• Community businesses are organisations rooted in a local area, run by and answerable to members of the community, and which make a trading profit to re-invest in doing more social good. There are already thousands of community businesses in the UK, doing everything from planning new affordable homes to reviving struggling local pubs. Last year, they grew 5 percent faster than both charities and small businesses.