Five high streets across England have been named Community Improvement Districts (CID) as part of a pioneering new initiative by Power to Change, which backs community business in England that trade for the benefit of local people. Community Improvement Districts already operate in Scotland and build on Business Improvement Districts, where businesses collaborate to effect change in an area in order to spur regeneration and boost business. The key difference with Community Improvement Districts is that they seek to provide local people, and community organisations, as well as businesses, a say over the strategic direction of local high streets which is vital to creating sustainable town centres for the future. These pilots will explore and test how Community Improvement Districts could work in different places. The involvement of the community in shaping their town centres will bring many positive impacts: increasing residents' sense of ownership and responsibility for their high street. Community organisations moving onto the high street could provide diverse and vibrant activities, services and places for people to meet. All of this will strengthen the local economy.
The new Community Improvement District pilots are:
Skelmersdale, Lancashire;
Hendon, Sunderland;
Ipswich, Suffolk;
Stretford, Greater Manchester; and
Wolverton, Milton Keynes
These places join Kilburn High Road and Wood Green, in north London, named England's first Community Improvement Districts earlier this year. Jenny Sansom, Community Improvement District pilot lead at Power to Change, said: "If we are to reverse the plague of identikit high streets on the one hand and tackle shuttered-up buildings on the other, we must give communities ownership and say over their town centres. In Scotland, Community Improvement Districts are already reinventing towns by empowering communities, alongside local businesses and councils, to set the direction for their high street. Rolling out this approach in England has the potential to turn the tide on decline by acting as a catalyst for bold, creative high streets that move beyond the outdated retail-dominated model and offer people services and experiences not available online."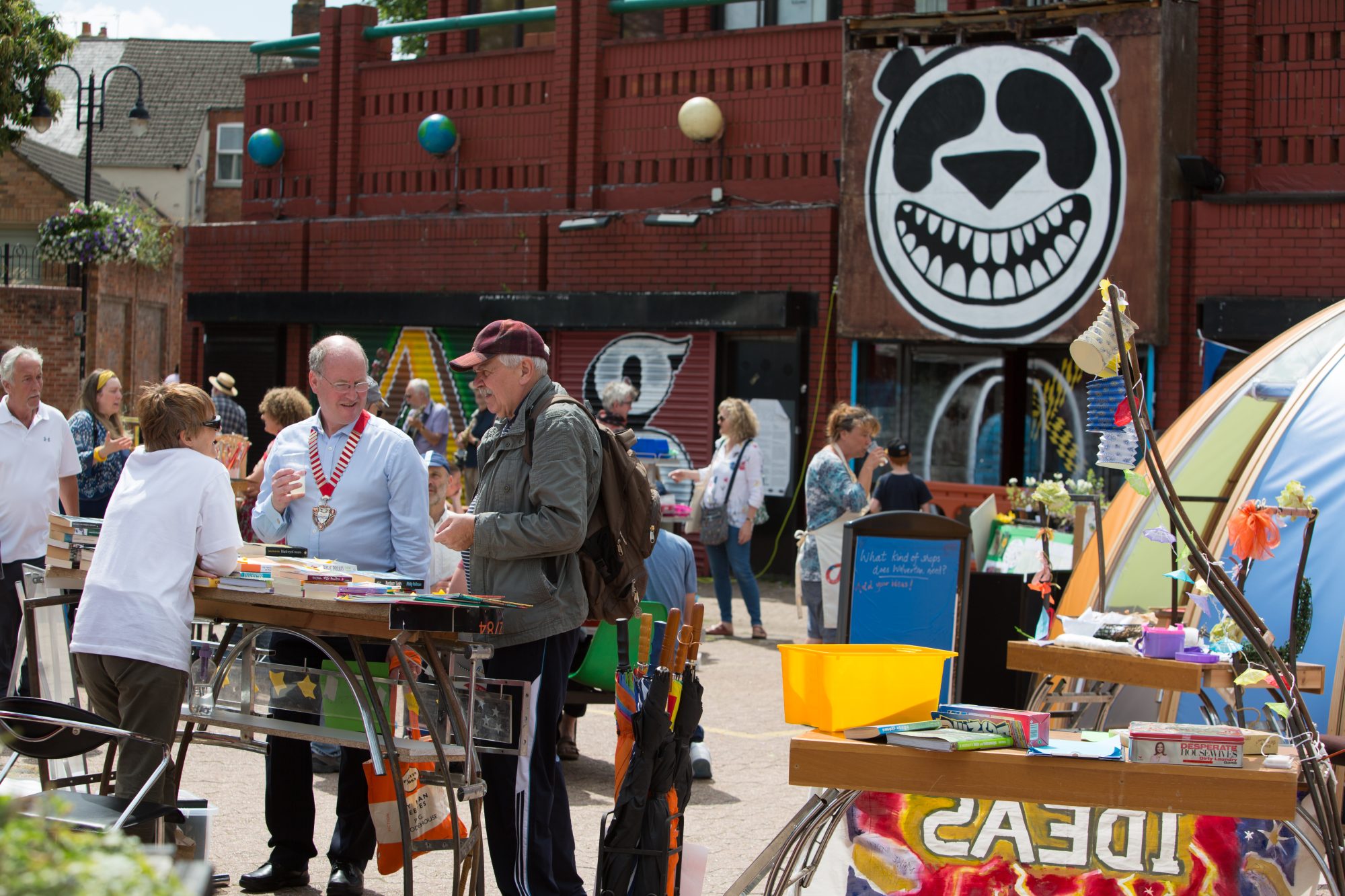 The new pilots come as new
figures
from the British Retail Consortium reveal fragile confidence among shoppers after figures revealed visitor numbers to UK high streets, shopping centres and retail parks last month remained 12.5% down on pre-pandemic levels. The shift to working from home and concerns about the cost of living continue to hold back trade, with visits to shopping centres down by more than a quarter on 2019 while high streets had 14% fewer visitors.
The pilots
The five pilots will begin in June 2022. Each will be awarded a total of £20k alongside expert support and guidance in partnership with Locality to begin establishing, managing and running their Community Improvement District.
Skelmersdale, Lancashire
A post war new town, Skelmersdale in Lancashire was largely developed in the 1960s & 1970s and is served by the Concourse, a privately-owned, two-level shopping mall built in the 70s, and other smaller shopping areas serving different estates; the main focus will be Westgate, a single row of shops, and Digmoor Parade to the east of the town, both of them owned by the borough council. The pilot will see the community, the borough council and private owners working together to explore greater community ownership of businesses alongside community investment funding – the raising of non-transactional 'community' shares as a key source of funding for new businesses with explicit social objectives, and for existing businesses wanting to explore social ownership as a route to resilience and growth.
Hendon, Sunderland
Once the economic heart of Sunderland, today Hendon bears the unwelcome badge of being in the 10% most rundown and deprived areas in England. Back on the Map has been working in partnership with the local authority, traders, funders and residents for more than ten years to build a more prosperous community along its main high street, Villette Road. The Community Improvement District pilot aims to create a thriving street focused not solely on retail but on education, enterprise start-ups, employment and apprenticeships, leisure, healthcare and other services. It will reorganise ownership and/or leasing structures on the street to attract more retail and social entrepreneurs. Seek to attract new sources of funding from the private sector. Create more flexible leases including experimentation of 'pop ups. Lobby or change business rates or leases to be linked to affordability to explore new revenue streams including crowd-funding campaigns to work out plans for a 'hand up' not just a 'hand out' grant system to shop owners to improve quality.
Ipswich, Suffolk
Ipswich has a vision to create the UK's first 'connected town centre', where everything needed in modern life is available within a 15- minute walking distance. The ambition is for the Connected Town area to better unite businesses, organisations, and residents; to create an engaging town centre in which people and communities can thrive. Ipswich Central BID currently operates within this area and working with partners will evolve to create a CID model that will bring buildings and much valued locations back to life, provide training and skills, widen opportunities for young people and embrace new technologies. It will increase town centre living, employment and skills and help to improve people's health and well-being.
Stretford, Greater Manchester
In 1969, Stretford's historic town centre was largely demolished to be replaced by a shopping centre that became the heart of the town for over 40 years. Today vacancy rates in the mall stand at 26 per cent. Stretford's Community Improvement District pilot will build on existing partnership working between Trafford Council, Bruntwood, and the Stretford Community Collective, led by Stretford Public Hall. The CID pilot will work with the local community to explore the development of potential new civic facilities including a new GP surgery, new health & wellbeing facilities, local services for families, and potentially a new, relocated library. It will consider asset transfers and the community-led development of local spaces. It will also look at opportunities for units/spaces on the high street to be accessible for community groups and local organisations, and to work together to ensure community-led spaces are included within the new town centre. For example, there are currently plans to develop a new market hall within the town's multistorey car park.
Wolverton, Milton Keynes
Located on the northern edge of Milton Keynes, Wolverton had been dogged for decades by the Agora Leisure & Shopping Centre, a failed late 1970s intervention which was designed to modernise Wolverton. Instead, it severed the commercial heart of the town in two and became a blight on the town centre and its conservation area. A £40 million regeneration scheme providing new homes, streets and shops received planning permission in 2019 and the demolition of the Agora Centre is underway. A CID pilot offers the potential to harness an existing cross-sector working group including town councillors, faith groups, local businesses and community organisations that has overseen regeneration planning since 2018 to provide leadership for the town to capitalise on this investment.