One Friday evening this summer found me standing in a biblical downpour on a car park in suburban Manchester. What had led me to that spot was an interest in how community-led markets can kick off regeneration in local high streets.
That suburb was Levenshulme and the spark was this edition of the Food Programme in May which featured the market as a nominee for the BBC Food and Farming Awards. It also featured Squash Nutrition, the community business who were eventual winners of the 'Best Shop' category of the awards.
The concept of a community-led market intrigued me. Coming from Brixton, I was fully aware of how private money could be encouraged to come into a local market and kick off the regeneration of a town centre but I had not witnessed a community pulling it off.
Paul Bower and Ashleigh Kuzio, two of the the market's five voluntary directors who all live in Levenshulme, led me out of the rain and took me through their journey, surrounded by all manners of goods and edibles on sale.
In 2013, a group of locals set up a social enterprise to take over the running of a street market sandwiched between the high street of Levenshulme, a busy 'A' road out of Manchester, and the nearby railway arches. In 2011, Manchester City Council had set up a series of pilots in the space but were unable to make it financially viable. A group of determined locals realised they could do better and that running a successful market could underpin a successful high street; it was not about the 25 car parking spaces occupied once a weekend – their ambitions were much bigger than that.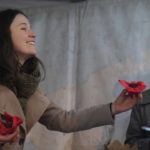 Five years later, the market is still there and thriving – what was their secret?
First of all, stakeholder management; the realisation that traders are just as important as their customers that buy from them. You can't have one without the other. They are all customers in the end.
Second, the community needs to curate the range of product there. Of course the laws of supply and demand will achieve the same goal in the end but in a more brutal fashion; if the locals can input into the spread of traders up front, the process can be fairer to all whilst achieving the same outcomes.
And as Paul and Ashleigh pointed out, you can't curate without ownership. Local authorities have till now been incentivised to attract in mobile, often international, capital rather than look to rooted, tethered capital that exists in a place. If the ownership of individual shops in a high street are hidden behind a myriad of holding companies, if landlords want to remain hidden, there is little that a community can do to mobilise that high street.
Next, a community-led approach to markets encourages innovation and accommodates failure. With the realization that all are in it together and that it is not a zero sum game, old traders support the new. And that innovation is spilling out into the high street proper; for example, craft beer bars and food-traders are taking root in the high street, encouraged by the successful experimentation they can see going on once a week in the car park.
I also got the definite sense that here was a marketplace in the ancient Greek sense, an agora, a place for conversation and citizenship. Although of course consumption was taking place, it didn't feel like the prime reason to be there; the citizenry could dwell and conversations could happen here in a way they could not a busy arterial road with HGVs thundering out of Manchester.
That social capital, those conversations and that trading was what was bringing socially led enterprises and businesses with local roots into the high street. The market had succeeded in formally capturing that too (see their report here).
That's the good news.
The bad news is that this community-led approach is not going to work everywhere; it won't be able to be an engine for economic growth nor a remedy for shop vacancy rates in every town.
There needs to be a community that lives, works and plays there; one that feels involved enough in a place to care. That is unlikely to be the case for dominant city centre malls, like the Arndale Centre up the road in the centre of Manchester, although the migration of more people to live in city centres can help mitigate that. Small buildings are likely to be the locus not large ones, left behind buildings that hold meaning and memories for communities.
Patience will be required. It had taken five years till now to achieve the right balance there. Anything that relies on communities does. I left thinking that there is hope if government, both central and local, has that patience. If Levenshulme is anything to go by, it's worth it in the long run.