Kim Johnson recently became Liverpool's first black MP – representing the Riverside constituency – but she's also the chair of Squash – a nutrition, arts and training initiative whose cafe won a BBC Food and Farming award within its first year of trading.
Kim is a long-serving community and union activist, having been deputy chair of Unison's National Black Members Committee, creative diversity manager for Liverpool's Capital of Culture bid team as well as working on Labour's Sure Start and childcare strategy at the Department for Education.
Kim qualified as a youth and community worker in 1981 and has been involved with aspects of community business for some time. "I was working and studying in the late 70s and early 80s and started volunteering in a local youth centre where I used to go as a young person," she said. "I thought, I like this. So, I decided to go and get qualified as a youth and community worker, and I was involved in the field for 20 years."
For Kim, working with people to improve their lives and communities has been at the heart of everything she's done in her career. "It was very much about working with local people – enabling and empowering them to take decisions for themselves in terms of what the community looks like, what the housing looks like and supporting them to campaign and take action on issues that affected them and their families. It was working, essentially, to make myself redundant by passing on skills and experience for communities. It's a bit like what Squash do for themselves."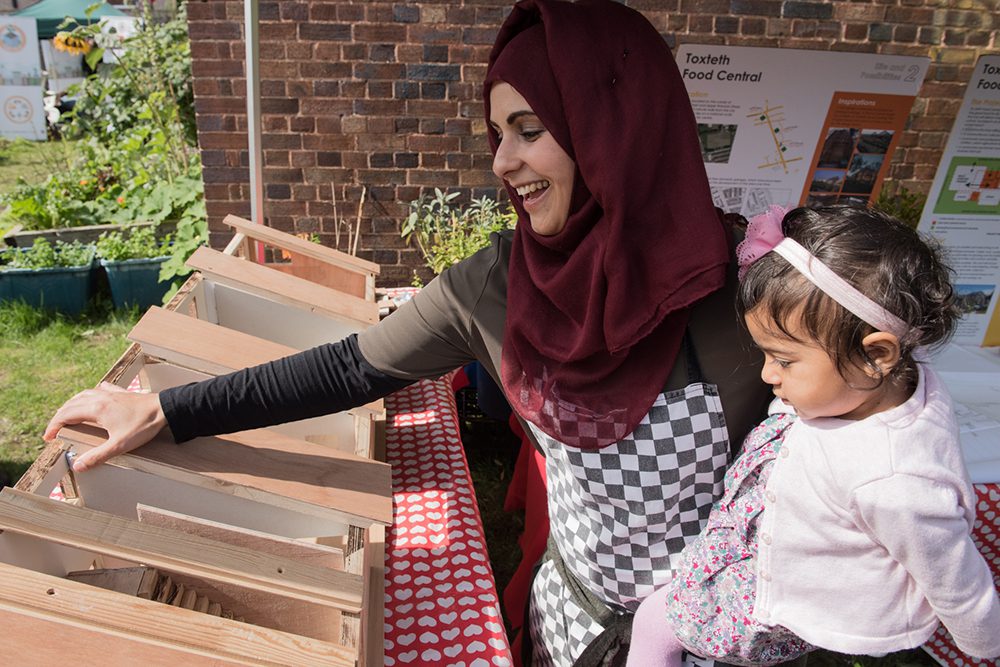 "I've always resided and worked in the area where Squash is located and I've been aware of Squash for over ten years," she said. "When I used to work for Liverpool Capital of Culture, they did a big corporate event for us." Kim used to sit on the board of local organisation called 20 Stories High with Becky Vipond, who co-founded Squash with Clare Owens in 2007. "Becky and I got to know each other there and then both of us left the committee as we had served our tenure," Kim said. "I was asked to get involved with Squash, and a couple of years later I was nominated as chair, and I'm still the chair today."
According to Power to Change's 2018 grantee survey, 55% of community business leaders identify as female. Kim reflected on the reasons why more women are leading community businesses and making change in their neighbourhoods: "I think that women have historically been the driving force in terms of wanting to make change, because it's about wanting to make long-term change for not just themselves but their kids too." Kim referenced a quote from African scholar and educator Dr. James Emman Kwegyir Aggrey, who once said: 'If you educate a man, you educate an individual. If you educate a woman, you educate a whole nation.'
"I think because, generally speaking, women are concerned about community safety issues in their areas, they're concerned about the lack of childcare provision, so they'll campaign for those kinds of things," said Kim. "I worked with Sure Start and I was part of the North West team that helped support the initiative across the region. From my point of view, lots of local women got involved with doing things because they were really interested in social issues.
"For me, Sure Start was a great way of getting women more active and involved. Ultimately what happens is that you get more volunteers, they develop transferrable skills and then they're then able to apply for jobs. It comes full circle. It's beneficial for them and their community."
If you educate a man, you educate an individual. If you educate a woman, you educate a whole nation

– Dr. James Emman Kwegyir Aggrey
Kim was recently elected as Labour MP for Liverpool Riverside – an historic moment for the city and Kim herself, becoming Liverpool's first black MP. "I think it's been a long time coming. Liverpool has one of the longest established black communities across Europe, along with the very historic Chinese, Yemeni and Somali communities. So, we have one of the most diverse communities and yet we are not represented in a lot of areas in the city."
Kim will continue to champion Squash in her new role, although she added: "Not that it needs me to because it's done exceptionally well – because it is such an amazing organisation and because of the work that it does supporting local people – it's very organic in that respect. I think that other organisations could learn a thing or two in terms of how it engages and supports the community."
What would Kim most like people to know about her? "I think never judge a book by its cover. I would say I'm a bit of an enigma in that I listen to the Archers [BBC Radio 4 programme], I have a weight-training qualification. I'm hardworking, tenacious, and with a lot of integrity."
To find out more about Squash and their work visit www.squashliverpool.co.uk and follow Kim's journey in Parliament on Twitter @KimJohnsonMP