As the year draws to a close, Power to Change staff have been reflecting on their personal highlights of 2019. For Rosie Wild, Policy and Research Intern, learning more about the community businesses filling the gap in provisions for young people was one of her standout moments.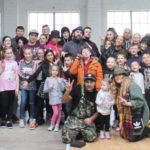 All around the country there are community businesses quietly making a huge difference to local people, not least those providing youth services that have been cut by cash-strapped local authorities. Whether taking over an adventure playground the council can no longer afford to run, saving a local youth centre from closure, or running pay-as-you-feel hip hop classes for the local community, community businesses are providing inspirational leadership.
So in the spirit of Christmas let's take a few minutes to celebrate the incredible stories of community businesses doing amazing things for young people in the South West.
Get your hanky ready for the video at the end!
Minehead Eye opened in 2010 and was one of the first state of the art youth centres funded by the Myplace programme. From the start it was a bit different – led by the community, set up as a Community Interest Company, and intended to be self-sustaining financially, rather than relying on core funding. With a skate park, bouldering wall and recording studios too, the centre meets about 70% of its running costs through trade.
While primarily a youth centre, it is open to the whole community as a meeting space, party venue, café and more. It offers training opportunities to local adults who can volunteer at the centre and has so far trained eight volunteers to become paid youth workers in clubs.
Minehead Eye's community business model was soon tested when the local authority funding for youth provision all but disappeared in 2013. Sensing an opportunity rather than seeing a setback, Minehead Eye negotiated to take over all the youth services for West Somerset, using the youth centre as a hub from which to coordinate a network of local youth clubs.
It wasn't easy, but by developing relationships with the smaller town and parish councils, which relished the chance to have a voice in their local provision, Minehead Eye was able to secure 3-5 year contracts for local youth clubs. This gave it the financial stability and confidence to extend its services into remote rural areas that had never had a youth club before. Now it runs more youth clubs than the council used to and they are extremely well attended.
Street Factory in Plymouth thinks of itself more as a family than a youth centre. Run for the last 14 years by husband and wife team Toby G. OBE and Jo Gorniak, it uses hip hop and performance arts as a way to connect to young people, boost their self-esteem and empower them to take control of their future. 'Young people just want to feel valued', explains Jo, 'We uncover the genius in each kid'.
In the middle of fundraising £2.5 million to build 'the first hip hop theatre in the UK', Street Factory has benefited from enormous goodwill from the local community, which has provided it with free or cheap premises for years. Currently based in an old industrial unit in the centre of Plymouth, a mixture of trade from its cafe and classes, grant funding, and Toby and Jo's own income from performing keeps the business afloat. Although its staff are trained in working with young people with special educational needs and disabilities, sessions are inclusive, with all ages, abilities and backgrounds taking part together. 'Our motto is we are one', explains Jo 'anyone can come here and join in. It doesn't matter what your background is'.
Committed to participatory working, Street Factory designs its projects in response to what young people tell them they want and need. Jo Gorniak thinks it is precisely this that explains Street Factory's phenomenal success in engaging with young people mainstream services have found heard to reach. 'Let the children lead and be in it for the long-term' she says. 'When you come to Street Factory you are part of the family forever.'"