Regeneration, local pride and preserving a sense of place are just some of the aims community business and heritage buildings have in common that attendees of the Industrial Heritage 2015 conference are discussing today and tomorrow.
Many community businesses apply for funding to help them take an asset into community control, be that a run-down pub, a grade II listed cotton mill or a disused car park (it has potential!). Owning a space helps the community anchor its activities and make sure it's reaching a particular neighbourhood. The space doesn't have to be a heritage building to be successful, but here's how some community businesses are using industrial heritage buildings to really anchor their enterprise in the area.
Opening a call centre in a Burnley grade II listed cotton mill
Spacious Places Contact is a start-up community business that will help local people in Burnley, Lancashire by creating a call centre for training, support and employment opportunities for ex-offenders and vulnerable adults. The Power to Change £500,000 grant will leverage a £1.5million loan from Community Investment Fund to purchase and fit out Slater Terrace, a grade II listed cotton mill building which will also provide rental space for local businesses and a café open to the community.
Slater Terrace is in Weavers Triangle, the last unaltered canal frontage on the English canal network, and shows a unique insight into industrial life in the 19th century. Spacious Places Contact intends to develop an oral history resource that is a record of local people's knowledge connecting the older and younger generations in the town who have stories and life experiences linked to Slater Terrace, providing an important resource for local education and schools visits.
The proposed building is part of a larger heritage and regeneration programme in the historic Weavers Triangle in Burnley, backed by The Prince's Charities, following significant economic decline and community division in recent years. Spacious Places Contact will work with numerous local referral agencies and is partnered with community-led organisations Community Solutions North West (CSNW) and Street Soccer Academy who work to engage vulnerable local people, supported by more than 250 local volunteers and deeply entrenched within the Burnley community.
Reopening Wakefield's grade II listed music hall
Unity Hall was built in 1904 as the home of Wakefield Industrial Co-operative Society, which had formed in 1867. The Hall instantly became an integral part of the busy industrial and coal mining community and has been a rich part of the city's history over many years, as captured in a recent heritage project.
Over time its offering has ranged from shopping to silent movies, ballroom dancing to heavy metal, supporting the suffragette movement to running a post-office. A highlight in its history was the era of punk and heavy metal music during the 1980s which saw many famous performers including the Pretenders, the Human League and Iron Maiden perform at Unity Hall.
Its striking, grade II listed building remained an important landmark in the area and a cultural centre until the 1990s, a period in which Wakefield struggled economically and socially with the closure of the coal mines. The building was left derelict and facing possible demolition when a community group rallied to protect it with an ambitious plan to eventually reopen it as a centre for the creative community in Wakefield and a sustainable social business. The group, Unity Works, have already done wonders, opening the doors of the hall in 2014 and hosting a varied mixture of music, cultural, business and community events. Unity Works have received a further injection of £100,000 capital from Power to Change and Key Fund to help them become fully sustainable and allow them to start reinvesting their profits back into the local community.
Improving an arts centre in an East Anglian Grade II listed hall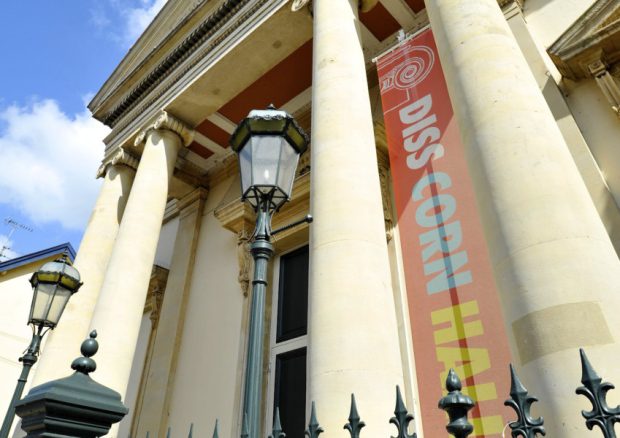 The Grade II listed Diss Corn Hall has been a thriving community arts centre for several years. Run by 60 local volunteers, and a board of local people, it offers a range of art classes and shows. However, the run-down hall needs to improve the visitor experience to remain competitive in the local area. So, the Diss Corn Hall Trust was awarded a £72,200 grant from Power to Change's Initial Grants Programme. They will use the funds to install under-floor heating to make the building more energy efficient and improve audience comfort. They'll also create better acoustics, a new stage, lighting, and install retractable seating so the hall can be converted more easily for day time activities for the community, while preserving its heritage features.
Saving a grade II listed Victorian hospital
Once a beautiful example of Venetian Gothic architecture, the grade II listed Ancoats Dispensary is a hugely important part of Manchester's history. From 1874, it treated local people and helped support the health and wellbeing of the community. Abandoned in 1989, it was set for demolition in 2012. But the community rallied and through a series of community meetings, petitions, and a vigil, the community has saved the Ancoats Dispensary and intends to restore it to its former glory. They are now working on implementing the bright ideas the community had to restore Ancoats Dispensary as a working community business, as well as creating an oral history to preserve the past. Karen Houghton, Chief Executive of Ancoats Dispensary Trust and member of the Power to Change Community Business Panel, is sharing their story at Industrial Heritage 2015, although you can find out more about the story here.
Ged is a Programme Manager at Power to Change and is speaking at the Industrial Heritage Conference 2015 @IHCUK2015