In the run up to Power to Change's In Our Hands event with Wirral Council, we went on a tour of community businesses in Liverpool City Region. Starting on a trading estate, not far from Liverpool Lime Street Station, this is home to Urban Workbench, part of We Make Places.
We Make Places – Urban Workbench
We Make Places is a Community Interest Company, based in Liverpool which is writing, living and delivering a manifesto for change across the built environment. They help communities to develop sustainable projects. These projects are about reconsidering ignored, underused or condemned places in a new light, allowing them to rise again becoming healthy, happy, active and loved.
Urban Workbench is a learning hub for individuals and communities looking to develop new skills and get involved in grass roots regeneration, whether simply picking up DIY skills or physically delivering and managing development in their neighbourhood. Previous projects have included working with communities through Housing Associations to breathe life into forgotten neighbourhoods, upskilling residents and giving them the confidence and pride to develop their homes into beautiful, loved spaces.
Their goals are to to raise community resilience, with people participating more in practically shaping their surroundings and neighbourhoods. They have increased the confidence of those on their courses, bringing mental and physical health benefits. They're helping people gain skills, find employment and also creating affordable and ethical household objects!
Time for a few stats:
83% participants on their courses said that their self confidence had improved by approximately 32.5%
20 communities have been supported by Urban Workbench, and 581 residents have been consulted about their neighbourhoods
1.7 tonnes of waste timber has been diverted from landfill and 65 sheets of plywood have been used to make affordable, ethical furniture
100% of participants said their joinery skills had improved!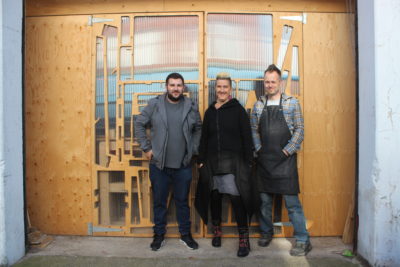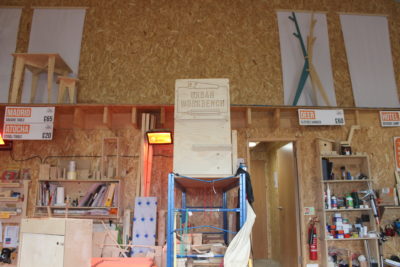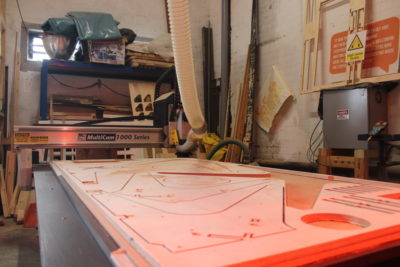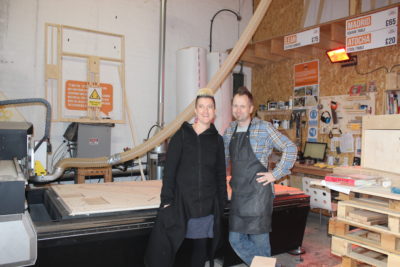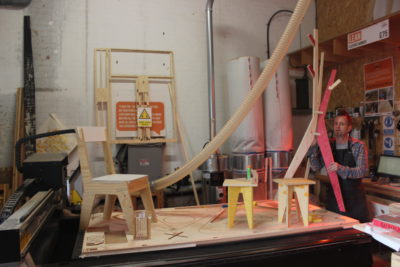 Next, we visited Growing Sudley, in Aigburth,  nestled behind the historic Sudley House, built in 1824 and is now a museum and art gallery.
Growing Sudley
Growing Sudley is a community business bringing a dilapidated walled garden and changing rooms building in their local park back to life. Run entirely by volunteers, Growing Sudley is home to forest schools, therapeutic horticulture, outdoor mind and body practices and herbalism. Volunteers and attendees are all learning together and finding ways to get people in touch with nature and the outdoors.
The group use the outdoor space to help people with their health and wellbeing by spending time in nature, with a supportive group of friends. The group has been active since 2012 running a variety of community gardening and nature therapy projects, event and activities. As a result of conversations with the community, stakeholders and participants, the current plan is to obtain capital funding for the repairs and refurbishments required to turn the garden into a therapeutic health and wellbeing garden, accessible to those with long-term health conditions and disabilities, as well as the local community.
We stopped by for a chat and a hot chocolate, made from a kettle on an open fire. The group told us how Growing Sudley had changed their, and their families, lives by creating a space to learn, grow and make new friends. The sessions run from Spring to Autumn, and we we were lucky to catch them before the season ended, as the group reflected on the year and took stock of the last of the vegetables that they were planning to use to make a stew the following week.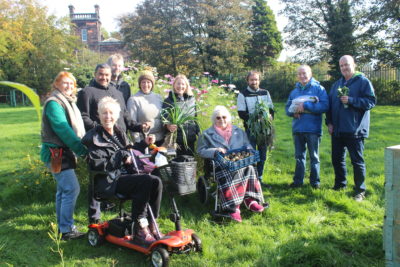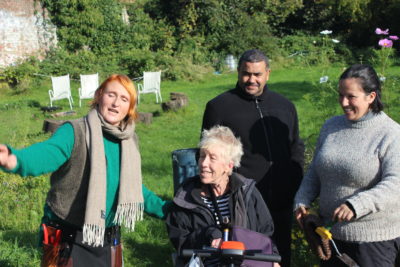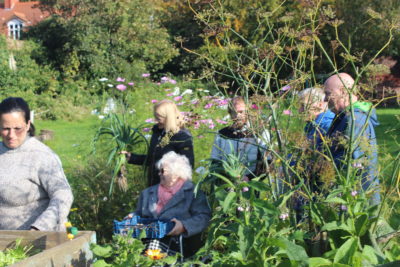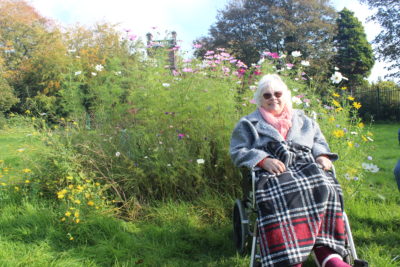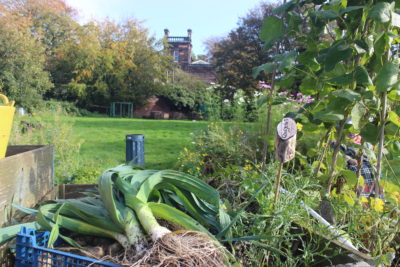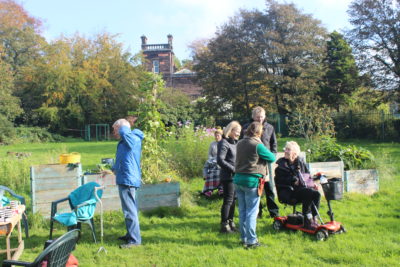 Before we headed across the Mersey, we stopped for lunch at Homebaked, Anfield. Over a Scouse pie, we spoke to Sam and Patricia from Homegrown Collective, who are bringing brewing back home to Anfield.
Homegrown Collective
Homegrown Collective is a new community business set up by a group of Anfield residents. Next year they plan to open a training brewery, resident-led social space and community garden, making a Victorian terrace close to Liverpool football ground their home. The terrace is currently boarded up, but behind the doors there are architects plans, consultation feedback and screen prints of labels designed by local company Toucan Tango via the support of Power to Change, drawing on iconic images around Anfield.
Homegrown Collective came about after Sam and Patricia decided to cultivate hops on a local pocket park that they had been looking after and other local residents kept popping by to ask when we were opening a microbrewery. After becoming curious about the possibility, they contacted local breweries to get some advice and experience. History shows women were the first brewers and they brewed from home, Sam's nan Flo even brewed from her airing cupboard in a terraced house in Cockrell Street opposite Stanley Park!
Sam said: "John Houlding, the founder of Liverpool Football Club, was a local brewer, we are proud to be carrying on a local tradition in our area, so not only are we bringing brewing back to a 'home' we are bringing it back home to Anfield."
Every pint will have a purpose – this brewery and its 'beers with benefits' will support an affordable pop-up fresh produce market, accredited training for local residents in horticulture and brewing, and help women back to employment with female-focused mentoring. But ultimately Sam, Pat and Silvia White and the rest of the resident team are most passionate about  creating a beautiful social space and garden within their neighbourhood. Homegrown Collective will be launching their inaugural brews in collaboration with local breweries soon, followed by a crowd funder campaign to raise funds for their own homegrown Anfield brewery.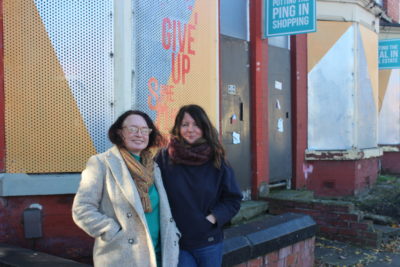 After leaving Homegrown, we headed across the Mersey to visit Bee Wirral in Birkenhead.
Bee Wirral
Bee Wirral CIC supports individuals and families to make positive choices to improve their own life chances, they are a community resource where everyone is welcome.
Quite simply, Bee Wirral provide services for everyone in their community, as Donna explained to us when we visited. The community centre provides space for community events, a children's indoor (and soon outdoor!) play area, social supermarket, beauty bank, men's group, holistic therapies, training, hair dressers, baby massage, toddler groups, youth club, sports activities, sewing group and many different courses.
Their organisational goals are to:
Develop innovative approaches to find local solutions to local problems.
Improve the quality of life for residents of Birkenhead, including health, well-being and environment. They plan to remove barriers for disadvantaged groups, through a range of inclusive activities and events.
Develop as a self-sustaining social enterprise, in an environmentally positive way, through commitment to local sourcing and building partnerships across Birkenhead with other organisations.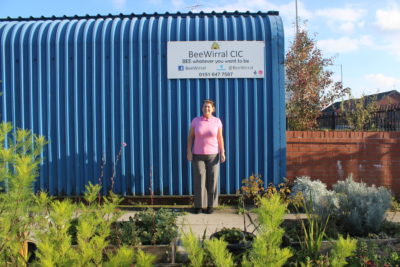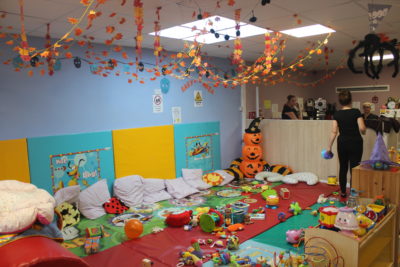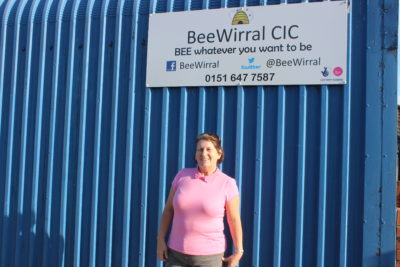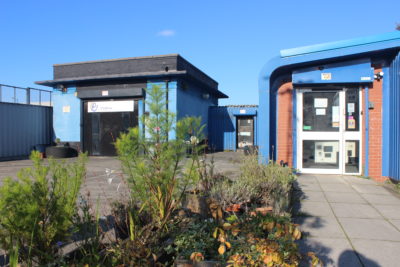 Not far from Birkenhead is Byrne Avenue Baths, where some of the people we had met throughout our community business tour of Liverpool and Wirral had learned to swim. We met Jane for a tour of the space and to hear about the exciting plans for the Bath's future.
Byrne Avenue Baths
Byrne Avenue Trust (BAT) intends to restore the building, retain the surviving original features, and refurbish the rest of the building. Due to the size, they are doing this in a phased approach so that they can open the Baths for the public to enjoy as soon as possible. The photographs below don't do the building any justice and it's hard to imagine the scale of the building until you're walking around it… There are two pools, a viewing gallery, a large bath hall, changing rooms, ticket offices, former laundry rooms, a spacious entrance hall, a lounge, refreshment room, kitchen and service, committee and cloak rooms.
The first phase of the work to the listed building includes:
Making the building watertight and safe
Ground clearance work
Review and renewal of water, power and heating
Refurbish toilet facilities
Refurbish the laundry to make a large high-quality community space
Restore the entrance hall
Refurbish the ticket office to provide office accommodation
Restore the sports hall
Redesign part of the ticket office and entrance lobby
Creation of new café area in the gents slipper baths
Refurbishment of the dry changing rooms
We can't wait to see the development of the space, bringing a building that has been closed for years, open to community use.