History and overview of Wolves Lane
When Wolves Lane Horticultural Centre, a plant nursery ran by Haringey Council, shut its doors in April 2017, the local community were worried what the future would hold for the three-acre space. Fast forward to 2019, and local community growers have established an innovative food growing hub at the site.
Wolves Lane Horticultural Centre, with its resident terrapins, koi carp, and tropical plants, was well loved by locals, and described by many as a 'mini-Eden'. Locals, however, had long been commenting on the state of disrepair the centre had found itself in, and there was little surprise when Haringey Council shut its doors in April 2017.
Unbeknown to many, though, Haringey Council had spent several years in the lead up to Wolves Lane's closure exploring options for the future of the site. This had included asking OrganicLea, a community food project based in the Lea Valley in north-east London, to assess the viability of the site as a food growing space. OrganicLea formed a coalition with likeminded community organisations to develop the offer, and in the same month as closing its doors, Haringey Council handed over the stewardship of Wolves Lane to OrganicLea.
Later in 2017, Ubele joined the coalition. Ubele is an African Diaspora led intergenerational social enterprise, whose primary mission is to build more sustainable communities across the UK. In 2018, Ubele was the lead organisation in a successful grant application of £14,898 to Power to Change's Bright Ideas fund to support the development of Wolves Lane as a community business. This helped to develop both a regular community market at the hub, and formalise a consortium structure. As of 2019, Wolves Lane is now run by a consortium of local organisations led by OrganicLea, Ubele, and veg box scheme Crop Drop.
Global context / what's the issue?
Food production: A global food chain is putting our natural environment under pressure. Agriculture is responsible for 75% of global deforestation, and is the largest producer of non-CO2 gas emissions.
Renewable energy: 2018 saw capacity of renewable energy overtake that of fossil fuel in the UK for the first time. However, 2018 saw a 7% rise in the output of fossil fuels and output globally, the largest increase in seven years.
Education: education on climate action is recognised as a vital tool in tackling climate change. It is believed that education can be used as a mechanism to develop a workforce with the skills and knowledge to power green innovations.
Environmental impact of Wolves Lane
Since its reincarnation, Wolves Lane has been leading the way in improving the local and wider environment. Its volunteering and training opportunities have provided education in growing local and sustainable produce, and how this can reduce carbon emissions. Such opportunities have multiple benefits for participants, with it being found that gardening has a positive impact on both mental and physical health.
Wolves Lane hopes to convert its 'rainforest room' to community use, so classes can be held there. They also place focus on teaching visitors about food miles, growing produce with limited space, and the importance of rainforests. This all helps visitors understand the importance of the natural environment, and how they can reduce their personal impact.
Growing community cohesion is evident, whether it be through bringing together multiple organisations under one roof who can collaborate and learn from one another, or simply through individuals speaking to and making friends with neighbours they may never have met. This strengthening of local networks is helping to develop a stronger public awareness of and engagement with the environment.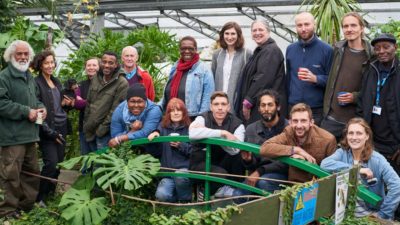 Sustainable commercial activities
Wolves Lane is home to several commercial activities. In 2018, 6% of veg box scheme Crop Drop's produce came from Wolves Lane and nearby Pasteur Gardens, and they expect this figure to significantly grow in 2019. Farming initiative Edible London use a glasshouse and polytunnels to supply local markets and provide free food to local homelessness projects. Renowned chef Yotam Ottolenghi has a glasshouse onsite, growing vegetables for his restaurants across London. Black Rootz, the latest group to rent growing space, bring internationally developed skills and network with growers in several other countries to specialise in bringing tropical crops to the local array of foods, a pioneering exercise in import substitution.
The hub is also home to Wolves Lane Flower Company's micro flower farm, who use an organic and sustainable approach to growing. As well as raising the hub's profile, tenants provide a valuable income stream that helps to maintain the site and support its environmental activities.
Woodchip powered glasshouses and a solar powered future
In December 2018, a crowdfunder successfully raised over £16,000 to replace the broken gas heating with solar panels so that renewable energy can be used to heat one of their greenhouses, and café. This was installed in June 2019, reducing Wolves Lane's utility bills as well as its carbon footprint. The hub has also begun using wood chip piles to generate heat under greenhouses in winter months. Self-heating bacteria and fungi consume the wood, raising temperatures inside by around 5°. By spring, the decomposed wood chip can be used as compost. Future plans include hot composting bins, more solar panels, and selling surplus power generated to the national grid.
Is there a local need for Wolves Lane?
In Haringey, almost two-thirds of the population are from ethnic minority backgrounds, and over 100 languages are spoken in the borough. Wolves Lane's public survey in 2017 demonstrated that the hub needed to do more to engage with the ethnically diverse groups in their surrounding community.
In response, Wolves Lane is aiming to create a food growing hub and market that engages with this diverse population. Already, the hub has attracted volunteers from a wide range of backgrounds and has ambitions to deliver education projects on horticulture and healthy eating.
The hub provides space and support to community enterprises, such as Edible London and Black Rootz. Edible London engages volunteers from a wide range of ethnic and economic backgrounds in a highly productive glasshouse.  Black Rootz is a multigenerational black led growing project, where the older generation share their expertise on growing whilst also supporting youth engagement in their surrounding natural environment. Fruit and vegetables fairly new to British shores such as sweet potatoes, exotic squashes and tomatillos can all be found at Wolves Lane, and passing down knowledge is vital to ensuring growing techniques survive.
Summary
Through its urban growing projects, education and training, and sustainable energy practices Wolves Lane is educating and developing a stronger public awareness of how communities can reduce their impact on the natural environment.
The UK government is starting to recognise the role community-based food producers in cities and urban fringe areas can play in tackling some of its core environmental and social aims. A report by the London Assembly found that engaging an urban population with farming and local food growing helps individuals to learn more about the environmental impact of their choices, and understand the effects of their behaviour on the local environment. The report also highlighted the social and economic value of upskilling individuals in urban growing, providing them with valuable knowledge and job opportunities.
This growing interest helps to highlight the possible role community businesses such as Wolves Lane will play in creating a more sustainable future.