First started as work experience on an allotment for people with learning difficulties, Sunderland Homegrown CIC has evolved into a commercial nursery and garden centre in the heart of Thompson Park. After years of negotiating with the council, Sunderland Homegrown CIC managed to get the 1.5 acre site on a 25 year lease on a peppercorn rent.
Power to Change awarded £133,200 grant to cover the set up and running costs for the garden centre's first year. After clearing the site of 100 tons of debris, volunteers and interns have put up two large tunnels for plant sales, two greenhouses for growing vegetables such as cucumbers, tomatoes and chillies, and have started building planters out of reclaimed sleepers for larger vegetables such as pumpkins and courgettes. Overseeing it all is Gary, the only paid member of staff and a professional grower, whose salary is funded by the grant.
"We want to mix local people together and improve community cohesion – elderly people may have never spoken to someone with learning disabilities but by mixing them in together through the customer / grower relationship, we are breaking down stigma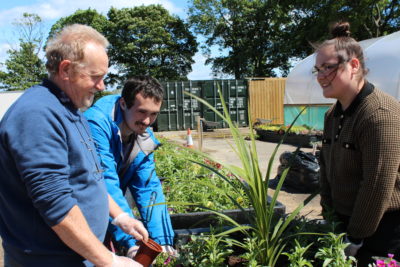 Growing training opportunities from plant sales
The income generated from sales, whether through the garden centre or the plant nursery, is reinvested into offering work placements and internships to young people with learning or behaviour issues from Sunderland College. They spend a few days a week planting up to 200 cuttings an hour (working up to a commercial rate of 600 an hour) and planting decorative flower boxes to improve the local parks, watering and tending to vegetables, and interacting with the public.
"Coming here regularly has been fantastic for these young people" explains mentor Gordon from Sunderland College. "They've become much more independent – they travel here on their own which is huge progress, they interact with the public with confidence and have learnt transferable skills such as woodwork and timekeeping."
By operating on a commercial scale, the nursery has enough plants to supply bigger contracts such as flowers around Durham Cathedral and Lumley Castle, as well as generate income from plant sales at the garden centre. As it's located in the heart of the park, a steady stream of local people visit the centre through the day. The local police also pay a visit, spending some of their office hours on site to prevent anti-social behaviour.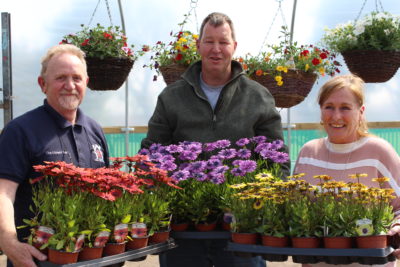 How did it start?
Sunderland Homegrown CIC was born from Sunderland Homecare, a care service for people with disabilities as a scheme to give those young people work placement opportunities. It first started on an allotment, and then expanded to a local garden centre for three years. Now Sunderland Homegrown CIC have found their own site and have more control around their business. They meet with local Friends of Thompson Park monthly to make sure the business is providing what local people need and want
What next?
The site is still being developed and Sunderland Homegrown CIC have ambitions to have a wildflower meadow and bees on site, create a beekeeping club for local people and schools to learn about bees, and sell the honey to generate another income stream. There's also plans to create more mentoring opportunities and horticultural training programmes.