Stocksbridge Leisure Centre is a typical 1970's built sprawling sports centre in a town that grew out of its steel works. In April 2013 Sheffield Council closed it citing its unprofitability as a reason to bulldoze it. Locals organised a campaign and demonstrations to get it passed into community hands and succeeded in getting the keys handed over that summer. Passion was not enough though to get the place up and running; the community realized that its breadth of skills – from business plan writing, to engineering, plumbing and just painting and cleaning – was needed to bring this run-down centre back to life.
It re-opened its doors to the public in January 2014 and the main pool came into operation again in April 2016 following the grant from Power to Change through the Initial Grants Programme.
Our £307,675 went towards a series of energy efficiency equipment including:
300 solar panels on the roof of the leisure centre to generate power to operate the pool water circulation pumps and ancillary electrical equipment.
An air handling unit to recoup and re-cycle heat lost from the building.
Double glazing in the pool areas for insulation.
Refurbishment and upgrading of the pool filters and control systems and providing working capital during the first 18 months of the pool operation.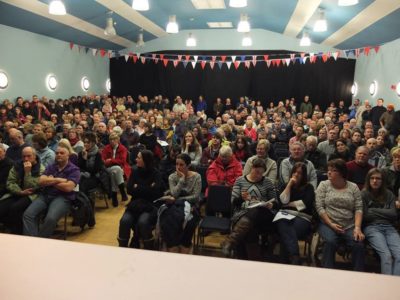 Once up and running the result was that the efficiencies gained halved the leisure centre's energy bills which together with its sustained volunteer support brought its operation into surplus. There used to be a 1200kW capability of heat input for the pool complex alone. The energy efficiency measures undertaken have brought the need down to just 500kW.
They also achieved sustainability by year three – two years ahead of schedule in their original business plan! When this was run by the Council, they claimed it was costing (the rate payer) a whopping £400,000 per year in subsidy to cover costs and they achieved sustainability after three years with no council revenue support at any stage saving them a huge amount of money.
Now that the finances are on an even keel, energy has been devoted to improving the quality of its facilities and adapting the service offering at the leisure centre to meet the emerging health and wellbeing needs of locals first and foremost. For example, the programme of swimming classes has brought families back whilst the arrival of the University of the Third Age has encouraged those who have retired to stay active and healthy.  Next steps are to improve accessibility for members of the community with disabilities, quite a challenge given that was not a priority when it was built in the 1970s.