In 2010, a group of local residents set up a charity which inspired local people to transform the derelict space below the Telegraph Hill Centre into a hub for the community. With support from St Catherine's Church, the Telegraph Hill Centre, Lewisham Mayor's fund and Social Enterprise department, the Garfield Weston Foundation and a community bond offer they managed to raise enough funds to begin work.
The community pitched in to support the development of the café, putting on concerts and football matches to raise funds, and posting newsletters to spread the word. Those that couldn't give money were encouraged to invest in the project through 'sweat equity', digging out the floor, building the café decking and decorating the café.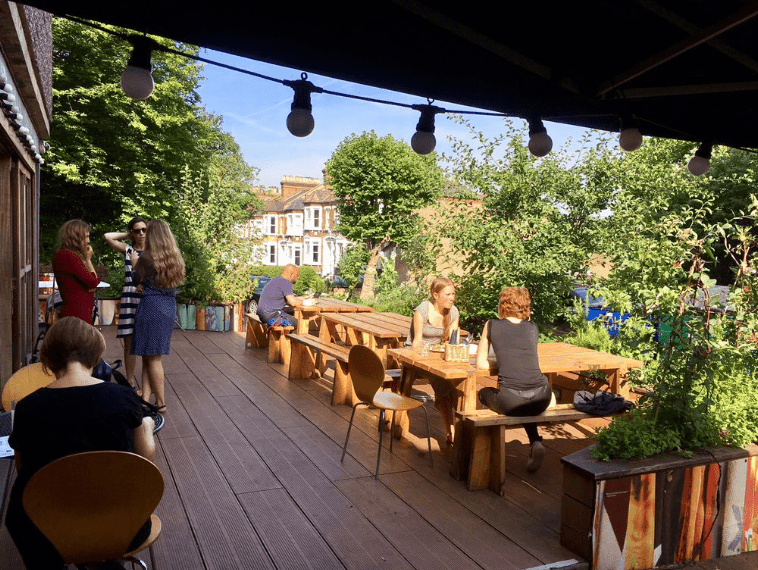 The Hill Station is now a space where local people can spend time, share food, and enjoy regular events and performances. It also hosts art installations and exhibitions to showcase the talents of local people. Work space and training opportunities provide support to local start-ups and enterprises. The Hill Station also houses a community shop which sells craft-based goods made by local people.
Through the Trade Up programme, The Hill Station received a £10,000 grant and access to a learning programme from the School for Social Entrepreneurs which focuses on improving the traded potential of community businesses.
I have found it very useful and it's always good to be in a room with likeminded people. I feel more empowered and self-assured. I realised a lot of the things I have struggled with [are] things others have found difficult too. I realise that I am making a difference by taking two paces back and looking with fresh eyes at what I do.
What is their social impact? 
The Hill Station café deliver training and work experience that helps local people find work. They also offer employment and training opportunities to residents who, for various reasons, find it hard to enter or stay in paid work. The inclusive nature of the café means that residents from the diverse community feel more supported and less isolated.
How is it community led?
The Hill Station café was a community-led project from the very start. During their initial fundraising efforts, local people became 'bold backers' by investing in community bonds in the café. Even the name The Hill Station Community Café was decided by a local competition.