The Gardeners Rest is nestled in the fast-changing district of Neepsend, on the outskirts of Sheffield, and it is the only operating pub in a district that is famous for its connections with the gas, steel and rail industries.  The area lost much of its population after 1975 as traditional industries declined and shops, pubs and schools closed.
The Gardeners Rest, remains a much-loved base for a diverse community of individuals and community groups, many of whom come together to socialise and choose to make the pub their home from home.
The Gardeners Rest Community Society have a vision to preserve the unique character of this historic Neepsend pub, and for it to act as a hub for many communities of interest. Their vision is for:
A traditional local pub serving real ale and a wide variety of other alcoholic and non-alcoholic drinks
A music venue with live music three nights a week in the main bar, including guest performers and jam sessions
An activity centre with a bar billiards table, weekly quiz night, celebration nights with special attractions, and meeting place for local groups to pursue interests from photography and chess to local history and conservation
A venue for exhibitions by local artists and photographers
To offer peace and calm and to be free from juke box, fruit machine or canned music intrusion – for it to be a place to talk, to read newspapers (always available) and books, to play board games or somewhere just to sit and sip
To be a garden area full of surprises on the banks of the River Don with a log fire blazing when it's cold
In addition, The Gardeners Rest are committed to:
Work in partnership with local charity Yes 2 Ventures to provide opportunities for people with mental ill health and learning disabilities to work in the kitchen, the garden and the pub cellar.
Provide a range of sensibly priced, tasty pub snacks plus occasional 'specials' such as chilli con carne or home-made pizza.
Renovate the space above the pub, to create comfortable accommodation for the pub manager and rentable flats for people who need them.
Open up the pub space (but not the bar!) during the day to provide a focal point for community groups to meet together at modest cost with refreshments available.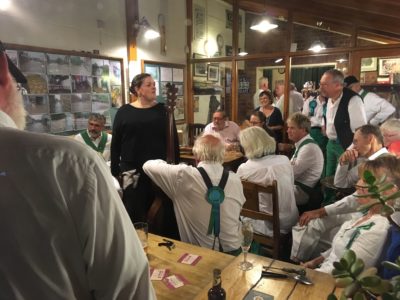 The Gardeners Rest is well placed to serve as a hub for the local community and it provides a welcome and a safe haven to everyone who comes through its doors. The health and wellbeing of the local community will benefit from the energetic and pro-active presence of an enterprise that cares about the individual – about every individual including those with additional support needs.
How did they do it?
In July 2016 the owners decided to retire after 18 years of service. With advice from The Plunkett Foundation, a steering group of interested parties was formed with the intention of taking the Gardeners Rest into community ownership.
Three public meetings took place and in 2016 the Gardeners Rest was registered as a Community Benefit Society. The Society had regular consultations with the owners as well as Plunkett Foundation advisers, customers and potential investors. The group received a bursary of £2,500 which paid for an architectural survey, a promotional video and other essential costs.
The group ran a Community Share Offer which resulted in 382 shareholders buying shares worth £237,600 between them. Then the group received a loan-grant package of £100,000 from 'More than a Pub' which enabled them to purchase the pub. The Society also applied to HMRC for assurance that investors would be eligible for 30% tax‐relief on investments under Social Investment Tax Relief. Publicity was key and the group won a Digital Award for their Social Media Campaign
Making a difference to real people
The Gardeners Rest is a rare place where individuals can come on their own and find safe company. It would be hard for many of the regulars – a lot of them arriving by public transport – to find such an inclusive place elsewhere.
The Gardeners Rest offers employment and training opportunities to people who may never meet the person specification for any conventional job, but who are desperate to play a meaningful part in the world of work. This includes people with learning disabilities, people with mental health issues and people on the autistic spectrum.
Flexible short work sessions (2-3 hours) are tailored to individual needs and people given employment in food preparation, cleaning and in bar work. The Gardeners Rest wish to provide accredited training as well.
Additionally, self-expression groups, led by artists, sport professionals, local historians and faith leaders will take place – being advertised as an important part of what the pub does, and not as a separate entity.
Find out more about The Gardeners Rest Pub in the Community Business Fix Podcast episode 'More Than A Pub'.