Where's your local community asset?
Community-owned assets are increasing in number, thriving in difficult conditions, and delivering real social and economic benefits, but it's not a simple landscape
Last week we launched a new online map of community-owned assets in England. Now, I think this is really exciting, but perhaps I spend too much time researching… Bear with me and let me tell you what's exciting about it.
1) It's not just a map. We've published a new study of the economic contribution of community-owned assets, and an assessment of their overall financial health. And a map that allows you to look at all community assets in your local area, and add other community-owned assets that have been missed or that are new. Take a look and let us know what you think: institute@powertochange.org.uk   
2) This hasn't been done before. That alone doesn't make it worthwhile, of course. But central and local government, and funders like Power to Change, agree that community-owned assets – shops, leisure centres, village halls and community centres – bring a lot of benefit to their local communities, especially the more obvious social benefits. This study gives us solid evidence of their economic benefits. It also fills some fundamental gaps in our knowledge about them, such as their locations or what kinds of assets communities own and run, or how financially robust they are. We want to support and grow this important sector, so we need to improve our understanding of how it's currently working and where the challenges are. And, we want to be better able to advocate for investment in and support for communities taking on assets. This was why we needed the data gathered by this research project, and why we commissioned it last year, jointly with the Ministry of Housing, Communities and Local Government.
3) It's shown us that community-owned assets are a valuable part of the economy, financially robust and a growth sector. There are more than 6,300 community-owned assets in the country, and this is a conservative estimate. They contribute nearly £220 million to the economy every year, and 56p in every £1 they spend goes into their local economy. They create local jobs. Despite limited resources, three-quarters of community-owned assets say they are in good financial health. And their numbers are growing: nearly a third of all community-owned assets came into community ownership in the last decade.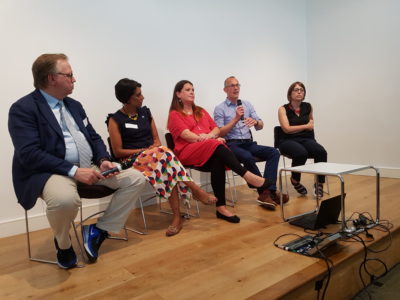 At the launch of the research, Barry Quirk (of the 2007 Quirk Review) reminded us of the history of this agenda, and the principle that for public assets, paid for with taxpayers money but now surplus to requirements, ongoing community use should be considered and actively pursued. For Sian Rogers from Calderdale Council, it's not all about the buildings – the value is in the services that operate from a community-owned asset, and the role that the asset and the organisation(s) that are involved with it play in an inclusive local economy. Maxine Ennis of Rotunda in Liverpool – a case study in the research – demonstrated the breadth and value of services that a community-owned space can provide.
The important takeaways for us from the discussion, and from the research, are how community-owned assets are increasing in number, thriving in difficult conditions, and delivering real social and economic benefits, but it's not a simple landscape. The term 'community assets' covers a myriad of asset types and organisations running them, and they range from those doing very well to those making an operating loss. The research showed that community assets are scant in more deprived communities, where arguably they are most needed and could make the biggest impact. There is more for funders like us to do, to fine-tune our support for communities wanting to take on and run assets. We learned a lot from this piece of research, and the next piece in this jigsaw will be the findings of the Protecting Community Assets Inquiry, due in September.