Moving community health and care from the margins to the mainstream
Power to Change is helping to develop the community health and care sector. We brought public sector practitioners, academics and researchers, community businesses and commissioners together to discuss how we can collectively move community-led health and care from the margins to the mainstream at a recent event. Suzanne Perry, Research Officer, and Susie Finlayson, Development Manager for community-led health and care, share the main insights from the day.
Public health and social care services aren't working well enough and we want to change how some of our most important public services are run. To this end, we asked a mix of health and care stakeholders the question 'how can we collectively move community health and care from the margins to the mainstream?'. Here's some key points from what we found:
Being pragmatic while pushing for change
There was a general acceptance that the time has passed to bemoan the lack of money in services. As Vidhya, Chief Executive of Power to Change plainly put it "the services we once knew as public services are unlikely to be public in the future. We can't expect the clocks to roll back and more cash to roll in." There was a pragmatic air to the day, thinking about how we can do more with what we've got to make change happen and work together to show what is possible within the current constraints to drive change at a more systemic level.
Collaborating better in a competitive landscape
The consensus in the room was that there is a need to move beyond pure competition in funding, commissioning and procurement to a system that nurtures, encourages and rewards genuine collaboration to achieve the best for people in their communities. Currently the process, in most instances, is overwhelmingly biased towards larger organisations who can take on bigger contracts; smaller organisations, such as neighbourhood-based community businesses, simply don't have capacity to take them on or any power in negotiating as sub-contractors.
Competition can drive innovation but so can collaboration. The current approach to commissioning and procurement means it is the predominant tactic used to drive innovation and increase value for money for the public sector. This has stifled genuine collaboration within and between all parts of the sector and broader system. Ironically, it has contributed to a risk averse approach to innovation, siloed budgets and protectionism amongst providers. Changing this will take time, trust and openness on all sides. Terry Drafter, Interim Director of Adult Social Care at Bristol City Council gave the great example of how he pioneered an alliance model when he was based in Stockport. At first there were lots of challenges for the groups involved but gradually, over time, they started working together collaboratively, share skills, learning and streamline decision making. This in turn benefited the people who used the services, as they accessed the right support more easily and were able to address complex issues in a way that builds resilience and independence.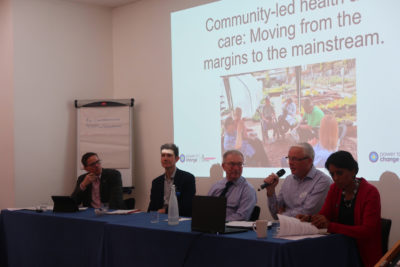 The power of local
Across the day, we heard from academics, commissioners, and community businesses that many health, care and wellbeing services that are community-owned and delivered provide local people with a more personalised service, that more effectively meets their needs. At this local level, health and care services can provide nuanced responses to the strengths and needs of a place and its people.
But large-scale procurement alienates community businesses from bidding for competitive tenders at Clinical Commissioner Group (CCG) level, and so loses that tailored place-based approach. Central to our discussion was the need for budget and decision-making powers to be devolved to local administrative levels to really make service delivery viable for these groups and better for people. We have an upcoming blog from our community health and care community of practice on just this topic, so watch this space!
Collaboration at a local level is also key. Some community-led organisations are to attend meetings with local authorities and NHS bodies like
And there are examples of where the playing field had been levelled between community groups and local decision makers. For example, in Oldham parents took on the role of decision makers after forming a pressure group – Partners in Policy Making – to get a better understanding of the treatment of children with complex needs.
Power to Change will be working in a handful of places to explore different approaches to developing greater local level demand, decision-making and provision, we'll share more details as these plans develop.
The potential of social care for local economies
The concepts of local wealth building and inclusive growth are gaining in prominence nationally. As Vidhya said on the day, while social care isn't immediately thought of in terms of local wealth building, this is an opportunity for LEPs and local authorities to deliver what is often talked about but not necessarily put into action: creating a thriving local economy with social value at its heart. This is an industry worth billions, and whilst some care provision is through local and small companies, large amounts of the value of the sector is extracted for shareholder capital and, in the case of the recent Four Seasons Healthcare collapse, overseas investors. It appears ripe for locally-led, community-owned provision.
Power to Change has funded research on the topic of local economic growth, including the Centre for Local Economic Strategies (CLES) 's work on how anchor institutions contribute to local wealth building. There may well be the need to conduct specific research about how community-led health and care can contribute to the wider local economy. Our next opportunity to put forward a proposal to this end is our open call for research which next opens on 3 of June 2019. Please sign up for our newsletter and follow us on twitter for details of future rounds.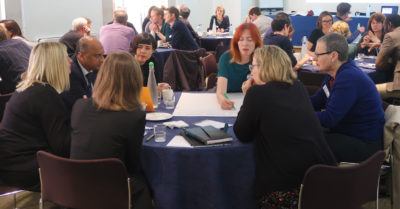 The importance of generous leadership
To successfully build positive partnerships, leaders from across all elements of the system need to be empowered and empower others to work collaboratively. In practice, generous leadership means ensuring leaders have the capacity and confidence to identify where their organisation can add value and where others may be better placed to contribute, with less bureaucracy, and take balanced and measured risks to create the change that is needed.
It was acknowledged that leadership development and capacity building for individuals across the system would support community businesses to have a greater impact. Community business leaders need to be able to talk the language of the 'system', and simultaneously communicate effectively with their communities, but this takes time and support to develop
We know that loneliness and isolation has detrimental impacts on physical and mental health for older people and has recently been revealed as a problem among younger people too. Encouragingly, 84% of respondents in our community business market survey (Diamond et al 2018) cited reducing social isolation as the top impact their community business has. It follows then, that the services and activities that community businesses deliver which reduce isolation are having a preventative effect on health problems across the life course. But often, commissioners and funders need significant quantitative evidence. This is very hard when aiming to evidence preventative activity, particularly in the context of dwindling funding and capacity for organisations to commit to long-term research studies when projects may only have funding for a fixed period of time. Not for the first time, discussions at the event highlighted the need for commissioners to trust community-led organisations to deliver quality services and to value rich qualitative case studies and stories as evidence.
We're also engaging with different central government departments to think about community-led service provision as part of the core offer within local areas, through our policy work.
The challenges of regulated service delivery
Local authorities spend a huge proportion of their care budgets on regulated social care services. There are huge economic, as well as social benefits to bringing these services into community hands. But there are challenges for organisations with regulation costs and practices which favour large providers. While the need to maintain quality standards is a given, we need to consider how these barriers can be overcome so community organisations can take on personal care in these settings, which they are so well equipped to do, and how to support greater diversification in the social care market.
Delegates agreed ministers and other decision makers need to be involved in conversations about this. Suggestions included working with the Care Quality Commission that regulates social care to understand what is both proportionate and maintains quality and safety standards at a hyper-local level.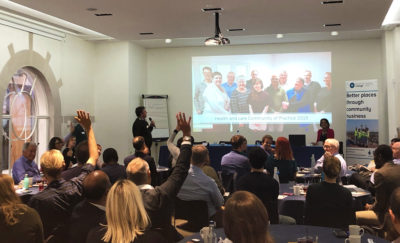 This event will help develop Power to Change's thinking and our work in the health and social care space. We will be drawing on what we have heard to shape our future investment, partnerships and research in community health and care. And we will be sharing our learning and the related stories broadly to help shape the market for community businesses in the sector.
If you would like to find out more please have a look at our community health and care page, and sign up for our newsletter to be kept in the loop about any future blogs, events or research.