Covid-19: how is it affecting community businesses and what support is available?
Many community businesses have found normal business disrupted. Demand for their services is surging. Yet many will lose money, whether they are a community-owned pub or a community centre renting out office space and meeting rooms. Funding and support will be key for their survival. But what this should look like will differ from business to business, sector by sector. That's why using data to understand your finances and business model is now more important than ever, to enable you to access the right support for your community business. In this short article, Stephen Miller, Head of Impact Evaluation, outlines what the data is telling us, and where to get support.
Why understanding data matters
The external shock of the covid-19 pandemic is unique and, for many businesses, unexpected. Few would have planned for completely closing down their operations. Community businesses are as adversely affected by this. Prior to the crisis, our analysis suggests approximately 40% of community businesses were not contributing to their reserves in any given year. Added to this, the average community business generates 58% of their income from one source. This means that even in 'normal' times, a number of community businesses would have struggled with the lose of their main customer or income stream.
Additionally, our analysis suggests that 62% of community businesses earn most of their income from trading. Usually we'd suggest that this improves resilience and enables community businesses to be in control of their destiny. But using our financial accounts database, we estimate on average 43% of income comes from venue-based activities (e.g. cafe, shop, hiring out meeting spaces). Thus community businesses stand to lose a significant income source owing to reduced footfall because of the lockdown.
Some sectors are likely to be hit harder than others. Community pubs for example generate 97% of their total income from trading. As such, they have high income concentration from one source. We can estimate the likely impact of the lockdown using credit and debit card transaction data. The chart below shows the significant reduction in trading income for one community pub. In contrast to the usual peaks and troughs it experiences over a year, the data shows a significant reduction in income between January to March 2020. Once we receive the next tranche of data, we expect income to be zero. So for many community business, the lockdown marks a significant pause to 'business as usual'. Similar patterns have also been observed at the city and town levels too.
Index revenue for a community pub (compared to the same month in the previous year; Apr 18 – Mar 20)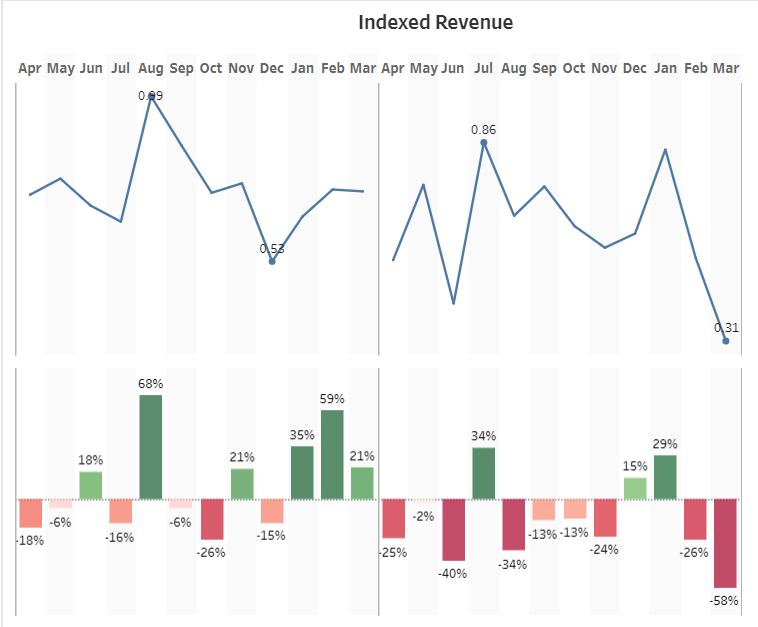 Yet despite such difficulties, community businesses are still doing remarkable things. For example The Anglers Rest, a community-owned pub in Bamford, are running the local Post Office. Enabling people to collect their pensions, pay bills, withdraw cash and pay their gas or electric. Meanwhile, The Bevy in Brighton are providing a 'Meals on Wheels' service to vulnerable local people. This crisis has highlighted the importance of community, and the scope for doing business better. That's why it's more important than ever to support the financial health and resilience of community businesses.
How using data can help
While income streams are severely disrupted, help is available. Grant funding is also important to the community business model, and 83% of community businesses generate at least some of their income from grants, with 33% generating most of it this way. Our analysis of financial accounts data suggests that in 2018, the average value of income from grants was just under £70,500. It is likely to become even more important with reduced trading income.
To help support community businesses navigating funding during this time, we've compiled a directory of resources. We've also compiled a database of how other Trusts and Foundations are responding to the crisis. Our analysis shows most of the funders featured in this table have at least one grantee in common with Power to Change, suggesting they are open to funding community businesses. In total they are distributing over £800mn (and rising). Further details of our analysis are available in our Connecting the Dots report too.
We've also created the Twine Benchmark tool. Built on a database containing five years of detailed financial accounts for over 650 community businesses, it will help any community business better understand their finances and adapt their business plans and operating models in light of the crisis. The tool is completely free to use, requires no sign up or login and produces it's analysis and reports without saving your data so is completely safe to use.