Community University Partnership Initiative
Stephanie Todd from the National Coordinating Centre for Public Engagement (NCCPE) writes about the successes of the Power to Change and Arts and Humanities Research Council funded Community University Partnership Initiative (CUPI) project. Over four events during spring/summer 2018, CUPI brought representatives from community businesses and organisations together with university researchers to form partnerships around budding research ideas.
What can be achieved in just one working day?
Theoretically 7.5 hours is the average working day in the UK. For many this just isn't enough time to get all the work done. So how much time do any of us have to take a step back and generate new, fresh ideas whilst forging exciting partnerships? Probably, not much time at all.
Earlier this year, 150 people from community businesses, other community organisations, and universities took a day out of their busy working week to attend a 'Match Event' aimed at forging new partnerships.
Match Events, developed by the NCCPE, are designed to address some of the well-known challenges to partnerships between community organisations and academic researchers – including, firstly (and most importantly) finding a suitable partner and secondly having the space and funding to develop the embryonic partnership before going ahead and delivering a project. The events brought community representatives and university researchers together to see if, in just one working day, new and exciting mutually beneficial research partnerships could be created around shared themes and ideas.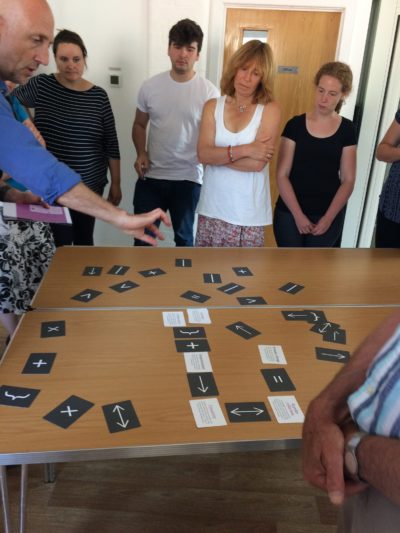 How does it work?
If you are planning on taking a day out of your busy schedule to attend an event, you are likely to think hard about whether the benefit will outweigh the costs. So what was on offer at Match Events that enticed so many people to get involved?
For some it was the possibility of funding – but funding with a twist. The CUPI offered up to £1,000 'thinking funding' to test out the ideas developed at the Match Event and take the conversations further. It provided an opportunity to explore research ideas and cultivate partnerships that address the needs of all those involved.
For those successful in receiving thinking funding, there was an opportunity to apply for follow on funding, of up to £5,000, to go ahead and deliver a research project. For some funding is an important motivator, but just as valuable was the opportunity to network, and develop new relationships.
So what can be achieved in a one day match event? As it happens, quite a lot! Here's how a Match Event day tends to work:
Levelling the playing field – community businesses and organisations work in very different ways to universities. Take, for example, the use of language and acronyms. To reduce the chance of crossed wires we take time to try and understand each other and what each other wants, before developing a partnership. (The NCCPE has some tools to help partnerships navigate this often murky water.)
Testing out research ideas whilst building connections in the room – we create space for each participant to host a conversation with two others about their research idea, receive feedback, refine thinking and constructively build connections, using a technique called 'trialogues'.*
Linking ideas bubbling in the room (often the tricky bit) – participants' ideas, as you can imagine, are wide and varied, tackling important issues such as social injustice and social mobility, bereavement, evaluating interventions and co-production. However, with 'buy in' and open mindedness from the participants, focused conversations start to take root.
Forging partnerships – this is when the magic starts to happen, researchers and community organisations come together over shared interests and start to have exciting conversations about how their interests and expertise could work together for societal benefit.
Pitching for funding – the newly-formed partnerships have three minutes to share their ideas with the group before a well-deserved break! The pitch, and accompanying application form completed on the day, are used to decide which partnerships will receive funding.
What does this lead to?
Participants arrived in the morning not knowing the others in the room, and left in the afternoon having formed budding partnerships, many of whom pitched for funding together. Over four Match Events in 2018, 56 new partnerships were established, with 28 successful in receiving 'thinking funding.' It's highly unlikely that these partnerships and new connections would have developed if those participants didn't decide to do things differently, and for one day immerse themselves in a Match Event.
'Creating excellent research from different expertise's and disciplines is not easy. One of the first steps it to start the conversation, build the relationship and actually have some meaningful time to develop ideas.' Penny Evans, Knowle West Media Centre.
https://www.powertochange.org.uk/wp-content/uploads/2019/01/day-2-high-res-167-of-217.jpg
What kinds of partnerships were formed?
A wide variety of exciting research partnerships arose from the Match Events, on topics including: re-imagining libraries, co-production of research between community groups and academics, special educational needs and disabilities, flood resilience, impact of media exposure on Muslims, social mobility, the impact of intergenerational programmes, and bereavement. A full list of CUPI-funded partnerships can be found on the NCCPE website and case studies will be published early next year.
"We are delighted to have funded this pilot project and look forward to finding out more about what happens next. We often hear from community businesses about how hard it is to undertake research, or even find a partner with whom a business could do some research that would benefit them. We hope that these budding research partnerships will lead to more research capacity in the community business sector, and would encourage any new partnerships to think about applying for our small research grants as a next step."
Ailbhe McNabola, Head of Research and Policy at Power to Change
For more information visit the CUPI page and feel free to contact stephanie.todd@uwe.ac.uk
The 'Match Events' approach was designed by the NCCPE and drew on learning from the UK Community Partner Network (UKCPN). Match Events were piloted with the Museum and University Partnership Initiative (MUPI).
CUPI is facilitated by the NCCPE and funded by Power to Change and the Arts and Humanities Research Council (AHRC)
*Trialogues are based on a technique developed by Dee Hennessy. Find out more via www.creativeexchange.co.uk