Better places through community business?
At Power to Change our vision is of "better places through community business". Since 2015 we have argued that the unique combination of locally rooted, socially motivated and commercially oriented behaviours of community businesses enables them to make a positive difference to the world around them. But what evidence do we have that this is true?
Between January 2015 and May 2018 Power to Change supported 615 community businesses with grants totalling £36.5 million. To measure both the impact of these community businesses on places, and our impact on them, our impact evaluation framework separates the impact that grantees are having on people and places from Power to Change's impact on those grantees and the wider marketplace. This framework has informed Power to Change's first impact report.
Four key insights from the report include:
Targeted support improves financial sustainability
To understand how we are supporting community businesses towards financial resilience and sustainability, we use detailed financial accounts data to measure the proportion of their income generated through trading activities, referred to as their 'trading ratio'.
Targeted support programmes such as the Trade Up programme appear to work best for improving trading activity amongst community businesses. Evaluation shows that when compared to a control group (who received a grant regardless of trading performance), the matched funding grant provided through Trade Up has a positive impact on the trading ratio of community businesses, with the intervention group reporting an average 9% increase over the course of the year.
Developing the community business marketplace takes time
While it is too early in the lifespan of Power to Change to evidence systemic impact on the overall community business marketplace to date, we have seen early signs of impact in particular sub-sectors, such as the pubs market. Within two years the More Than A Pub programme has made a significant difference to the pubs market, almost doubling the market size with the creation of 25 new community pubs. Through the programme £5.4 million has also been raised through community shares, and a pipeline created of over 280 community groups aspiring to take over their local pub.
Learning from this programme has been used to inform our work in the energy and housing sub-sectors, and we will continue to monitor our impact on the wider community marketplace as time progresses.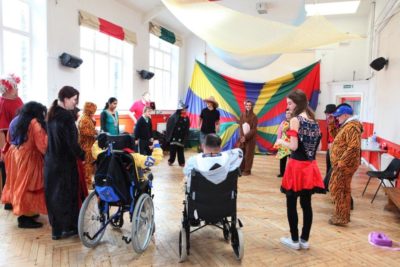 Community businesses reach beyond the usual suspects
Our first impact report presents evidence of community businesses operating in areas of previous market failures and engaging those who may not otherwise access employment or voluntary opportunities. For instance, through the evaluation of the Community Business Fund we have found grantees provide:
Volunteering opportunities: to people who may not otherwise be able to access them or paid employment opportunities
Employment opportunities: those community businesses that are employing people tend to employ people that may otherwise struggle to access the jobs market
Community engagement: community businesses appear to have an impact on local people feeling they have a greater sense of ownership or say over issues which matter to them.
It is too early to talk about better places
Measuring the impact of community businesses on the places in which they are located will take time, and at this stage in our history we are unable to evidence systemic place-based change happening because of community businesses. However, to measure such change we have identified a set of key long-term outcomes that together define what we mean by a 'better place'. The report shows that for every chosen outcome area, most grantees believed they had a 'positive' or 'significantly positive impact' by the end of their grant period. Our analysis shows the most commonly cited outcomes that grantees seek to achieve are 'greater community cohesion', 'greater community pride and empowerment', and 'reduced social isolation'.
'Increased employability' and an 'improved local environment' are the least popular outcomes. They are also, along with 'better access to basic services', the three with a significant minority of grantees who believe they have made no impact.  The reasons for this require further exploration, though one possible explanation includes the fact that community businesses tend to employ people that may otherwise struggle to access the jobs market. This requires more time and resource-intensive levels of engagement.
Next steps
Our impact report provides an objective, baseline picture of both our own impact and that of our grantees and covers the breadth and depth of a diverse portfolio of activity. It concludes that, while limited at this stage in Power to Change's history, there is already evidence to support positive claims about the impact of community businesses on places and our impact on them.
This is the first of three planned impact reports. Two further reports will be published, in 2020 and 2022, building on the framework set out here and including improved data on grantee activity, better measurement of our impact on the marketplace, an enhanced understanding of place-based change and further evidence on long-term outcomes in places.
Read out latest impact report.