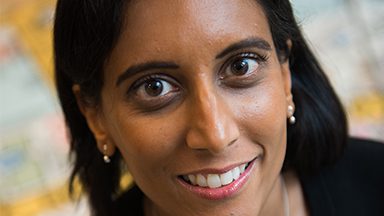 "It is time for the government to change its role in local communities" – Vidhya Alakeson, Chief Executive, Power to Change
Just as we had grown used to gloomy Budgets, yesterday's signaled a change of mood. Growth forecasts were revised up, public sector borrowing down.
There was some new money to relieve the pressure in social care and to soften the blow of changes to business rates.
But the Chancellor didn't mention Brexit – and there is no better reminder of the gap between positive economic headlines and the real economy that people experience.
This is where the gloom sets in. There are still further cuts to come to public services, and working-age benefits have been frozen, which means that inclusive growth – the thing which is supposed to benefit ordinary working people, about whom the Chancellor repeatedly talked – looks a forlorn hope. Achieving it would require significantly closing the gap between today's positive headlines and the economic reality facing people in towns up and down the country.
Earlier this week the Inclusive Growth Commission, set up by the Royal Society of Arts, published its final report. Contained in its excellent work are two important findings.
The first is that the critical ingredients for inclusive growth have to be brought together in a place, rather than operating in the departmental silos dictated by Whitehall. This focus on place must get beyond the core cities and city regions of the current devolution agenda to address many of our towns and neighbourhoods which lack the economic engines of cities – places like Redcar, Hastings and Sandwell.
The second important finding is that inclusive growth depends on social investment driving, rather than being divorced from, economic prosperity. The old model of redistribution off the back of economic prosperity is inadequate. Inclusive growth demands that we tackle inequality, invest in public services, and strengthen communities as economic not just social priorities.
Models are emerging at the neighbourhood level which can create genuinely inclusive growth, and over which local people have a real say.
The Atmos Totnes development in Devon is an inspiring example. In 2007, Dairy Crest closed its plant in Totnes, taking away jobs and livelihoods from the town. A decade on, the Totnes Community Development Society is leading the redevelopment of the derelict site to create a mixed-use development including 62 genuinely affordable homes, 37 homes specifically tailored to older people, a hotel, and an enterprise and work space. It will provide other services and amenities, and will bring at least 160 jobs.
Most importantly, the assets are held in trust for the community, so that the economic prosperity created by the regeneration benefits local people for the long term, and provides an asset base from more community businesses can spring. In contrast to most development, which is fiercely resisted by the community, people voted overwhelmingly to support the Atmos Totnes development in a local referendum.
This isn't another version of the Big Society. That project tripped up by the fallacy that new economic models like community trusts meant you could dispense with government and leave people to go it alone.
What is required from government instead is a change in roles, from a do-er to a facilitator. Government should re-invent itself as a place-maker, working in partnership with business, civil society and communities to create new models locally.
To support this new partnership approach, last week's announcement by the Minister for Civil Society that up to £2 billion of new unclaimed assets will be available to support charities and society enterprises is critical. This new investment provides a real opportunity to grow the capacity of the social sector, so that it can be the partner that government requires to ensure a place-based approach to inclusive growth can flourish.