This model as it develops can be so much more than a 'signposting' role but a role that enhances and builds on the creation of community and social capital.

– Bill Graham Community Business Leader
Bill Graham has worked until recently in Community development and is currently heading up Innovation and Community practice with Modality GP practices in Airedale and Craven. In this blog, he explores social prescribing – a way of linking patients in primary care with sources of support within the community to positively affect health outcomes.
Towards the end of last year, I had a few really interesting and in-depth conversations around Social prescribing. It seems the variance of views on the topic is very stark, which shows that the voluntary and community sector is divided on the value of social prescribing.
When attending and presenting at the NHS alliance event back in November, there was a lot of discussion around the good and bad of social prescribing.
At a time when the Health Secretary, Matt Hancock, has put preventative health as a main pillar of future policy it might be timely to share some of these views.
And so, in the spirit of Match of the Day 2, I've decided to try and use two good and two bad examples to illustrate the division of views.
1 Good – Correct direction of travel
Social prescribing is undoubtedly a positive step in the right direction from where we were five years ago. The recognition that health is determined, in part at least, by a range of social, environmental and economic factors marks a significant shift in attitudes towards wellbeing and, in particular, mental health. It situates poor health as a collective malaise rather than a burden someone should carry individually. By giving patients a choice of non-medical pathways to help them live a healthier life, the 'social prescriber' can act as a connector between residents and communities, strengthening community connections and overall wellbeing.
2 Good – Impressive results
Some of the results of this prescribing model have been very impressive for both local communities and individuals – we've seen reduced GP appointments and better outcomes for patients. It's certainly hard not to be moved when hearing the testimonies of service users. It's clear that social prescribing can have a truly positive impact on people's lives. But, on a wider social level it's obvious that social prescribing is helping to create social value in the wider public system and delivering a return on investment for local areas given that it acts as a preventative mechanism for poor health.
1 Bad – Transactional health
There's a danger of social prescribing becoming another part of our current transactional health service, whereby the power dynamic between patient and prescriber still exists. It's a 'doing to' model which professionalises the service, creates a barrier of hierarchy between the patient and the prescriber and, eventually, it will become just another service offered to 'fix' people.
2 Bad – Social prescribing can bypass communities
Community solutions are often bypassed with the social prescribing model. The investment needed to create a service often has no economic impact in the communities where non-medical issues flourish – often the deprived, under-invested communities where some investment in communities could be very beneficial. There is also the ongoing debate around the lack of resources or money to support services and activities that prescribers refer patients to.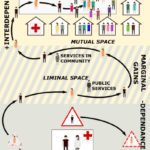 The social prescribing model suits the service delivery charities as it's relatively easy to implement and measure. It's a simple transactional service that can deliver good results. But, it doesn't necessarily offer the ABCD outcomes that have sustainable benefits and can build community and social capital.
It's a relatively easy model to report on, plenty of boxes to tick and lots of other services to signpost too. It also fulfils some of the principles behind 'connectors' as it links patients with activities & groups.
But, in this format it bypasses communities and the chance to build social capital and capacity within communities. As such, it doesn't always fulfil 'alongside' principles as rather a lot of social prescribing avoids the difficult part of trying to fill the liminal space between health service and community (see diagram above). So, the untapped potential of community remains untapped.
The potential for a double bang of investment (i.e. economic bang and health bang) in terms of jobs, opportunities and investment in deprived communities is lost.
Talking to social prescribers employed locally through community GP practices wired into local services, it's apparent they are so much more than prescribers. Rather they are community practitioners who interface between the patients and the communities they work and live with.
This model as it develops can be so much more than a 'signposting' role but one that truly enhances and builds on the creation of community and social capital. In the words of the NHS Alliance, it's health creation in the raw. And for patients, it's a chance to build communities.
Some standout figures on areas adopting social prescribing:
Health Connections Mendip (Frome): 17% fall in hospital admissions over a 3-year period and 21% fall in healthcare costs compared
Focussed Care Greater Manchester: 50% reduction in ED attendances
Rotherham: 20% reduction in NHS system costs and ROI >150% over 3y
West London / Bristol (WellSpring): £2.80-2.90 social value per £1.00 invested
Doncaster: >50% reduction in GP visits for social prescribing cohort
Airedale 29% reduction in the rate of GP attendances and a 52% reduction in the rate of Emergency Department attendances.