On a sun-drenched spring morning, participants were greeted with smiles, seed bombs and turmeric shots as they arrived for a nurturing day exploring the wellbeing of communities and community businesses. Magnetic connections formed fast among the mix of Power to Change grantees and those at the beginning of their community business journey, all united by their interest, commitment to and participation in social business. Many of the grantees expressed the difficulty of often operating in physical and cultural isolation and so the time allocated to social exchange at the start of the day worked well to catalyse informal peer to peer exchange. From the off, established projects took tea with new and potential projects where mutual benefit seemed the perfect model for future trade.
The hosts, Squash, run a community shop, café, and training hub lead by their passion for affordable nourishing food. Their building, designed by the community who use it, embodies the social values it promotes. It is a place for growing, cooking, eating, learning, buying, selling and connecting. Becky Vipond from Squash opened the day, describing their ethos of skilling people up, concentrating their efforts in a small location consistently and the importance of being long term approaches. Being embedded in the community was seen as the root of the organisation's resilience. As the day unfolded we heard many examples of skill and facility-sharing via which the peer network expands into the host community.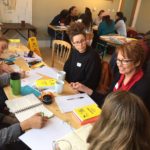 Squash said their core ideas are shared ideas.
Power to Change representatives talked about the value of their research on community business so far, The Twine App and ways to navigate funding restrictions. It was a light touch presentation and the power of the day really was peer to peer with social business practitioners leading the learning.
Power to Change said the 3rd sector tends towards female leadership.
Michelle Charters, CEO of Kuumba Imani Community Centre based in Liverpool 8, observed the same phenomena. Female domination of this grantee cohort was clear by just looking at who was in the room. Lots of room for reflection on participation was raised during the morning, with more work needed on greater inclusivity amongst BAMER people. How do individuals come to see themselves as potential social business practitioners, and/or funding applicants and why. Perhaps something for Power to Change researchers to consider.
Michelle traced a line from the founding of Liverpool Black Sisters in 1979, in response to racism, to it's current iteration, as the staffed Kuumba Imani Centre. Business rentals, and conference facilities now add to its role as a gathering place for the L8 community. We heard about challenges, resource gaps and a committed board who rescued the organisation from debt. The shift from surviving to thriving is visible in the current 'L8 A Better Place' project, set to generate new models of collaboration.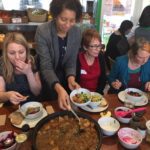 Michelle Charters said let's share, inform, tackle issues, campaign in different ways, create resources, and build knowledge. And let's draw men into leadership roles, and pass the baton to the next generation.
Paul Kelly, Community Engagement Manager at Community Gateway Association in Preston spoke about myriad projects arising from housing organisations such as the community business 'Homebaked Anfield' and 'Up In The Air' a project that placed artists in residence in condemned flats in North Liverpool in 2010. He spoke of the vision of the then housing association chief Paula Ridley…
She had said let communities lead their change.
He asked listeners if their practice is top down or bottom up and saw his role as a bridge between creative thinkers and communities. He said health and well being of staff lies at the centre of projects that work. He advised that we all look at the Preston model where innovative community-lead work is thriving.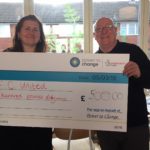 Next up was a speed action learning session, divided into groups who heard and advised on each other's problems. As the event witness I visited every group and saw collective 'hive brain' in action. Participants suggested ways to improve marketing, volunteering, staffing, board development, networking, gatekeeping and more.
A tasty lunch of veggie Scouse and greens was followed by seven pitches, for an immediate £500 grant to be awarded according to what the group voted for. So momentarily, the grantees were in the shoes of the grant makers. The delighted winner was FC United, a football based project based in Manchester following Vinny Thompson's passionate pitch for a youth-lead programme.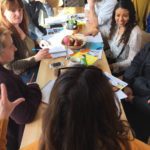 Before afternoon tea, local dance group Movema got us moving, taking us though an African, Indian and Chinese repertoire ending with a Kung Fu follow-my-leader game that was easily as competitive as bidding for the £500 cheque! The dancers encouraged us to greet each other, make eye contact, and keep moving, encapsulating Power Up's potential to energize and connect people.
I witnessed the day, condensing my multi-coloured notes into a 5 minutes snapshot, and closed with a few questions.
Peer to peer exchange is important. Is there anyone missing who should be here?
Is the offer made by community businesses to their communities the best offer? How is the offer informed?
How do we arrive at our best plan, and how does that plan adapt to change?
As I left Squash pancake making was in full swing a jar of milk was being shaken to make butter for the batter. People were reluctant to leave and as with the best endings, planning to meet again.