Locally rooted community businesses like these really do knit communities together and help to regenerate local areas

– Kate Stewart Director of Programmes
Following on from Plunkett Foundation's hugely successful More Than A Pub conference, our Director of Programmes, Kate Stewart, explains why and how Power to Change is backing community-run pubs.
The Power to Change definition of a community business is one that is locally rooted, accountable to the local community, trading for the benefit of that community and has a broad social impact. It's obvious based on this definition that community pubs totally embody what it is to be a community business.
Against the backdrop of pubs closing, like-minded communities are recognising the exciting opportunity to run their own community businesses, to expand the sector and to provide extra services such as employment opportunities, free healthy lunches, support for families and people in crisis, internet training or support groups for parents of children with disabilities
This additional social impact work is what distinguishes community-run pubs from privately owned ones. They are more than just a place to drink. They're also vibrant spaces where people can come together to build social cohesion and enliven community spirit.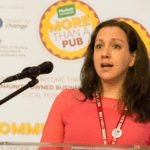 I recently visited The Antwerp Arms in London – a great example of how integral a pub can be for a local area. I met a mother there whose friend runs a creche in the pub for working mothers, Robert and Martin who volunteer together using the Antwerp Arms Garden running gardening lessons and Jackie and Mick with their grandson, who held their wedding reception at the pub and are now both proud community shareholders.
Locally rooted community businesses like these really do knit communities together and help to regenerate local areas. That's our ambition at Power to Change – to create better places through community business.
Doing so requires not only support and money from us, but a huge amount of determination and commitment from members of the community. It involves a network of peers coming together to share successes and challenges and a great deal of consultation with the local community to ensure everyone feels included and their needs are being met.
It's no mean feat to build a truly inclusive and community-led pub, but when it works it delivers real social impact and creates truly vibrant places to live. Although recent figures show the rate of pub closures slowing down since the highs of 29 a month reported in 2014, there is still more to be done. And I look forward to following the continued success of community pubs, to see how they can share successes and experiences with other communities, to put more pubs into community hands.
Support on taking a pub into community ownership can be found through the Plunkett Foundation's website and the More Than A Pub programme, as well as the British Institute of Innkeeping, CAMRA and Pub Is The Hub.