The case for community energy should likewise be galvanised. We must not forget that climate breakdown will compound the social and racial injustice already entrenched in our communities

– Will Walker Programme & Investment Manager – Community Energy
Read time: 11 minutes
If there is a silver lining of a very dark and tragic year so far, it is the sense of fresh perspective and renewed focus on the things that really matter when the world around us falls down. There now exists a once in a lifetime opportunity for real change. To accelerate and scale alternative solutions that can improve how we live our lives, go about our business, and reorganise and manage our society and economy in a just and ecologically sustainable way.
Community power (people, not electrons) has been fundamental to the nation's response to Covid-19. As Power to Change and others are calling for, it now deserves the support of policy and decision makers, and as many people as possible should get involved in the next stages of recovery from the crisis and in building a new economy.
The case for community energy should likewise be galvanised. We must not forget that climate breakdown will compound the social and racial injustice already entrenched in our communities. Low and zero carbon assets and services will be the backbone of the new economy. Democratic ownership and/or control of these at the local and regional level can provide long-term community benefit and build resilience against future shocks.
Yet community energy has been rocked in recent years by the removal of government support. For many of you the crisis has compounded problems, with the restrictions caused by lockdown measures, delays to projects, and falling wholesale electricity prices to name but a few.
As we pick ourselves up and dust ourselves down, how can community energy build back better and what is Power to Change doing to support the strength and resilience of the sector?
Building a movement for sustainable, long-term change
Community energy is an authentic grassroots movement, with a longer history than perhaps many realise. Steve Wyler's unique history of community business, 'In Our Hands', tells us that the first union mill co-operatives date back to the mid eighteenth century and employed wind and water to power the production line. I was fascinated to read about the Anti Mill Society, founded by the 'poor inhabitants' of Hull in 1795, and what must have been the first community share raise for the £2,500 capital for the construction of a new mill (offering a 5% dividend and Society rules stating that the object 'was to make it convenient for the lowest capacity').
That some of these historic mills are now reopening is a nice adjunct to some of the lean, green technologies Community Energy England's members are working with. With increasing recognition of the need for a 'zero carbon army' and that community business approaches should lead the energy transition locally, Power to Change is supporting Community Energy England's vital work to create sustainable, long-term policy and social change that puts people at the heart of the energy system.
That is why we created a strategic partnership with Community Energy England in 2018. And we continue to back them as they advocate on behalf of their membership. A notable recent victory secured an extension for Covid-19 affected Feed-in Tariff projects (which as interesting aside was also the first ever piece of secondary legislature in the UK approved by e-signature).
Grassroots movements should be inclusive and reflect the full diversity of the communities that they serve. Ultimately, community energy's potential to 'take people with us' will only be reached if we build outreach within individual communities beyond just investors. That includes looking at what we can all do to be a better ally, to check our privilege, to battle injustice for people of colour and BAME communities as well as the many other injustices that people in our society face. To this end, Power to Change has created a strategic partnership with Ubele Initiative, one of the most prominent black infrastructure organisations supporting BAME communities to develop enterprises across the country, and we are at the start of a comprehensive review of our Diversity & Inclusion work.
But encouraging growth and innovation is challenging
Despite impressive growth in recent years, with almost 230 energy businesses in England, Wales and Northern Ireland producing enough electricity capable of powering 74,000 homes, there are still significant challenges for community energy. Government's rapid removal of subsidies and tax relief have stymied the most prevalent and simplest existing business model. Many communities don't have the time, skills or access to funding to develop and manage complex community energy schemes. And the accessibility of new opportunities in the energy system requires an increase in investment and development of new business models, without losing local trust, credibility, accountability and individuality that are the hallmarks of community energy.
Recognising the inherent value of community energy in transforming local economies and tackling the climate crisis, Power to Change and our partners have committed over £45 million to community energy initiatives since 2015. By aligning the social investment of our endowment with our grant making capabilities through Community Owned Renewable Energy (CORE) Partners and our Next Generation Programme, as well as our Research Institute, we aim to create something that is more than the sum of its parts.
We're boosting the sector by investing in 34MW of solar farms in England through CORE Partners with Big Society Capital and Environmental Finance (and a further 5MW in Wales). There is still some way to go but when these assets are transferred to our community partners in the next two years, we estimate this will represent a 20-25% increase in the total generation capacity under community ownership in England, Wales and Northern Ireland.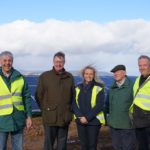 Our Next Generation Fund is currently incubating eleven community businesses to come up with innovative business models that are less dependent on government support and make the most of technological advances and new market opportunities. We were encouragingly oversubscribed through both application rounds in 2019. Clear themes emerged around new models for zero-carbon housing, local low-carbon transport, local energy trading platforms, and energy efficiency retrofit, each of which could represent a subject for strategic investment in their own right. Through our wider programmes, we've also distributed over £1 million to make community businesses more energy efficient.
Powering a strong, resilient future for community energy
Earlier this year, CORE Partners accelerated over £195,000 of community benefit funding to its community partners to help them tackle local issues arising from the Covid-19 crisis. They include emergency food provision in Devon with Yealm Community Energy, while Kent Community Energy has awarded funding to various grassroots charities working with local people on issues including domestic abuse, mental health, homelessness and those seeking asylum. CORE currently expects surplus profits from the solar farms of £10-15 million flowing back into communities over their lifetime.
Community Energy England's list of community energy business responses to Covid-19 demonstrates the wider, rapid sectoral reaction to the crisis. It serves to highlight the value community energy businesses add at the local level and their deep connection to people and place. The sector uses this foundation to speed the transition to net zero, by helping to build the trust and consent to transform the energy system and normalise new behaviours, capturing local economic value and helping to build strong and resilient communities that can tackle wider social outcomes.
The Next Generation innovation projects have already shown great ingenuity and determination in progressing their projects despite Covid-19. Whilst these projects are early stage, we see signs that some of the models being pioneered will help map a pathway towards the financial sustainability and resilience of community energy. We will be stepping up learning and dissemination activities as they progress, in collaboration with Community Energy England.
This starts with our Next Generation Community Energy Innovation lab webinar series kicking off during the 2020 Community Energy Fortnight, with our friends from Brighton Energy Cooperative and their solar PV connected EV charge points.
Finally, Power to Change is building an infrastructure legacy through helping to establish organisations like Bright Renewables, an asset management company now wholly owned by its community business clients.
The strength and resilience of the community energy sector – like every part of our society and economy right now – is being tested. Yet, as we look to rebuild there exists a golden opportunity to #HarnessOurPower as a movement to accelerate and scale community energy solutions to the great challenges of this moment. Power to Change is proud to be supporting our partners Community Energy England and the 2020 Community Energy Fortnight.