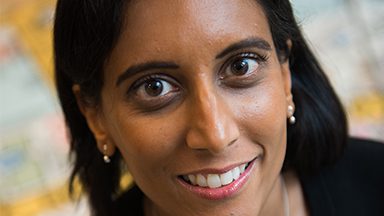 "More top-down government programmes won't help local communities" – Vidhya Alakeson, Chief Executive
When Theresa May walks back into Downing Street – call me presumptuous but I think the only question is the scale of the Conservative victory – she faces the tough task of putting some real flesh on the bones of her 'shared society'.
The PM has pledged to create a Britain in which more people feel they have a say and a stake. But so far the answers have either been wrong (grammar schools) or pitched too high to be felt in people's everyday lives (a national productivity investment fund).
Top-down government programmes won't work; a shared society will need to be much more local and much more concrete. Communities must have the power to develop local enterprises which will keep money in the local area and help address social needs.
Cast your mind back to the last major government initiative that sought to turn around the fortunes of neighbourhoods: the New Deal for Communities, which invested £2 billion in 39 neighbourhoods between 1998 and 2011.
Revisit those places today, though, and it is tough to find evidence that the investment has had lasting impact.
Where there are still signs of that initiative, it is because the investment was used to buy property – homes, work spaces and other assets.
These assets gave the community a source of long-term income. Local people could raise more money against the asset and, unlike with government or funders' cash, make their own choices about how to use the cash.
We can look to Braunstone in Leicester, for example, and the group Binspired, to see where New Deal for Communities enjoys a powerful legacy.
Binspired controls a range of properties, including its Business Box work space, which give it lasting financial stability. It then invests its profits in meeting the needs of local people, by helping them set up their own businesses or training them in new skills. They have also helped people establish a charity shop on the local estate – charity shops don't generally set up in areas where people most need to buy things cheaply.
The next government may not have billions in public money to put on the table for communities. But Power to Change estimates that local authorities have £7 billion of assets they no longer want or can no longer manage. These can provide the cornerstone for community businesses like Binspired.
Crucially, community businesses don't distribute the profits they make, but plough them back into the local area. Local people make the big decisions and shape the future direction of the business. Letting communities take control of the assets on their own doorstep – community asset transfer, in the jargon of local authorities – is a base for communities to develop enterprises which will transform their neighbourhoods, from swimming pools to car parks to housing.
The critical thing here is that economic activity goes hand-in-hand with changing the fortunes of a community. Take the organization Giroscope, which refurbishes empty properties in Hull.
As a business, Giroscope trains and employs people who might otherwise be overlooked, including ex-offenders and people with mental health problems. These are quality local jobs – and in the process Giroscope addresses the social blight caused by insecure, low quality rented accommodation.
This sort of initiative poses a challenge to government, which tends towards big commitments and national programmes. Community businesses succeed because they work on a whole other scale, turning around the fortunes of people and places locally in a way which cannot be orchestrated from Whitehall. What works in Braunstone won't work in West Hull, and vice versa.
So officials need to push power down, far beyond metro mayors and local councils. Community organisations need the space and support to act in the interests of fellow residents.
Theresa May has made strong and stable leadership her mantra. The real test will be whether, having regained power, she is prepared to give some of it away.