The change you see in the people as they grow in confidence after feeling powerless and downtrodden for so long, is priceless

– Jen McKevitt CEO, Back on the Map
Jen McKevitt is CEO of Back on the Map, a community business based in the Hendon district of Sunderland that buys up houses to bring them under local control, runs a former Carnegie Library for the community and is regenerating the run-down high street there.
What gets you up in the morning? What motivates you?
Running a community business gives you a freedom to make change in an area that you don't get with a regular charity or social enterprise. There is massive stigma attached to Hendon – the area is plagued by substance abuse, anti-social behavior and poor life expectancy – there are far too many funerals for men and women in their 40s around here. A Hendon postcode can get your job application turned down.
Now, local people are understanding that they can access the power to do things for themselves. The neighbourhood is dominated by private landlords who hold 80% of the housing stock – absentee landlords who don't care about the state of their property or their tenants but are just seeking a quick return on their investment. Back on the Map are buying up homes, running and renting them out as a responsible landlord and driving buy-to-let out of town.
Not only are we running housing with the community; an old library was transferred by Sunderland Council into community hands six years ago and we are now buying up empty shops and the flats above them to transform them into productions spaces such as kitchens, woodwork shops and the like. They are being set up as micro community businesses where the ethos is, you say what you want and we'll help you, rather than we'll do it for you, which is what locals have expected in the past.
How did you get involved in community business?
I came to Sunderland from Scotland in 1979 to study fine art. My friends and I were all punks and we took over the Fall Out Café and turned it into a vegetarian arts venue. It was profitable and we handed it over to the incoming generation, so it was an early community business. That's when I learnt that you don't need anyone's permission to get stuff done in a place if you understand how it works. And having a Glaswegian accent and a direct communications style did no harm in Sunderland – particularly when the English Defence League tried to stir things up in the area.
What impact has it had on your life?
I didn't expect to stay in Sunderland after that, but I did. The opportunity to turn round Back on the Map, which was struggling at the time, gave me the opportunity to exercise a freedom I had never known before to direct change in a place – Hendon does not deserve the stigma attached to it. The 84 homes we have purchased and refurbished mean that good families now stay and put down roots instead of moving house frequently to escape the debt, harassment and poor-quality accommodation that leads to the chaotic lifestyles, churn and transience that destroys neighbourhoods. And it gives me such a thrill to see local people get the bug too when I see them set up community businesses and take matters into their own hands. There is now a real eco system here – B' Active 'N' B' Fit is just across the way with their exercise and wellbeing services that are improving health outcomes for those that live in Hendon.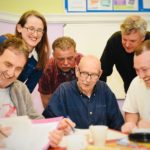 What has been your proudest moment?
It was undoubtedly the day that hundreds of residents wrote in to express their support for taking the library into community control, and this isn't a community of letter writers! Thanks to the resulting asset transfer they can develop their own initiatives such as keeping the library open all day every day for an incredible variety of different activities – you can borrow books too!
The same people are now taking on shops we are buying up in the high street here – it is like we are running a business incubator. The change you see in the people as they grow in confidence after feeling powerless and downtrodden for so long, is priceless.
It's also great to see our annual accounts look healthier and healthier as we are a business at the end of the day and our surpluses can go towards buying up more housing for the community.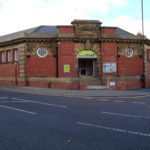 Describe your community business in three words
Ambitious, inclusive, determined.
Do you have a tip for someone wanting to start a community business?
I have so many but let's start with:
Be brave
Be ambitious
Be persistent
Believe in yourself
Make friends in high places
Build a group of energetic people around you
Above all, listen to what people want and need.
You can find out more about Back on the Map here. Jen would particularly love to hear from you if you can help with our workshop refurb or are inspired by this article to set up a community business of your own.