Power to Change is helping to develop the role of community businesses in the health and care sector. Last month we supported Nesta's: Future of People Powered Health event, which focussed on reimagining leadership in health. Our Chief Executive, Vidhya Alakeson led a session on putting communities in the lead of health. Our Development Manager, Susie Finlayson reflects on the key insights from the session.
We know that community businesses improve the health and wellbeing of their local communities. Year on year we have found that this is the most frequently stated impact area for community businesses in our annual survey of the sector and a systematic review on the impact of community business models on health outcomes supports this. But at the session we wanted to understand how and why this works, and why it is important that communities are in the lead of their own health.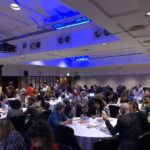 We brought together a panel of community leaders to talk about their experiences and to spark conversation and discussion with the participants in the session. Rob Trimble from Bromley-by-Bow, Sarah Gorman from Edberts House and Bill Graham each tried to fit into five minutes what community leadership means to them and their communities, both exploring the role of communities in taking the lead and in leading within a community, before opening up to the room for their insights and questions.
The importance of physical space came up time and again, that people need to have a place that they feel is theirs in order to build trust and come together. This space needs to feel like it is of the community, so it can be anything from a community centre to a barber's shop. The spaces allow people to connect, build trust and start to take action.
But this takes time and perseverance. All the panellists identified with the need to provide space and time for people to build trusting relationships. And that there is no quick fix to this. What can support it though, is always having the kettle on and a cup of tea ready, and having trusted community leaders who can get the voices of the local people heard where they need to be. This balance of being able to speak the language of power and still have credibility in the community is one that great community leaders have managed to find.
Whilst there is a clear and growing understanding at some policy levels of the importance of communities and community activities in promoting health and preventing ill health, for instance with the roll-out of social prescribing in the NHS long term plan the view in the session was that power, both financial and decision making, still rests predominantly with the clinical side of health. The balance of power needs to shift to communities if we are to fully realise the potential of community leadership in health.
Power to Change is supporting community businesses to develop in the health and social care sector and has a Community of Practice that helps to shape our understanding of the opportunities and challenges and inform our work with stakeholders and policy makers.