From Monday 21st October – Friday 1st November, Power to Change will be hosting a community pub crawl #CheersTo on our social media, celebrating the diverse range of activities that take place in community pubs.
If you're not following us already, you can find us here: Twitter, Facebook and Instagram! Make sure you're following and posting using the hashtag #cheersto
Community pubs are providing useful and inspiring services for their locals, from knitting groups, dementia talks, Post Offices and shops, running clubs, folk clubs and so much more. Over the two weeks we will be sharing videos that demonstrate how unique community pubs are for meeting the needs of their locals.
🍺 Follow the hashtag: #cheersto
We also want to celebrate the fantastic contributions and achievements of volunteers and community leaders, saving pubs up and down the country!
You can support the campaign by sharing this blog post and our community pub crawl on Twitter, Instagram and Facebook.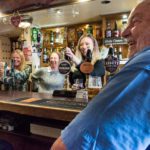 More than a Pub programme
The campaign aims to draw attention to our More than a Pub programme, helping more communities save their local. More than a Pub provides expert advice plus grants and loans for community groups who wish to take ownership of their local pub. The programme is jointly funded by Power to Change and the Ministry of Housing, Communities and Local Government. The programme is being led by Plunkett Foundation and delivered in collaboration with leading organisations within the sector.
Up-coming events
More than a Pub, Tuesday 5th November at The Ivy House, London. At this event you will be able to find out more about the More than a Pub programme, meet support organisations, talk to established and aspiring community pubs, the Plunkett Team and Advisers. Book your place today.
Are you in the early stages of exploring setting up a community pub, you'll receive a warm welcome at More than a Pub study visits. The events are free and inspiring. You'll get to hear the pub's story, take a tour and leave with ideas and motivation that you can apply to your own project. You'll also get to meet one of Plunkett's friendly expert Advisers who will talk you through the support and resources available to your community and to answer any questions that you have. Check back here for up-coming events.
Special thank you
🍺 A huge thank you to the team at the Bevy, Brighton for participating in our campaign and helping us to produce a video about their varied and much-needed activities.
🍺 The Three TUNS in Guilden Morden, for sharing their TUNS Talks photographs
🍺 The Tommy Flowers, London, who shared their street art and community days with us.
🍺 The Ivy House, London who are hosting some incredible folk music and knitting groups (amongst so much more!)
🍺 The Angler's Rest in Derbyshire who are coming up to their anniversary as a community pub and who run a post office, cafe and shop as well as many activities to serve their local community.
Have a look at their websites for events, activities and to find out more about community pubs!