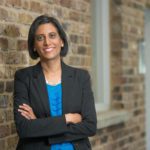 Vidhya Alakeson – Chief Executive, Power to Change
Within hours, the gimmicks and headline grabbers from yesterday's Budget had been cleared away and the focus turned to the important truth revealed in the figures: the British economy is in long-term trouble. Growth has been downgraded and productivity is stubbornly rooted to the floor. Let's face it: the long-awaited return to the post-crisis economy we had got used to is not coming. We are a poorer country now than we were a decade ago. What this new economic reality means is that we need a different approach to tackling the very uneven patterns of growth across the country. We can no longer rely on overall economic growth dragging everyone up. We need different strategies: ones that are more local and more social.
The nod in the Budget to the ongoing devolution of power to cities through the creation of a new £1.7bn Transforming Cities Fund, as well as a London pilot of 100 percent business rate retention, was welcome news. There is now an acceptance, long absent in this highly centralised country, that getting the economy moving means shifting power out of Whitehall and Westminster. But right now, devolution is simply concentrating power elsewhere: at the city region level. This is appropriate for investment in large scale infrastructure such as transport and specialist research centres. But to really start to affect the drivers of local economic growth, power needs to be pushed down much further to the level of neighbourhoods and local people need much greater involvement in determining how things can be turned around.
The reason for this becomes all too clear when you take a more detailed look at two seemingly similar local areas: the L19 postcode in Liverpool which covers Aigburth, Garston, Grassendale and Mossley Hill and the Marsh Farm estate in Luton. By standard measures of deprivation (the indices of multiple deprivation), both are in the bottom 10 percent of deprived areas in the country. But look in more detail and differences emerge that would significantly change how you would try to boost the economy in one place over the other. In the L19 area, there are large numbers of thriving independent shops at the upper end of growth in turnover for the local area. In Marsh Farm in Luton, independent businesses are scarce and have a far less healthy turnover. Understanding these differences in the health of the trading economy in each place, as well as other difference in the local population, are critical to any successful local investment strategy.
With this kind of deep local knowledge and the engagement of local people, much can be achieved in reviving the fortunes of a local area. Millfields Economic Development Trust was established in 1999 to regenerate the Stonehouse area of Plymouth. The organisation has 270 local members who are closely involved in steering its activities, including as Board members, as well as engaging on an ongoing basis with large numbers of local people to shape particular projects and initiatives. Since it was established Millfields has created many local jobs, particularly for those further away from the labour market, provided numerous local services and business opportunities and invested £1.3m of surpluses into the Stonehouse area.
As well as driving economic change, Millfields also provides much needed social infrastructure. Although this Budget focused more on spending than austerity, planned cuts to public spending and to benefits will continue. With Local Authorities now cut back to the bone, many local areas are facing an acute loss of social infrastructure. Community centres have closed down, youth facilities have gone and young families can no longer depend on the local children's centre for comfort and connection. The community is being hollowed out by a lack of places to meet, connect and plan for the future. We tend not to think of these impacts as economic but we increasingly should. Social connection affects everything from start-up rates to employment opportunities. As the RSA's Inclusive Growth Commission concluded: we increasingly need to see investment in social outcomes as linked to, not separate from, economic goals.
We hear very little these days about 'localism', despite a renewed focus on devolution. But it is clear that the granularity of understanding that is needed to address the economic challenges facing many of our towns and villages is not one that can be easily grasped from the vantage point of the city region. Unless power is pushed down from metro mayors and town halls to neighbourhoods and communities, the gloomy growth figures presented yesterday will look only gloomier on the average high street.