Rachel Butler, Co-founder and Director of Tiny House Community Bristol, shares her story about setting up a tiny house movement in Bristol, a type of community-led housing.
Communities are a collection of individuals, and their strength comes from recognising, celebrating and building on each individual's experiences, knowledge, and dreams. Our community is no different. What follows is my individual journey to the Tiny House Community Bristol.
In Autumn 2016, I was in a long period of recovery following serious health problems that had uprooted my life, and led me to question many things. I was running a retro caravan hire business, and hearing about the growing housing crisis in the UK. I realised that creating profit and personal success from my business would not bring me any real or deep sense of accomplishment – but doing something about the terrible state of affairs in housing might. I had joined a Facebook group called Tiny House Community UK (currently 2049 members), and learned about the gathering pace of the 'tiny house' movement in North America and the UK. More and more people are choosing to live in small homes to reduce ecological impact, to have a lower cost of living, and a simpler lifestyle. One day what I had learnt from my business, and what I was discovering about Tiny Houses came together in my mind, and I had a eureka moment.
"We need to build lots of wonderful and supportive Tiny House communities! A teeny carbon footprint, better use of the planet's resources, responsible, ethical, and truly AFFORDABLE! This must happen!"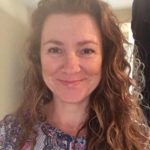 Rachel Butler – Co-founder, Tiny House Community Bristol
I wrote to the Mayor, Marvin Rees. A bold move – scary even – but he was interested in what I had to say, and put me in touch with his housing lead, Cllr Paul Smith. Paul advised me to speak with Jackson Moulding (Director, Ecomotive), Keith Cowling (Chair, Bristol Community Land Trust) and Melissa Mean (Knowle West Media Centre). The brilliant Bristol networking and action had begun!
In January 2017, I created a new Facebook group, Tiny House Community Bristol (currently 282 members). We had our first meeting, and suddenly it wasn't just me, it was us: a collection of individuals creating a community. People brought forward ideas and skills, their own experiences, visions and beliefs. Our dreams, once sketches in A4 pads, started to turn into real possibilities. Some people have come and gone, and it hasn't all been plain-sailing, but we now have an amazing and committed group of people, working together to make this a reality. We keep close ties with the UK group – our larger community – a helpful and amazing 'hive mind' for brainstorming and testing ideas.
We are now quite a little force in the Bristol Community Led Housing sector. We are developing a financial model, a business plan, and a governance structure; exploring group dynamics; building all aspects of community resilience. We feel empowered and committed to building our own houses and communities, as we want and need them to be; and to help others to do the same. Courage, vision and determination drive us. Don't be too cautious. Think outside the box, and ask yourself what really matters to you.