Over 200 community businesses across the country opened their doors and put on events for people to come and enjoy. From leisure centres to farms, cafes, community hubs and pubs, communities celebrated and showcased why community businesses matter.
It was an exciting weekend in Wigan with the opening of Made in Wigan's new Community Business hub. Located on Hope Street, the new shop will help people turn their community business ideas into reality. Wigan is one of Power to Change's Empowering Places, where we are working closely with Made in Wigan to boost community-led businesses in Abram ward.
Not too far away in Liverpool, community food business Squashhosted a new collection from photographer, Tricia Porter – "Liverpool 2018: A New Kind of Community". It was emotional viewing for long-term Toxteth residents who were able to spot themselves and their classmates in pictures as far back as the 1970s.
Café 32in the Linskill Centre in North Shields hosted a Book Fair, the largest fundraising event in the area, providing coffee and cake to the many visitors that came through the door. Also in North Shields, Meadow Well Connectedopened their community garden and café and held "Digitally Connected" sessions to help people get online and learn new skills. Meanwhile in Newcastle, Star and Shadow Cinemahosted several events, including a children's film screening.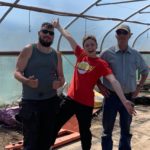 Heading south into Yorkshire and we visited HEART, a community development trust run by local people in Headingley, which recently launched its own investment fund. They opened their doors on Sunday and invited people to come and learn more about the hub and the large range of initiatives and projects it hosts.
Into the West country and beautiful Bristol was a hive of activity, with community businesses such as Bristol Ferry, The Ape Project, Ardagh Community Trustand Arnos Vale Cemeteryhosting events. The Red Brick Buildingin Glastonbury saw the "Baghdaddies" take to the stage while further south in Plymouth, customers were able to "Climb the Column" at the Column Bakehouseand enjoy a slice of cake and coffee.
And in London and the South East, a huge range of businesses took part. Stepney City Farmput on a "Wind in the Willows Supper Club", an immersive theatre and dining experience, while pinch pot making sessions were enjoyed at Castlehaven Community Association. In the coastal town of Brighton, Defiant Sportsheld ace tennis sessions for everybody while The Garibaldi, a community pub in Redhill, served up the works with their open day.
Finally, in the East of England, Shoreline CICspoke to people on the coastal path in Suffolk to find out what they wanted from the local area, and Great Blakenham Cinema put on a viewing of Mary Poppins Returns for all the family enjoy. The whole weekend was practically perfect in every way.
See more highlights from the weekend through our Twitter moment: https://twitter.com/i/moments/1129645866191589376
We need your feedback! Fill out our #CBWkd19 Survey here: https://powertochange.typeform.com/to/AigiS3