We are targeting funding and resources towards places that look ripe for boosting local economies through community business.
In the past, economic regeneration initiatives invested billions in deprived communities, often to little lasting effect. At Power to Change we believe there is a better way of doing things; local people are the best people to shape services which will benefit the local area. By harnessing the combined forces of all the players in an area, we are sure that community businesses can start up, thrive and achieve positive change for their neighbourhoods, helping to reduce inequalities felt by many across England.
Power to Change will spend up to £40 million over the next three years supporting community businesses in all 15 of these places. We will adjust the approach and the places according to the evidence we build up over that time.
Because we don't know all the answers, we are working in three different ways in places we focus on, to see what works best and where. Each of these approaches require us to build strong partnerships on the ground with organisations that share our priorities.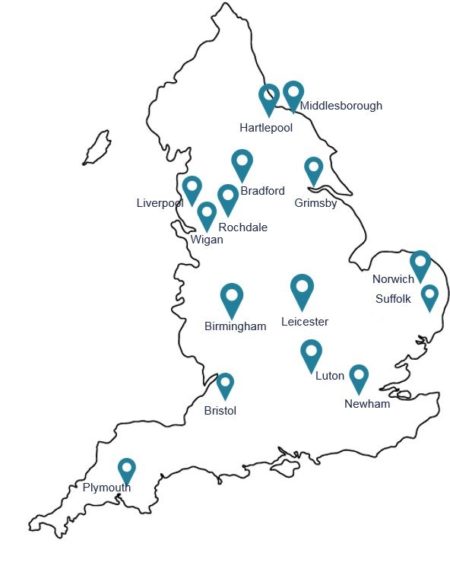 Empowering Places
This programme asks what happens if we start to foster community businesses from the ground up.
In 2017 we selected eight local organisations who had demonstrated a deep understanding of how community business could address the needs of their neighbourhoods. They will focus on the following wards within these seven places across England:
Grimsby (Southward, Nunsthorpe and Bradley Park) with Centre 4
Hartlepool (Dyke House) with Wharton Trust
Leicester (Braunstone) with B-Inspired
City regions and counties
In summer 2017, we chose three areas, urban and rural, to investigate what role community businesses can have in enabling local decision makers to realise their strategic priorities. From 2018 in Liverpool, Bristol and Suffolk we will build strong partnerships with local authorities, city region mayors, local enterprise partnerships and other regionally focussed organisations to see what support they can bring to foster community businesses in their area.
M&S Plan A
The third way of working in focussed places we are exploring, is via the private sector.
In June 2017, M&S announced that they would extend their award-winning Plan A initiative into seven communities in England. Power to Change is proud to be a partner of M&S on that programme.
In the course of 2018 we will start work with M&S in the following places to explore the potential for corporates to effect major change in neighbourhoods via community business:
Birmingham (Handsworth/Handsworth Wood)
Bradford
Liverpool (Toxteth/Dingle)
Middlesbrough
Newham
Norwich
Rochdale
The two organisations will provide funding and access to skills and mentoring from M&S staff who can provide community businesses with much-needed business skills in retail, customer research, marketing, finance and supply chains.
For any other queries, please email places@powertochange.org.uk