South Norwood is located to the north east of Croydon, where the old counties of London and Surrey once met. The area retained its SE London postcode when the boundaries moved in 1965 and as a result the area become entangled in an historic dispute between the new London Borough of Croydon and the London Mayor about who should look after it.
Each thought the other and, with neither taking responsibility, the area was neglected. But despite scoring high on the indices of deprivation for some time, this family-friendly, diverse community with a large Afro Caribbean population is seeing positive change happen.
Socco Cheta Hub is one such change and will soon be based in a building with a long history of serving its community but in need of a lot of work. Born out of a partnership between residents and organisations, it will be a modern accessible space for all the community to come together, take part and support each other.
The community business responsible for the hub is made up of local organisations including Croydon United Domino Club, South Norwood Community Kitchen, Croydon BME Forum, Screen25 and The Association of Jamaicans UK. Together they will ensure the hub meets the needs and priorities of all the local community.
Paul Mitchell, one of the directors, reflects: "We know a space like this is desperately needed in South Norwood having listened and talked to our neighbours and community from all walks of life. We see the difficulties and social isolation that people face, both young and old, and the lack of cohesion and inequality that is beginning to physically splinter this community.
"We want to achieve an inclusive space, where whoever walks into it will feel welcomed and have several opportunities to participate. In an area where many feel they are losing control over where they live, and newcomers often feel like outsiders, we need a space that will bring people together and ensure that our incredibly diverse and vibrant community is energised, empowered and stronger than ever."
The Socco Cheta building, tucked off one of South Norwood's main streets will be a dynamic community hub providing space for a few new and existing community projects, enabling them to develop and expand. A community café will operate seven days a week on a pay-what-you-can model with a menu born from surplus food.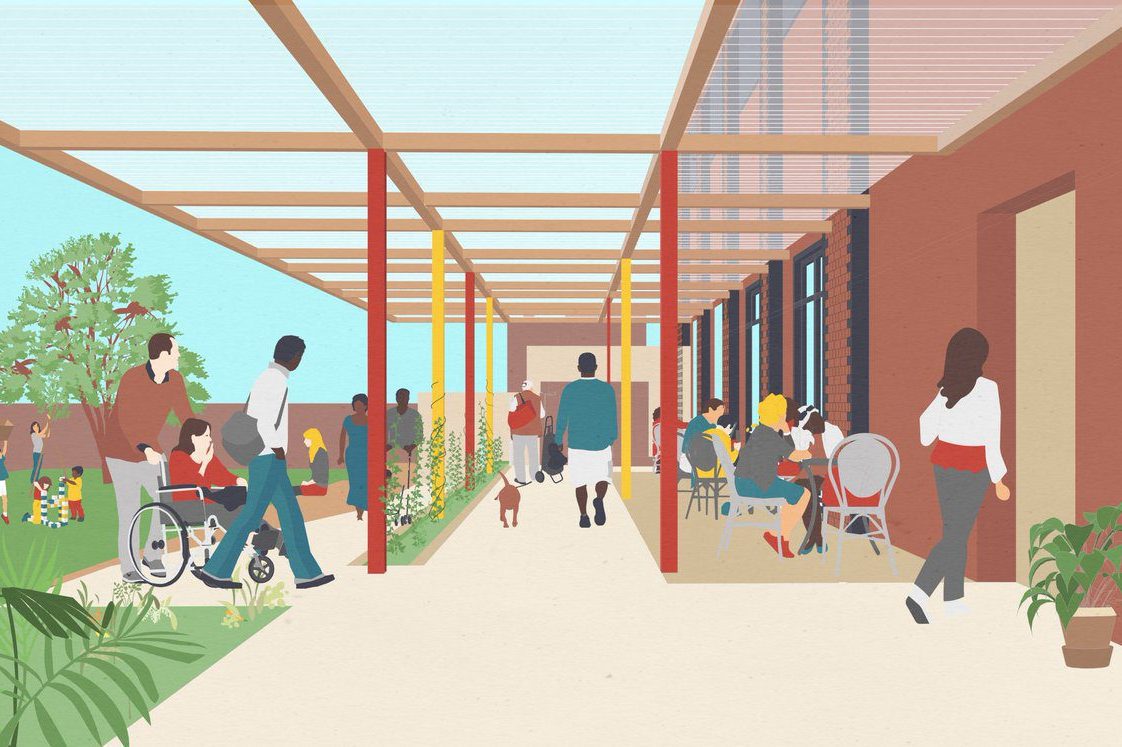 A programme of activities decided by a community-based steering group, in response to local need, will take place each week. This could include skill-sharing cafes, inter-generational play sessions, exercise classes, community art and crafts sessions, tool/equipment sharing, music recording for young people, repair workshops and general social events for all the community to enjoy.
The hub will also host a regular community cinema with a programme decided by local people. The Croydon Domino Club that has used the space since the 70s, will continue to play their matches there and expand the services that they provide to their members to other people in the local community such as debt advice services and mental health support.
All the staff and volunteers will be recruited from within the area and will be mainly local people who are experiencing social exclusion and having difficulties getting employment. The hub will develop a mentoring and employment support programme providing training and access to different opportunities across the hub such as working in the café, cinema or maintaining the large outdoor space.
Ongoing support from Power to Change has helped the Socco Cheta Hub from their beginnings, as an early-stage social businesses through an injection of recyclable loan capital and package of direct support from Big Issue Invest and its corporate partners through the Power Up programme, to a Bright Ideas tailored support and grant.
More recently, an emergency grant in the wake of Covid supported the role of the project manager, as well as covering costs needed around community engagement and setting up marketing and communications in the pre-trading period. "Power to Change put us in the driving seat in terms of getting everything over the line. What we really needed all happened quicker because of their support and it certainly made us better informed."