We are right in the middle of Community Energy Fortnight, with over 400 organisations across the country hosting events, launching Twitter takeovers and writing blogs to celebrate all things community energy.
But some of you may be wondering, what is community energy?
At Power to Change, one of the largest funders of community climate action, we have created this short animation to explain community energy and how it works.
Next Generation Innovation groups
Throughout Community Energy Fortnight (#CEF2021) we've been sharing the latest projects from our Next Generation Community Energy programme, which empowers community energy organisations to take ownership of local renewable energy assets and develop innovative business models.
CREW Energy aims to use community ownership of renewable heat to tackle three issues in society: climate change, fuel poverty and air quality. They aim to achieve their goals through education, outreach, community funding, delivery and maintenance of heat networks and renewable heating systems.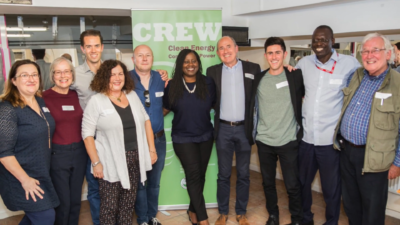 Plymouth Energy Community is working to deliver community-led, net-zero carbon affordable housing with a view to incorporating stacked energy service business models that deliver electricity, heat and mobility into housing development.
Carbon Co-op is establishing a Community Energy Data Co-operative for their members in Greater Manchester, creating a replicable business model featuring services enabled by the analysis and processing of large amounts of members' home energy and behavioural data.